In the battle to dominate the luxury market, premium brands have been racing to fill every possible niche, from sports cars to SUVs. But the latest entry is likely to take loyalists by surprise — because the newest vehicle from Mercedes is none other than a pickup truck.
This is no bare-bones work vehicle, however; the X-Class offers the sort of high-line features one expects from Mercedes, from heated leather seats to a studio-grade audio system.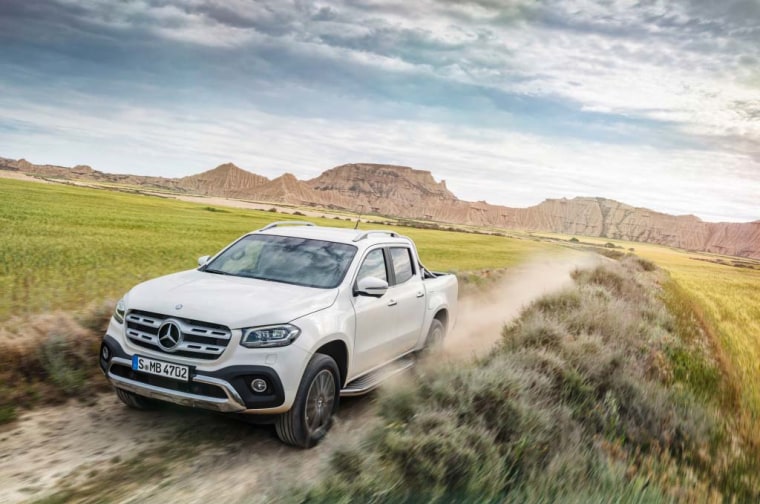 Why now?
The pickup segment "is ripe for a premium vehicle," much like the SUV market was, not that long ago, said Dieter Zetsche, the head of Mercedes-Benz and CEO of the brand's parent, Daimler AG. While Zetsche is right about demand for luxury pickups, the reality is that Mercedes is already late to the party.
Less than two months ago, Ford launched the all-new F-Series Super Duty Limited. It may not boast quite the chic of a Mercedes, but it shares many of the features — including two-tone leather seats; premium stitched leather-wrapped steering wheel, armrests, and instrument panel; and hand-finished dark ash wood trim. It starts at $87,100 and nudges closer to $95,000 when fully loaded.
Classic luxury cars, like the full-size Mercedes-Benz S-Class and the BMW 7-Series are "dodo birds," contends Michael O'Brien, a group marketing manager for Ford's light truck family of products. And recent sales numbers suggest he's right. Among traditional luxury brands, SUVs like the Mercedes GLE, the Audi Q5, and the Lincoln MKX dominate the charts.
Related: What's the favorite vehicle for those earning over $200,000?
But a closer look reveals that, based on price, pickups are the most popular vehicles in the U.S. luxury segment, and if you count all the Ford F-Series models priced in traditional luxury territory, the Detroit automaker outsells not just Mercedes but Audi and Lexus, as well.
According to industry data, the average pickup truck now goes for just under $47,000 and, if anything, there's a push to continue adding more high-line content, noted O'Brien. The premium F-Series King Ranch edition was followed by the more luxurious Platinum model which begat the new Super Duty Limited.
The same pattern has repeated itself at Fiat Chrysler Automobile's Ram brand, at Chevrolet and at General Motors' more exclusive truck arm, GMC. Sales of the top-line GMC Sierra Denali pickup have been growing far faster than for base models of the truck.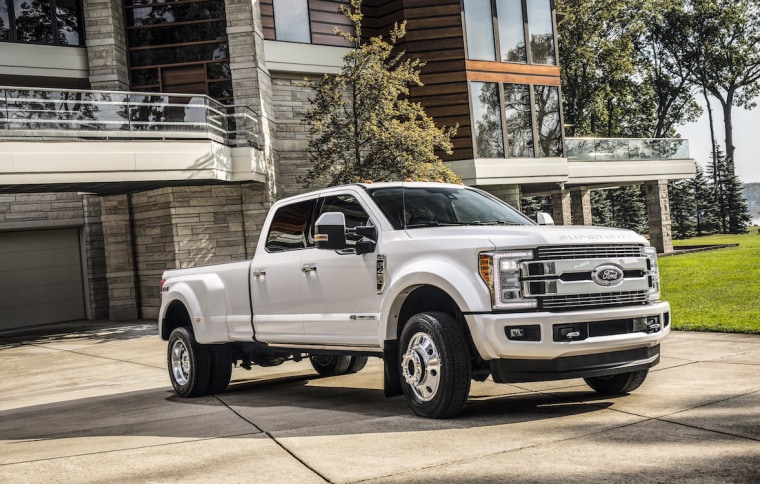 The Crew Cab Denali starts at $57,250 — almost $2,000 more than the most popular Mercedes sedan, the E 300 4Matic. For the money you get such things as heated and cooled leather seats, a 4G Wi-Fi hotspot, an 8-inch touchscreen infotainment system, and semi-autonomous features like lane-keep assist. Buyers also get the ability to haul a trailer weighing as much as 9,400 pounds.
Most aren't being used for work
According to industry data, at least half of all full-size pickups are now being sold as luxury-oriented models. That shouldn't be a surprise, since more than half of all pickups are sold to those who don't necessarily need the vehicles for work.
"Everyone wants these loaded-out trucks," said Sandor Piszar, the truck marketing manager at Chevrolet. "They offer just about everything you can get in a luxury car — and they can haul and tow." And the "toys" that they tow: boats, RVs, and horse trailers, are often more expensive than the truck.
The push up-market has taken Detroit's automakers by surprise. And as fast as they've added features, buyers have been demanding more. Ford made a big leap when it launched an all-new version of its light-duty F-150 two years ago and its Super Duty last year.
Related: Electric is hot, but gas isn't dead yet
GM's pickups don't have some must-have luxury features, such as power tilt/telescope steering wheels and LED headlamps, noted analyst Dave Sullivan of AutoPacific, but he said GM is likely to up its game in terms of "content, craftsmanship, and materials" with the 2019 line of full-size pickups.
He expects the same thing with the next-generation Ram trucks, though the FCA truck brand just launched its most expensive pickup model ever, the Tungsten Edition, which starts at $56,515 and adds such features as a huge, vertically oriented touchscreen similar to what is found in a Tesla Model S.
For now, the push into the luxury segment is focused on full-size pickups, but as demand has rebounded for the long-declining midsize segment, Chevy's Piszar hints that the brand expects to up its game with its Colorado model, as well. The sibling GMC brand is already offering a Denali version of its midsize Canyon Denali truck that quickly tops $45,000.
The definition of "luxury" is a matter of debate. Stephanie Brinley, an analyst with IHS Automotive, insists it is a matter of "the brand as much as the content" of a vehicle. Ironically, past attempts to sell pickups with luxury badges have failed for both Ford's Lincoln and GM's Cadillac.
As for Mercedes, it isn't offering the X-Class in the U.S. — at least for now. But German officials say that they're watching the surge in sales for high-line pickups and may reverse that decision in the near future.