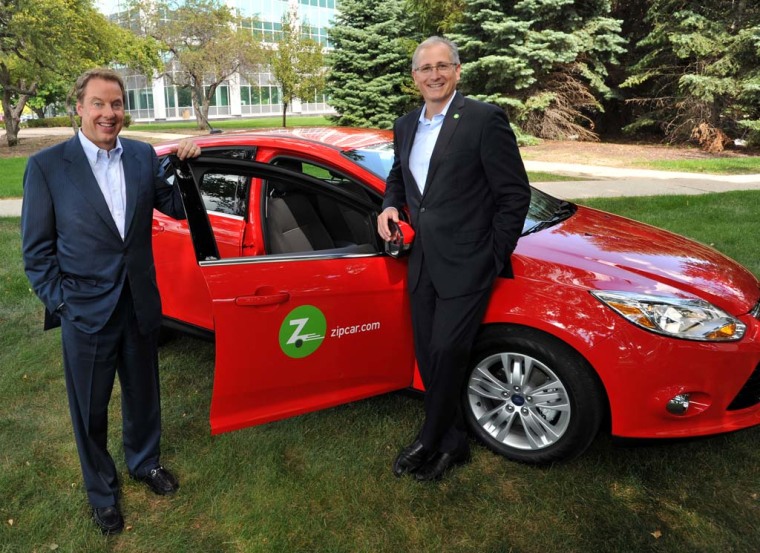 The car-share business has just gotten a big vote of confidence from rent-a-car giant Avis, which is buying Zipcar for $491.2 million. 
The move is the biggest deal yet in the nascent market for alternatives to traditional automotive rental systems where users might seek a set of wheels for trip of as little as an hour. Founded in 2000, Zipcar is generally seen as the leader in the car-share market and now claims 760,000 members.  
The Detroit Bureau: Ford Focus Expected to Be #1 Best-Seller for 2012
"By combining with Zipcar, we will significantly increase our growth potential, both in the United States and internationally, and will position our company to better serve a greater variety of consumer and commercial transportation needs," Avis Chairman and CEO Ronald Nelson said in a statement accompany the Wednesday morning announcement. 
The car-sharing concept has begun to revolutionize the rental business, attracting young and often affluent buyers, especially in urban areas and around college campuses. Ford Motor Co. last year announced a partnership that placed hundreds of new Ford Focus models on campuses around the country, an alliance the maker hoped would eventually convince students to buy the car once they graduated.
The challenge for many of the new competitors in the field has been to raise capital to expand, industry experts note.  Zipcar has so far spread into 20 metropolitan markets in the U.S., Canada and Europe.
"It's a fact of life in those places that people want the convenience of a car but don't want the hassle of owning one," noted Dr. David Cole, chairman emeritus of the Center for Automotive Research, or CAR, based in Ann Arbor, "so, I think the carsharing concept is going to work." 
The Detroit Bureau: Approval of Toyota Settlement Doesn't End Unintended Acceleration Nightmare
The most significant difference between a car-sharing service and a traditional rental company like Avis Budget Group Inc. is in providing community-based access to vehicles that can be rented on a short-term basis, rather than by the day or week.
"We're targeting a generation that only knows how to buy music by the song so paying for a car by the hour is a natural for them," Scott Griffith, Zipcar's chairman and CEO, told TheDetroitBureau.com in an earlier interview.
Several key executives, including Zipcar Chairman Griffith and Chief Operating Officer Mark Norman, are expected to remain with the firm, though they will relocate to new headquarters in Boston.
Zipcar went public in 2011 and in November said it anticipated ending its fiscal year with its first annual profit of $4 million. It had ended the third quarter with a 15% jump in revenue, which climbed to $78 million.
Observers were not entirely surprised by the announcement, especially in light of the consolidation in the overall rental industry.  Rival Hertz just last month locked down a takeover of the Dollar Thrifty Automotive Group. 
The Detroit Bureau: Beyonce to Get New C7 Corvette at Super Bowl
Avis said it expects significant "synergies" as part of the deal.  It could ease pressure on Zipcar on weekends and other occasions when it struggles to maintain a large enough fleet to meet demand. It could lead the car-sharing company to expand into other metropolitan markets.
Avis itself sees the opportunity to save between $50 million and $70 million through the acquisition – for which it will pay $12.25 for Zipcar shares, a 49% premium over the December 31, 2012 closing price of $8.24.  That is still a significant decline from the strike price of $18 a share for Zipcar stock during its April 2011 IPO.
Under Avis, Zipcar will face a number of other car-sharing services, some looking to take even more radical approaches, such as RelayRides.  That services concept not only skips the traditional busy rental counter but allows individual vehicle owners to put their cars, trucks and crossovers on the market for short-term rentals. 
Last summer, RelayRides announced a partnership with General Motors' OnStar service that lets a renter access a vehicle without having to first connect with the owner to get the keys.