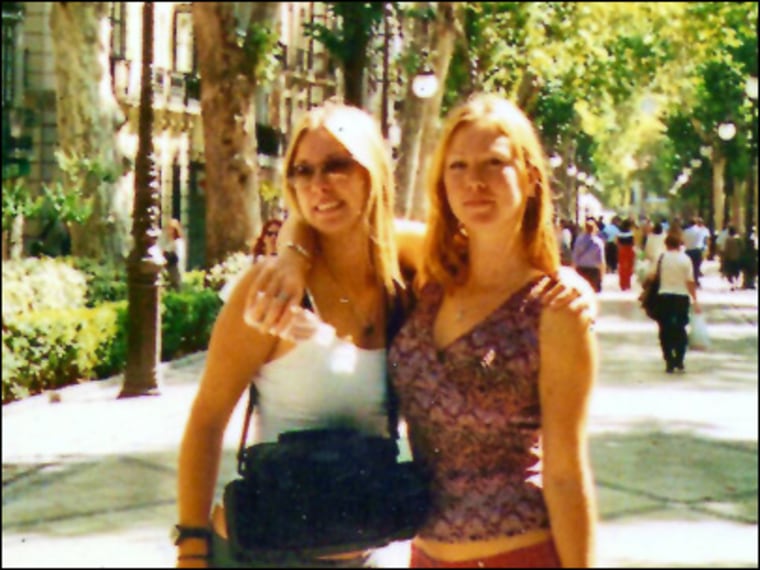 By law, a car dealer cannot sell you a vehicle that's under a safety recall until it's been repaired. But a company can rent you that vehicle or give it to you as a loaner.
"This doesn't make any sense," said Rosemary Shahan, president of Consumers for Auto Reliability and Safety, who has been pushing Congress to close the rental car loophole. "There's a weird double-standard here based on the type of transaction, not the safety of the car. Whether you are buying a car or renting a car, it should be safe."
The Raechel and Jacqueline Houck Safe Rental Car Act of 2013 (S. 921) would ban companies from renting a recalled vehicle until the safety hazard is fixed.
The bill, which had its first hearing on Tuesday, was introduced by a bipartisan group of senators earlier this month: Charles Schumer (D-NY), Lisa Murkowski (R-AK), Barbara Boxer (D-CA) and Claire McCaskill (D-MO).
Raechel and Jacqueline Houck were killed in 2004 while driving a rental car that had been recalled for a defect in the power steering hose that could result in a fire. The sisters were killed when the car, which had not been repaired, caught fire and slammed head-on into a truck.
The girls' mother, Cally Houck, has been pushing for congressional action to prevent similar tragedies. She told senators every company that rents cars, whether a big national company or a small local used car dealer should be required to repair dangerous defects before someone gets behind the wheel.
"Recalled cars endanger the lives of everyone who shares the roads – not only the people who are riding in them, but other drivers as well," Houck testified. "While my daughters happened to collide with an 18-wheeler, and as a result the truck driver and his co-worker suffered relatively minor injuries, it could just as easily been a minivan full of children, with more lives lost."
What the Safe Rental Car Act would do
Under the bill, rental car companies and auto dealers who rent cars or provide loaners would be required to ground any vehicle within 24 hours after receiving a recall notice from the manufacturer. They would have up to 48 hours for any recall that involved more than 5,000 vehicles in their fleet.

If the manufacturer's recall notice specifies temporary measures that can be taken to eliminate the safety risk until parts are available, rental car companies could make the interim remedy and continue to rent the vehicle. For example, if the problem was caused by a faulty floor mat and the manufacturer said removing the mat would solve the problem until new mats could be produced, that temporary fix would be allowed.
The bill would also give the National Highway Traffic Safety Administration (NHTSA) the authority to investigate and police how rental car companies handled safety recalls. NHTSA administrator David Strickland called the Safe Rental Car Act a "critical" piece of legislation that closes a "safety gap" in current law.
"All NHTSA recalls address an unreasonable risk to safety and should not be ignored," Strickland testified.
The major car rental companies support the legislation: Alamo, Avis, Budget, Enterprise, Dollar, Hertz, National and Thrifty, as well as the American Car Rental Association. The bill would put into law what they now do voluntarily.
"This bill provides consumers with security that the rental car they drive or buy is actually safe to drive," Rich Broome, executive vice president of the Hertz Corporation told NBC News.
The opposition
Car dealers and car manufacturers say they support the intended purpose of the bill, but they claim it needs to be reworked to prevent "adverse consequences" that could hurt them and increase the cost for rental car customers.

Mitch Bainwol, president of the Alliance of Automobile Manufacturers, whose members make three-quarters of the vehicles sold in the U.S., told senators he feared the bill would create "a dual-track system" for recall repairs that would "place families at a disadvantage relative to rental car companies."
Why? Bainwol said there would be "enormous economic pressure" on manufacturers to move rental car companies to the front of the line, ahead of individual customers, for recall repairs.
Sen. Boxer told Bainwol she was "greatly disappointed" by his opposition to the bill.
The National Automobile Dealers Association (NADA) is concerned that the bill does not distinguish between a recall that requires an immediate repair and one that's more technical in nature. As an example, they point to a recent safety recall that involved an air bag warning label that could peel off the sun visor.
"Not all recalls are the same," testified NADA president Peter Welch. "Some recalls… don't render a vehicle unsafe to drive in the near term."
Where to go from here?
Sen. McCaskill called the bill "common sense legislation" that needs to be enacted. She pledged to work with industry representatives to make that happen.

That couldn't come soon enough for Cally Houck.
"Nobody should have to worry about whether a car they rent is safe to drive," Houck said in her testimony. "Nobody should have to endure the loss of a loved one because a rental car company didn't bother to get an unsafe, recalled car repaired."
Herb Weisbaum is The ConsumerMan. Follow him on Facebook and Twitter or visit The ConsumerMan website.