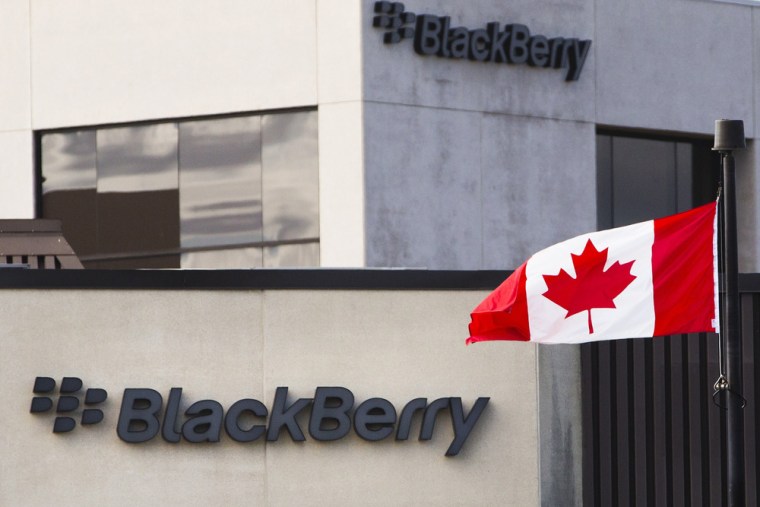 BlackBerry moved to oust CEO Thorsten Heins while jettisoning a buyout by Fairfax Financial in one fell swoop on Monday, as the company struggled to stanch both a market share and stock price in free fall.
Just months after a make-or-break launch of a new device fell flat, the embattled smartphone maker — whose attempts at reinvention have done little to restore investor confidence — booted Heins and much of the company's leadership team.
In a statement, BlackBerry said Fairfax and "other institutional investors" would invest $1 billion in the company through convertible securities.
The deal will be complete within the next two weeks, it added.
"Today's announcement represents a significant vote of confidence in BlackBerry and its future by this group of preeminent, long-term investors," said Barbara Stymiest, chair of BlackBerry's Board. 
"This financing provides an immediate cash injection on terms favorable to BlackBerry, enhancing our substantial cash position," she added. "Some of the most important customers in the world rely on BlackBerry and we are implementing the changes necessary to strengthen the company and ensure we remain a strong and innovative partner for their needs." 

Yet the firing of Heins, who will step down at the close of the deal to be replaced by interim chair John Chen, came as a surprise to many observers. Heins was BlackBerry's most public cheerleader, relentlessly promoting the BlackBerry 10 as the company's lifeline to a revival of its fortunes.
"This feels a lot like a desperation [move]," CNBC's Jim Cramer said.
In September, BlackBerry agreed in principle to be acquired by Fairfax, a Canadian insurance company, for $9 a share in a deal worth $4.7 billion in U.S. dollars. Yet since then, several suitors have come forward with alternative bids. 
Investors gave the move the thumbs-down. By late afternoon, Blackberry shares tumbled 17.2 percent to $6.43, a level unseen since October 2003.
Reuters contributed to this report.