If you needed a stark example of the growing wealth gap in America, look no further than this: CEO pension plans at some companies are now worth an average 239 times more than the retirement plans of the people they supervise, a new study shows.
What's more, compensation for chief executives is 550 times higher, according to data compiled by NerdWallet on the companies with the 10 highest gaps.
NerdWallet's numbers, gleaned from proxy statements, government reports and data firm BrightScope, shows that Wal-Mart leads the disparity, with CEO Mike Duke having a retirement nest egg more than 6,000 times the size of his average worker's 401(k) plan.
Duke's compensation — including salary and other forms — comes to $20.7 million a year, which is 836 times larger than the average non-manager compensation and 305 times the average manager compensation, NerdWallet said.

Those numbers don't tell the whole story, said Wal-Mart spokeswoman Brooke Buchanan.
"Mike has been with the company since 1996 — for nearly 20 years. He's been voluntarily contributing to the deferred contribution (plan) since then, so you can imagine when you're working for a company for a while, the number gets higher," she said.
Wal-Mart employees, meanwhile, amassed more than $770 million in quarterly bonuses in 2012.
"We offer our associates pay and benefits that are as good or even better than our retail competitors, and we are a pay-for-performance company. That includes our executives as well as our field members and corporate staff," Buchanan said. "There are a lot of opportunities for workers to drive up their own (compensation)."
Other companies on the list did not return requests for comment.

Not surprisingly, Oracle topped the list of companies with the biggest discrepancy between CEO and worker pay, as its leader, Larry Ellison, makes just below $80 million, 1,262 times the average nonmanager salary and 571 times the manager's salary.
"This will be a wake-up call in terms of governance," said Dana Lime, product manager at NerdWallet. "There's going to be pressure just from a political standpoint to bring those multiples down."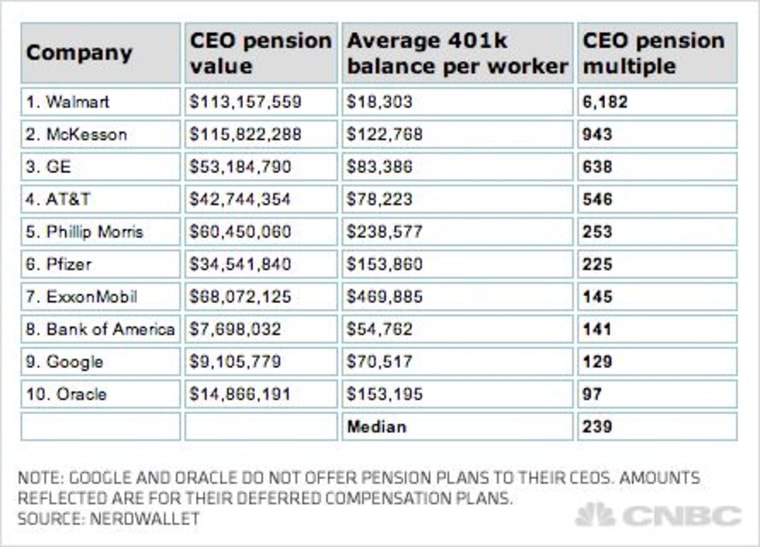 The study could add more fuel to the debate over the Securities and Exchange Commission's proposal to disclose gaps between executive and worker pay, which was mandated by financial reform legislation after the financial crisis.

"Maybe CEOs won't be bothered, but I think workers will," Lime said. "This will hurt morale and to some extent productivity."
SEC officials have battled over the plan's merits, with proponents saying it will tell shareholders whether company heads are performing up to their level of pay, while opponents believe there is no other purpose to the law than "to shame CEOs," as Republican commissioner Michael Piwowar described it.
In a statement to Reuters, Piwowar said "the shame from this rule should not be put on CEOs — it should be put on the five of us," he said. "Shame on us for putting special interests ahead of investors."
—By CNBC's Jeff Cox. Follow him on Twitter @JeffCoxCNBCcom.
Billionaires say what? Six words only they know
CEO Pay: Another statistic coming for investors
Wal-Mart earnings beat, but same-store sales slip