Fox News is in a jam this week as major automakers and smaller outfits pull their ads from the network's popular "O'Reilly Factor" show, following a series of sexual harassment claims against host Bill O'Reilly.
BMW, Mercedes-Benz, Lexus, Hyundai, and Mitsubishi all yanked their ads after a New York Times investigation that surfaced five sexual harassment cases against the political pundit.
They were joined Tuesday by pharmaceutical makers GlaxoSmithKline and Bayer, Sanofi Consumer Care, insurers Allstate and Esurance, asset management firm T. Rowe Price, and personal finance company Credit Karma.
Pacific Life; Jenny Craig; Advil; tax prep company H&R Block; Orkin, a pest control company; Untuckit, a men's clothing line; Ancestry.com, a family history service; Constant Contact, an email marketer; Ainsworth Pet Nutrition, the parent company of the Rachel Ray-endorsed dog food brand Nutrish; The Society for Human Resource Management; real estate franchise Coldwell Banker; Amica mutual insurance company; postcard app company Touchnote; orthodontic device maker Invisalign; and utomotive pricing website TrueCar also pulled ads; ODFL freight line; and online legal services provider LegalZoom pulled and/or redirected their advertising dollars to other Fox News Channel shows.
Subaru USA said it will not advertise on the show in the future.
Automotive protection product company WeatherTech said it was "adjusting our advertising schedule."
Furniture e-tailer Wayfair didn't say it was pulling its ads but a spokeswoman said they don't currently have any future ad buys planned.
The Wonderful Company, a holding company which owns Wonderful Pistachios and POM Wonderful juice firm, said it isn't currently running ads on the show and doesn't have any plans to do so. Same goes for Voya financial services.
In total, at least 27 advertisers have so far withdrawn support.
Fox News said in a statement Tuesday that it values its ad partners and was "working with them to address their current concerns about the O'Reilly Factor. At this time, the ad buys of those clients have been re-expressed into other FNC programs."
O'Reilly has denied the claims have merit — but that hasn't stopped the sponsor pullback. The show draws 4 million viewers nightly and generated $446 million in advertising from 2014 to 2016, according to research firm Kantar Media.
"In light of the recent New York Times investigation, BMW of North America has suspended its advertising with 'The O'Reilly Factor,'" a BMW spokesperson announced late Tuesday morning.
Mercedes-Benz said in an emailed statement that its advertising on the show "has been reassigned in the midst of this controversy."
Related: Roger Ailes Scandal: Another High-Profile Pundit‬‬ Hits Fox News With Sexual Harassment Suit
"The allegations are disturbing and, given the importance of women in every aspect of our business, we don't feel this is a good environment in which to advertise our products right now," added spokeswoman Donna Boland.
Hyundai said in a statement Tuesday it will remove its upcoming advertising on O'Reilly's show, citing the "recent and disturbing allegations."
"Inclusivity and support for women are important Allstate values. We are concerned about the issues surrounding the program and we have suspended our advertising," said Allstate Insurance Company spokesman Justin Herndon on Tuesday.
The Times reported that the five women have received settlement payments totaling $13 million from either Fox or O'Reilly himself.
"Just like other prominent and controversial people, I'm vulnerable to lawsuits from individuals who want me to pay them to avoid negative publicity," said O'Reilly in a statement on Saturday. He noted that during his two decade-long tenure no one had filed a complaint about him with the Human Resources Department.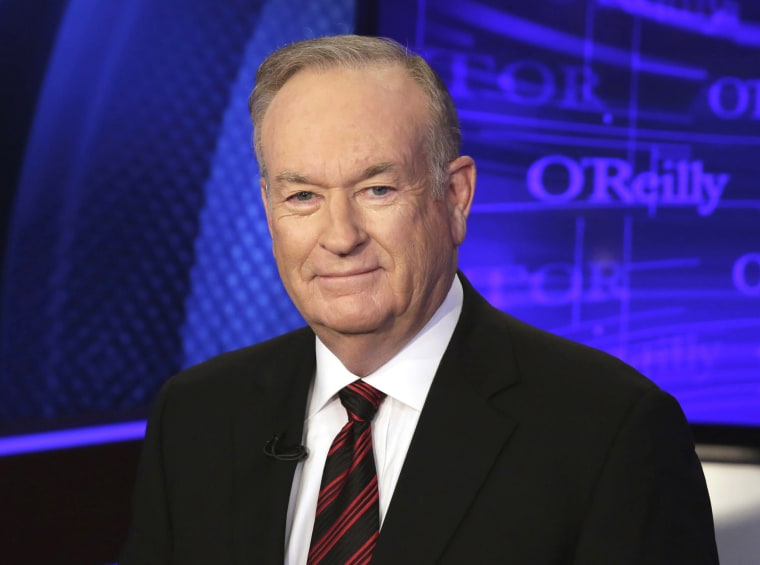 He didn't deny that he had made the payments, instead saying, "I have put to rest any controversies to spare my children."
Whether or not Fox News will make bigger changes at the show comes down to how it affects the bottom line, said Richard Levick, CEO of LEVICK, a D.C.-based crisis-management firm.
"The question is will other advertisers follow suit and then how will Fox viewers respond?" he told NBC News."If other advertisers start to pull their advertising then Fox will have to change."
"But they're gonna do the math on this and check it pretty closely before they make a change," Levick added.
The remaining advertisers are under pressure from online activists. Social media campaign Sleeping Giants got started rallying followers to get advertisers to leave right-wing site Breitbart and is now going after O'Reilly's sponsors. Their Twitter feeds are filling up with tweets asking them to pull their commercials from the show.
But judging by another strain of social media reaction, Fox News and O'Reilly fans don't seem to be in any danger of switching the channel. That may be beside the point, said Ashley McCown, president of the Boston-based Solomon McCown & Company PR and crisis management firm.
"Even if the base viewer is not expressing outrage, nothing speaks louder than money walking out the door," she said.
Fox News, said McCown, "is at a real crossroads. If outrage continues from advertisers, they need to find a way to make it go away."
21st Century Fox, parent company of the Fox News Channel, said it "takes matters of workplace behavior very seriously" and that "Mr. O'Reilly is fully committed to supporting our efforts to improve the environment for all our employees at Fox News."
The company is weathering legal challenges from former employees on multiple fronts. On Tuesday, a third black female employee joined a racial discrimination suit filed by her colleagues in the payroll department, Tichaona Brown, and Tabrese Wright. The workers' claims include allegations that a white supervisor forced them to pronounce certain words "correctly in front of white employees" and asked Wright if all three of her children "were fathered by the same man."
"There is no place for inappropriate verbal remarks like this at Fox News," said Fox in statements after the lawsuit was first filed. "We took prompt and effective remedial action before Ms. Brown and Ms. Wright sued in court and even before Ms. Wright complained through her lawyer. We are disappointed that this needless litigation has been filed."
Earlier this week, Fox News contributor Julie Roginsky also slapped the company with a lawsuit, claiming her promotion at the network was "contingent upon having a sexual relationship with [former Fox News CEO Roger] Ailes."
"Mr. Ailes vociferously denies her allegations," his lawyer Susan Estrich said in a statement. "Her interactions with Mr. Ailes were not even close to the fictional version she wants people to believe now. The idea that Mr. Ailes would pressure Ms. Roginsky or any other women to have sexual relations with him is total nonsense."
Ailes stepped down last year amid heightened pressure following allegations he had sexually harassed TV host Gretchen Carlson, claims he denied.
O'Reilly is also named in a sexual harassment lawsuit from another former Fox News contributor, Andrea Tantaros, who claimed she too was retaliated against by Fox News after she complained about Ailes fostering a work environment she likened to a "sex-fueled, Playboy Mansion-like cult."
Fox has denied Tantaros' claims.