Japan's Takata Corp. could face about $24 billion in costs to recall its airbag inflators in a worst case scenario, Bloomberg news reported, sending its shares tumbling by one fifth to an all-time low.
A scenario involving the withdrawal of all airbag inflators made by Takata containing ammonium nitrate - the explosive chemical used in potentially faulty air bags at the centre of a global recall - would affect 287.5 million inflators, Bloomberg quoted a person familiar with the matter as saying.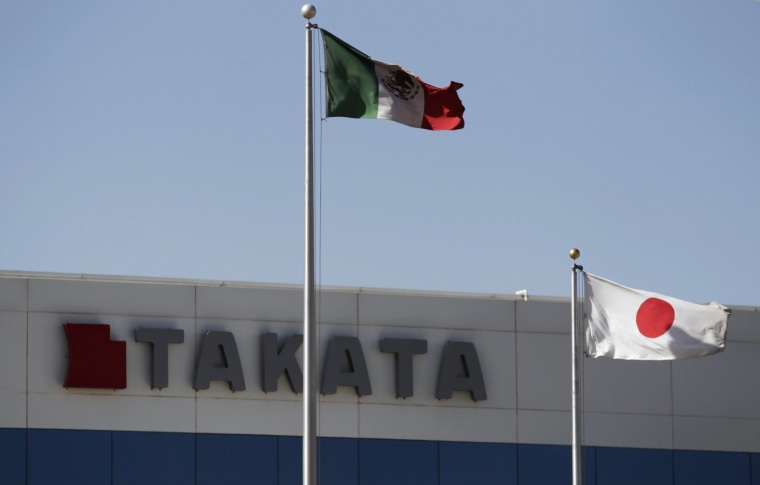 A Takata spokeswoman declined to comment on the report, saying that the company does not disclose global production figures for specific products.
The $24 billion figure exceeds by far industry estimates that Takata could face a recall bill of more than $3.5 billion if it is found to be responsible for the defective airbag inflators recalled to date, and dwarfs the company's current assets of about $1.3 billion as of December.
Shares in Takata plunged by their daily limit to give the struggling company a market value of just $302 million.
More than 50 million airbags around the world have been recalled to replace Takata's inflators, which can explode with too much force and spray metal shards inside vehicles. Globally, 10 deaths have been linked to the issue, mainly in the United States.
As many as 120 million Takata airbag inflators containing ammonium nitrate are installed in vehicles on U.S. roads alone.
Reuters last month reported that U.S. auto safety regulators are examining whether more of the company's inflators will be recalled because they may endanger drivers.
The company has already been fined $70 million by U.S. transport authorities. It also faces class action suits in the United States, where the majority of airbag-related injuries occurred.
A handful of investigations by Takata, automakers and transport authorities are currently underway to determine the root cause of the inflator defect, and automakers have said they would discuss how to split the cost of the recalls with Takata once the cause is identified.
Major automakers including Honda Motor Co Ltd and Toyota Motor Corp have said they will stop using Takata airbag inflators in new vehicle models, and have been sourcing replacement inflators from alternative suppliers.