The Philadelphia 76ers -– even after snapping a 26-game slide on Saturday -– remain historically horrid, but team execs are selling their willful descent to the NBA dungeon via a star-spangled campaign that blends a bit of Ben Franklin with a bunch of bad balling.
Make no mistake: These 76ers are nothing like the 1962 New York Mets, loveable baseball losers that offered a comic celebration of human foibles before adoring crowds. Philly's basketball team is purposely putrid, capitalizing on an NBA business structure that tempts franchises to assemble lackluster squads in hopes of rapid reboots, experts say.
Perhaps no pro sports team has been so brazen about its scheme to stink, unveiling the hashtag #TogetherWeBuild a month before its first defeat, Nov. 4. Citing the famous gathering of America's forefathers in 1776, the franchise pitched Philly fans on the notion that Franklin and company kindled a grand vision that "required hardship, years of challenge, and a fervent commitment to progress."
In NBA lingo, they just call it "tanking."
"The fans have to be understanding and patient -– two attributes that are not always on full display in Philadelphia."
"It's unfortunate, but it's a product of the system the NBA created, so the teams are left to have to do this in order to get better," said Jeff Long, president of Pattison Sports Group, a consultancy in suburban Philly. Still, he calls the PR campaign "creative and refreshing."
NBA leaders have spent decades rewriting their financial rules -– restricting rookie pay and allowing teams to shed fat contracts to create space under a mandated salary limit. Since 2013, Philadelphia has been stockpiling green prospects and future draft picks. Ex-Orlando coach Stan Van Gundy recently slammed Philly for deliberately –- albeit temporarily –- fielding a non-competitive team. But some Sixers lovers see wisdom in these woes.
"I'm not a fan of the (NBA) system," Long said. "But this is the process you have to go through if you want to be a contender. If not, you can wallow in mediocrity as a franchise. Eventually, your sales -– tickets, merchandise, sponsorship, and concessions -– all drop because people get tired of mediocrity."
NBA Commissioner Adam Silver also understands and backs the Sixers' radical re-do, telling the Wilmington, Del. News Journal: "What this organization is doing is absolutely the right thing. What they're doing is planning for the future."
And with smaller rosters than other leagues, NBA teams can at least try faster facelifts. The last season during which the 76ers vied for the title was 2000-01. As of Monday, the team's record was 16-57, second worst.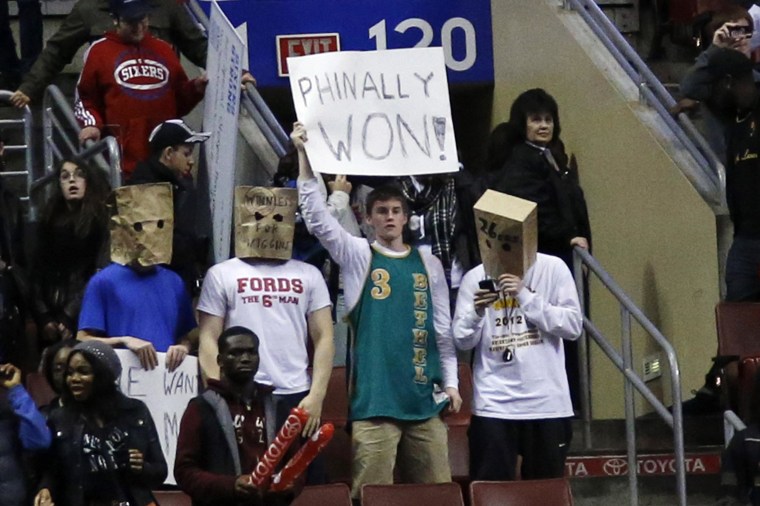 Despite the club's patriotic invitation to enjoy the ride "together," are Philly's faithful fully on board?
"Most people have turned the team off, just packed it away for a year," Long said. "It's not a cheap night (at Sixers games). You've got to put out energy, time and money, but with no excitement and really no people in the building."
Average attendance this season (13,751) is the second lowest in the NBA, down nearly 18 percent from 2012-13. The Sixers play at the Wells Fargo Center, which holds nearly 21,000 spectators.
Defeats have fueled still other losses: local TV ratings and merchandise revenue have dipped, the Philadelphia Inquirer reported.
"It's unfortunate but it's a product of the system the NBA created, so the teams are left to have to do this in order to get better."
The dive-now-shine-later theory sounds plausible on paper. With its wretched record, Philly is expected to pluck two talents from the top of a rich 2014 draft class then perhaps sign an established player to mesh with a rookie-of-the-year candidate (Michael Carter-Williams) and the sixth overall pick from 2013 (Nerlens Noel). The turn-around could be swift.
But risks remain. Draft picks must flourish. Injuries must be avoided. All the losing now guarantees nothing next year.
"The only way a campaign like this can work is if their sponsors and fans truly believe that ownership will do everything in its power going forward to field a competitive team," said David M. Carter, principal of the Sports Business Group in Los Angeles.
"Even if this is the case," Carter said, "the fans have to be understanding and patient -– two attributes that are not always on full display in Philadelphia."