Amazon may not have found the perfect location for its new headquarters, choosing to downsize the project into two smaller — though still Amazonian in stature — offices in disparate cities, but that detail isn't holding back architects from envisioning what the $5 billion project could look like inside and out.
Though we'll likely see some variation of the plant-filled biodomes that grace its Seattle home, Amazon isn't expected to go heavy on eye-catching aesthetics, favoring subtle, immersive architecture that fosters employee wellness and screams sustainability.
"In our experience with Amazon, they aren't an organization that is extravagant," said Adam Strudwick, a principal at HLW London, a design, planning, and architecture firm that works with Amazon in Europe.
"I think what [the new project] will look like on the outside will be less important than what it looks like on the inside. I can imagine a building not in the mold of the iconic Apple work, but something that is more modest externally," said Strudwick.
A modest external appearance is right on brand for Amazon. Going for a high-level splashy look would be a jump away from the crucial everyday-ness that the company represents.
"Amazon has become such an integrative part of the way we procure goods and ingest media," said Cheryl Wing-Zi Wong, director of physical design at ESI Design. "They're a huge part of our daily lives. They want to be cutting-edge, particularly in terms of sustainability, but they also want to be familiar."
Green roofs, public art, and a park-like serenity
Amazon's physical appearance, at least from an outsider's perspective, may not be striking, but we can expect some standout attributes from an employee's perspective.
Maks Goldenshteyn, communications manager at ZGF Architects, the firm that designed a 400,000 square-foot high-performance office building in Seattle's South Lake Union neighborhood for Amazon, told NBC News about some key design trends that might inform Amazon's upcoming project:
Natural light filtered through high-performance glass to minimize glare, allowing maximum daylight into the building without requiring extra cooling
Green roofs to absorb rainwater, cut down on storm water runoff, and irrigate the landscaping
Interior and exterior spaces to encourage interaction
Heated stone seats outdoors
Rooftop terraces with tiered seating
Bridges and canopies to shield pedestrians from the rain
Trees, wall gardens, green pathways, and water features throughout to bring the outdoors in
Public artwork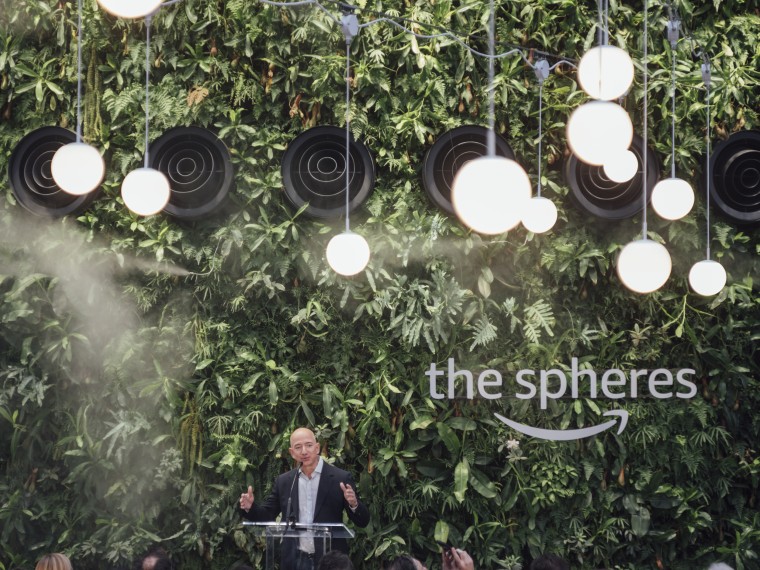 This will likely be a village you can shop in
Ultimately, each project is likely to be less of a complex or a campus and more of a "village," said Strudwick — and one that invites public engagement.
"There will be a variety of public-facing aspects that are perhaps more permeable and iconic in their typologies, [along with] elements that are more functional," said Strudwick. "I think it will be seen more as collection of forms rather than one form."
John Mack, a senior partner at HLW design firm, notes that while security will be top of mind at Amazon HQ2 and HQ3, we'll likely see ample opportunities for consumer interaction, including points of purchase.
"It will be more about the experience. I think there will definitely be curated tours done in a way that makes the public feel free to roam and peek behind the curtains," said Mack.
"Amazon's strategy is to move to more of a physical presence, so there will likely be touch points where you can buy Amazon stuff. And probably a Whole Foods."