When it comes to the most important meal of the day, corporate America wants its oatmeal.
An analysis of GrubHub Inc. breakfast delivery orders show that oatmeal is 75 percent more likely to be ordered for delivery to a work address, and one-third more likely to be ordered during the workweek.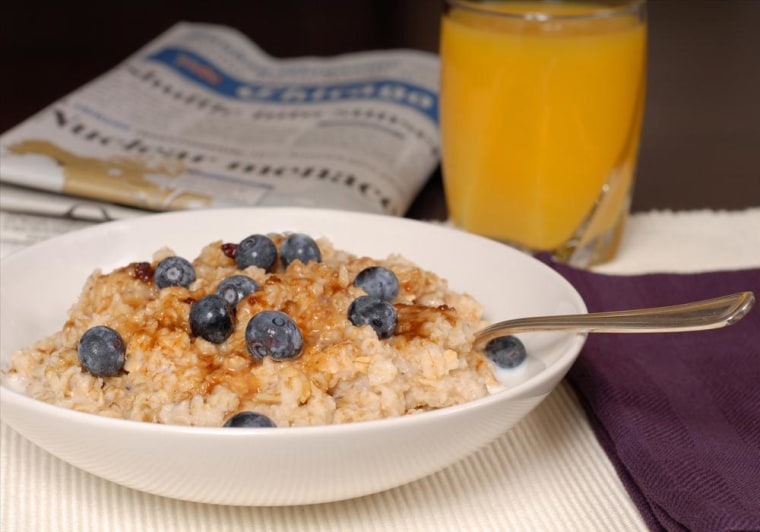 "Oatmeal travels really well, it's filling," said GrubHub spokeswoman Allie Mack. "It looks like people are trying to fuel up," she said, pointing out that coffee accounts for about one-fifth of breakfast orders overall. Oatmeal also has been spared the price hikes that have recently hit other breakfast items like orange juice, bacon, eggs and coffee.
(GrubHub looked at orders placed between 6 a.m. and 11 a.m. that were to be delivered to a saved work address versus a home address, and orders placed on weekdays versus weekends.)
Oatmeal might have a reputation for being bland, but America's worker bees shake things up a bit when it comes to beverages. Herbal tea and flavored coffees are 180 percent and 110 percent, respectively, more likely to be ordered at work than at home, and mochas are 27 percent more likely to be ordered during the workweek.
Along with oatmeal, breakfast at work tends to be a relatively healthy meal: Egg whites, smoothies, fruit salad and yogurt are more likely to be ordered at work. "People seem to be really focusing on their health and keeping themselves healthy at work on the weekdays," Mack said.
And breakfast meetings are no longer a minefield of pastries and other fare that will just deliver a sugar high and a midmorning crash. According to data from Seamless Corporate Accounts, a GrubHub platform that tracks corporate catering orders, the most common breakfast items ordered by offices are fruit, omelets, milk and yogurt — and, of course, coffee.
On weekends, though, eating healthy goes out the window. "Looks like it's more of an indulgence factor," Mack said. Foods like waffles, pancakes and eggs Benedict are overwhelmingly ordered on Saturdays and Sundays rather than during the workweek, and are far more likely to be sent to home addresses.