Falling gas prices helped restaurants and grocers last year, and consumers used their savings to spend more on cars, health care, online and travel, according to JPMorgan Chase's latest Share of Wallet analysis.
The report found the biggest losers were gas stations, electronics and department stores, which all saw their share of consumer spending shrink.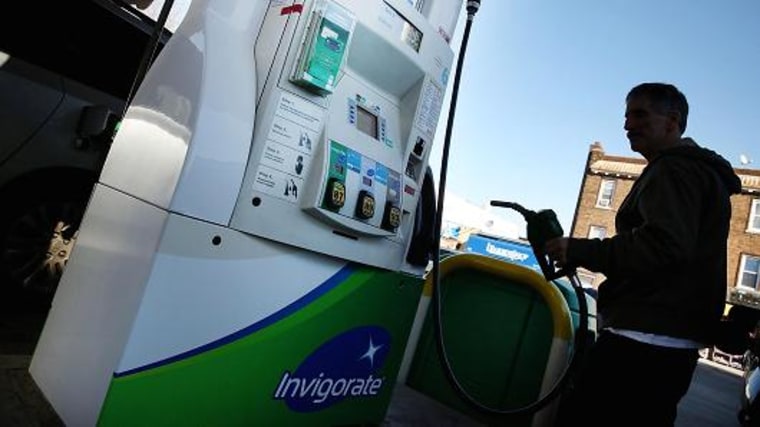 Vicki Contavespi splurged on a vacation last year, going snorkeling in the Caribbean and paying for it with savings from the gas pump. The Sterling, Virginia, resident estimates she saved an average of $200 a month last year due to cheaper gasoline.
"Filling the tank is virtually half the price it used to be," said Contavespi, a media consultant whose daily work commute last year was around 30 miles each way. She's now driving less due to a job change but is still relieved gas remains under $2 a gallon.
Nationally, the current average for regular gasoline is $1.99 per gallon, up nearly 30 cents from a month ago, but still below the year-ago average of $2.42, according to the AAA. While Virginia is one of the states where gas prices are below the U.S. average, drivers in California are paying on average $2.70 per gallon to fill their tanks.
Americans have already saved about $9 billion on gasoline this year compared with the same period a year ago, and that works out to roughly $110 million per day, according to AAA. It expects gas prices this year to remain cheaper than 2015, meaning the average driver is likely to save $200 or more on gas in 2016. Overall, the association estimates Americans saved more than $115 billion on gas last year compared with the prior year, or more than $550 per licensed driver.
"When prices fall, it makes people feel a little bit better, a little bit richer than they maybe are, and they spend a little bit more than they got from the savings on the gasoline side."
"When prices fall, it makes people feel a little bit better, a little bit richer than they maybe are, and they spend a little bit more than they got from the savings on the gasoline side," said Chris Christopher, director of consumer economics at IHS Global Insight.
Consumers are also boosting spending because job growth has been "relatively good and disposable income adjusted for inflation is picking up," he said. "The reason it's picking up is because we have very modest inflation and the wage gains are outpacing price increases."
In researching gas savings and spending by consumers, JPMorgan Chase's study looked at an aggregated and anonymous sample of Chase's 25 million debit and credit card customers. They found consumers spent roughly 80 cents of every dollar saved on gasoline. By category, spending on non-durables including groceries (10 percent) was 33 percent of the total spending, services including restaurants (18 percent) was 32 percent, and durable purchases was 6 percent.
"Restaurants is one of the biggest winners," said Fiona Greig, director of research for JPMorgan Chase Institute.
The analysts said restaurants are helped by the stronger job market, too, as more people eat out while employed. Low-end restaurants and fast food are seen as the main beneficiaries, while mid- to upper-scale chains in some cases are showing softer results in oil belt markets like Texas.
However, research by Jefferies on consumer intentions regarding gas savings found that more than half said they would use the cheap-gas dividend to pay down bills and debt or put it into personal savings.
"In 2016, consumers are prioritizing savings and debt payments, despite having more disposable income as energy costs decline," said the Jefferies' report from the firm's global consumer team.
Only 19 percent of respondents in the Jefferies survey indicated they planned to spend more due to the lower gas, compared with 24 percent a year ago. Also, it found "nearly 64 percent of respondents are concerned, or more concerned, about the economy and job market, which is up from 60 percent last year."
Jefferies survey was conducted in mid-February. It polled about 700 people.