As public health concerns mount, the porn industry has been under assault by a variety of opponents in recent years. That may be pulling the sector out of California's embrace, and into the arms of a new suitor to its west.
Mandatory condom laws in Los Angeles and the continuing threat of statewide legislation have disrupted shooting for well over a year now. Although the industry still calls San Fernando Valley home, it continues to scout out other areas that are friendly to adult entertainment — and Las Vegas could be a beacon.
Already home to the industry's annual Adult Entertainment Expo trade show, Las Vegas is a city that prides itself on its "anything goes" philosophy — albeit with some restrictions. Prostitution, for example, is technically illegal in the city, despite the flood of people handing out business cards for escorts up and down the strip.
That hasn't stopped certain companies from opening up studios in and around the city over the past two years, however. Mindgeek (the industry's biggest conglomerate) has a studio there for its Brazzers division. Other companies with a presence include Bait & Tackle, Corbin Fisher, VCX Ltd. and Bluebird Films.
Still, a few porn industry observers worry that presence could be problematic.
"I don't think the industry comprehends that it is not legal to produce porn in Las Vegas or Nevada at all," said Dr. Chauntelle Tibbals, an independent sociologist and former visiting scholar at the University of Southern California who studies the adult entertainment industry.
"That's another struggle that's going to happen — and another legal battle they're going to have to take care of," she said. "I do not think running to Las Vegas and setting up shop there is a long term solution."
"Nevada is more libertarian, I think, so we tend to have more of a tendency to say hands off"
The status of porn's legality in the state, though, may not be so simple. According to Clark County Commissioner Chris Giunchigliani, there is nothing illegal about filming adult entertainment in the state. Laws governing it, she said, fall under the same categories as sex clubs for swingers.
"They're legal. They're adults. It's consensual," she said. "As long as the women — and men — are being treated with respect ... and they're not violating zoning issues [or] filming in people's homes ... I think it's fine for them to be here."
In fact, the city does offer many advantages for porn companies. Nevada doesn't charge corporate income tax, and offers a lower overall cost of living. Meanwhile, the state recently passed tax incentives to lure filmmakers from other states.
"The industry has done well for California, but Vegas has been very supportive [to] things like the AVN show," said Kassia Wosick, assistant professor of sociology at New Mexico State University. "It's also close enough for production companies to easily go over.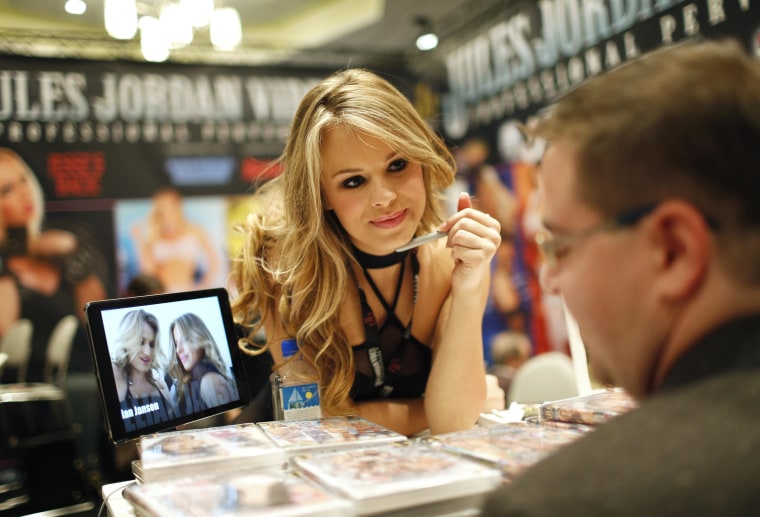 She added: "I'm not surprised that filmmakers continue to shift."
To be certain, there are some issues that could make porn studios stop in their tracks.
Not only would studios have to relocate, but many performers who are based in the Golden State would have to either move or commute in for shoots. In addition, camera and production crews are much easier to find in Los Angeles.
"I don't think the industry comprehends that it is not legal to produce porn in Las Vegas or Nevada at all"
Nevada also recently declared that strip club dancers can be classified as employees, not independent contractors. While adult performers and dancers are different fields, that's still something that could give porn studios pause, since most have abandoned the contract system with their stars.
Even if the laws were to change and the industry as a whole were to migrate to Nevada, the AIDS Healthcare Foundation, which was been leading the charge for California's condom laws, would likely push for similar laws in Las Vegas. In late December, at least one adult actor contracted HIV on a set in Nevada.
Giunchigliani, though, thinks if that were to happen, the AHF might have a harder time making an impact.
"Nevada is more libertarian, I think, so we tend to have more of a tendency to say hands off," she said. "The health board could try to do what LA is doing, but I think they would get pushback from the legislature."
Still, there are still some very prominent people in the industry who aren't yet convinced Vegas will become the new porn valley.
Brad Armstrong, one of the adult entertainment world's top directors, said he thinks the current rush to Vegas is premature. "We're a little cart before the horse right now," he said.
"I don't think everyone's ready to move out to Vegas quite yet," Armstrong added. "It's a lot of pain and suffering to get the girls out here [and an] added expense. ... It's not an easy fix to come out to Vegas."