This week in celebrity real estate, Anna Nicole Smith's home has sold, six years after her death, and actor Jeremy Renner listed a mammoth mansion for sale.
Anna Nicole Smith's home sells; proceeds go to daughter
Six years after the death of Playboy Playmate and reality-TV star Anna Nicole Smith, her Studio City, Calif., home has sold.

Smith purchased the home under her given name, Vickie Lynn Marshall, in April 2005 for $1.335 million. Upon her death in 2007, Smith's daughter, Dannielynn, and the child's father, Larry Birkhead, moved into the home. Birkhead successfully won a paternity suit and gained custody of Dannielynn in April 2007. Smith's daughter, although a minor, is a beneficiary of her mother's estate.
However in April 2011, Howard K. Stern, Smith's one-time lover and the executor of her will, gained the court's permission to transfer the home under his name. He immediately placed the home on the market with an asking price of $1.75 million. Stern was cleared of charges in Smith's accidental death this past November.
A nod to Smith remains in the home: A giant painting of the late model hangs in the entryway. One of the rooms is still decorated for a girl, presumably Dannielynn.
The proceeds of the sale, after taxes and real estate commissions, will go to Dannielynn.
Smith's former home, located at 3646 Avenida Del Sol, Studio City, CA 91604, measures 4,700 square feet and has 5 bedrooms and 5.5 baths. The Mediterranean-style home is perched above the city with dominant views from its balcony and pool area.
Jeremy Renner lists art deco mansion for $24.95 million
Actor Jeremy Renner is best-known for his action-packed roles in blockbusters such as "The Bourne Legacy" and "The Avengers," but the two-time Oscar nominee also has a knack for real estate, having flipped several Los Angeles-area homes with his business partner over the years.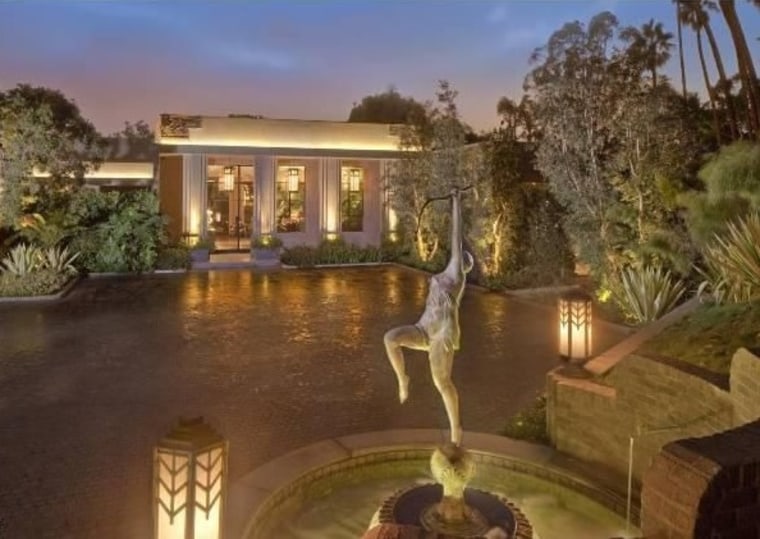 His latest project, a 10,000-square-foot Beverly Glen estate, is now on the market for $24.95 million, according to the Los Angeles Times.
The listing describes the home at 107 Delfern Dr, Los Angeles, CA 90077 as a "roaring '20s art deco home fit for a 21st-century Howard Hughes." Designed by Kristoffer Winters, the six-bedroom, 11-bath, single-story mansion sits on two extensively landscaped acres and includes 14-foot ceilings, five fireplaces, a theater, cobblestone drive, pool and spa.
The property was last purchased for $7 million in 2010 and is listed by Branden Williams and Rayni Romito of Hilton & Hyland.
As for Renner, he's keeping quite busy on the professional and personal fronts. His latest film "Hansel and Gretel: Witch Hunters," hits theaters Jan. 25, and he's expecting his first child later this year.
Related: