HANOI, Vietnam - Up to 21 people were killed and a huge foreign steel project was set ablaze as anti-China riots spread to the center of Vietnam a day after arson and looting in the south.
The doctor at a hospital in central Ha Tinh province said five Vietnamese workers and 16 other people described as Chinese were killed on Wednesday night in rioting, one of the worst breakdowns in Sino-Vietnamese relations since the neighbors fought a brief border war in 1979.
"There were about 100 people sent to the hospital last night. Many were Chinese. More are being sent to the hospital this morning," the doctor at Ha Tinh General Hospital told Reuters by phone.
Foreign Ministry spokesman Le Hai Binh confirmed one death in the clashes, and described media reports and accounts on social networking sites of higher casualties as "groundless."
In Binh Duong province alone, police said 460 companies had reported some damage to their plants, local media reported.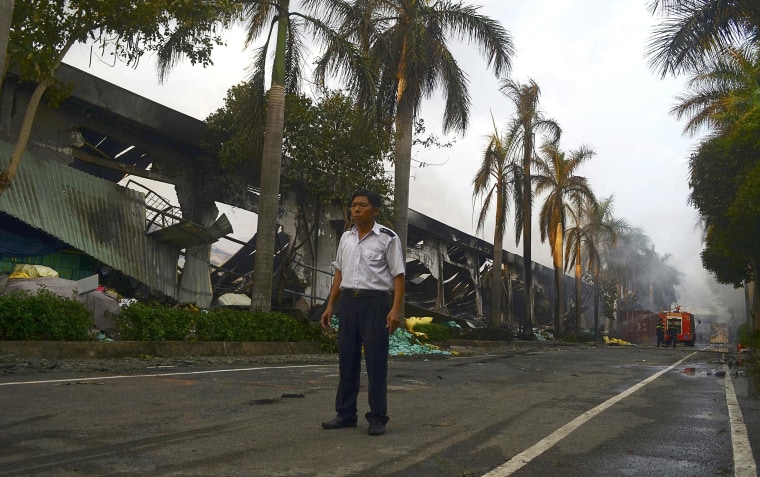 The Planning and Investment Ministry blamed the clashes on "extremists."
Formosa Plastics Group, Taiwan's biggest investor in Vietnam, said its under-construction steel plant in Ha Tinh was set on fire after fighting between its Vietnamese and Chinese workers. One Chinese worker was killed and 90 others injured, it said in a statement.
Thousands of Vietnamese set fire to foreign factories and rampaged through industrial zones in Binh Duong and Dong Nai provinces near Ho Chi Minh City on Tuesday, officials said. Protests continued on Wednesday.
The anti-China riots erupted in industrial zones in the south of the country after protests against Beijing placing an oil rig in a part of the South China Sea claimed by Hanoi.
The brunt of the violence has been borne by Taiwanese firms, mistaken by the rioters as being owned by mainland Chinese.
China expressed serious concern over the violence in Vietnam and urged it to punish criminals and compensate victims.
Although the two Communist neighbors have close economic and political ties, Vietnamese resentment against China runs deep, rooted in feelings of national pride and the struggle for independence after decades of war and more than 1,000 years of Chinese colonial rule that ended in the 10th century.
- Reuters