Banks will earn close to $44 billion from deposit account fees this year — and if you thought opting for overdraft protection would spare you some change, you are wrong: Customers who enroll in their bank's overdraft program actually end up paying hundreds of dollars more in fees.
While fee income is an important and growing stream of revenue for financial institutions, it's a dynamic that worries consumer advocates as the Trump administration lays the groundwork for rolling back financial regulations.
"Approximately one-fifth of their net income comes from this area," Mike Moebs, CEO and economist at Moebs Services, told NBC News. More than three quarters of fee revenue comes from overdraft charges, with the remainder coming from everything from ATM fees to monthly service fees to check-cashing and money-order fees.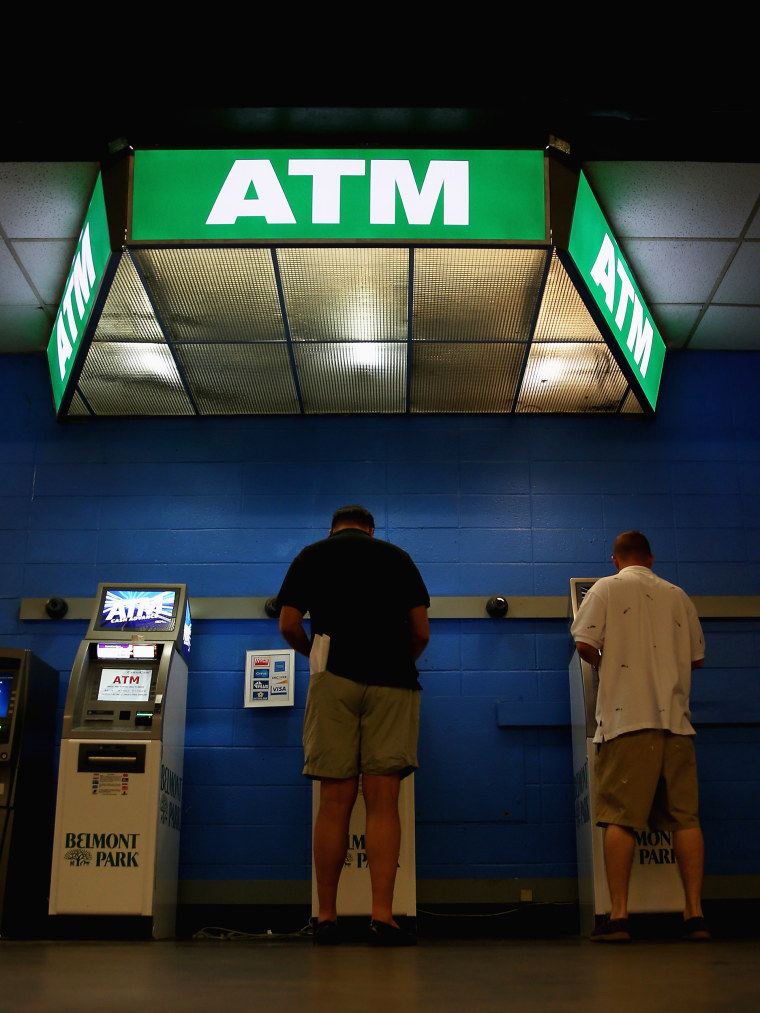 "It just helps add a more predictable component to the overall revenue picture," Greg McBride, chief financial analyst at Bankrate.com, said of fee revenue. "That has taken on a bigger role since the financial crisis."
"Interest margins were squeezed," McBride said. "Lending standards tightened significantly and the risk appetite changed dramatically," cutting into banks' revenue. Fees for services such as wealth management and mortgage originations, as well as penalty and service fees on deposit accounts have helped make up the shortfall.
Regulatory changes made in the aftermath of the financial crisis required banks to get customer permission before allowing them to overdraw their account and incur a fee for debit purchases (although not checks or electronic bill paying). People who choose not to opt in will have their card declined and not incur a fee. Banks reframed the opt-in requirement as overdraft "protection" and aggressively promoted it in a bid to get customers to opt in.
Now, the Consumer Financial Protection Bureau finds that the price of this so-called protection is high. A new report released by the Bureau shows that bank customers who enroll in overdraft "protection" pay up to $450 more a year in fees, with some customers who overdraw frequently paying nearly $1,300.
"Despite recent regulatory and industry changes, consumers with low account balances and little margin for error continue to pay significant overdraft fees," CFPB director Richard Cordray said last week.
The agency recommended that banks change how they communicate with their customers to improve disclosure — so people know what they're getting into and understand that opting in comes with a cost.
"It just continues to confirm the need for some meaningful, substantive regulations in an area that's been insufficiently regulated," said Rebecca Borné, senior policy counsel at the Center for Responsible Lending. "Overdraft practices like these sort of fit squarely within those kinds of concerns."
But the agency is vulnerable to shifting political winds and an administration with a much more business-friendly outlook. "It's certainly much more permissive and one's that's inclined to put restraints on the CFPB," McBride said.
Related: Why Republicans Want to Defang the CFPB
A report issued in June by the Treasury Department was critical of the agency's work, saying, "The CFPB's approach to enforcement and rule-making has hindered consumer choice and access to credit." The department recommended reforming the Bureau in ways consumer groups say would weaken its ability to protect consumers.
Advocates of greater oversight point to recent examples, such as last week's news that Wells Fargo's fake-account scandal might be significantly larger than the 2.1 million fraudulent accounts already revealed, as evidence indicating that banks need robust regulation. In an SEC filing on Friday, the bank said it was expanding the scope of its review to include an additional three years, and warned that the expanded review "may lead to a significant increase in the identified number of potentially unauthorized accounts."
"The study really underscores the problem where without some reasonable rules of the road that regulation in this area can accomplish, banks really stack the deck against consumers," Borné said.
"Reining in Wall Street is not a left-right issue. It's a big guy-little guy issue," Mike Litt, consumer advocate with U.S. PIRG, said in a recent statement. The organization released a poll last week finding that more than three-quarters of Americans support more regulation on Wall Street banks, including, it said, two-thirds of Republicans.
"At a time when Wells Fargo has had repeated scandals, any talk of lightening regulations is going to run into some significant opposition in light of current events," McBride said. "We can't go back to the days of the wild West."