Beyoncé is cutting ties with Philip Green, the embattled British billionaire with whom she partnered for her sportswear line Ivy Park, after he was accused in the U.K. of a series of sexual harassment and racial abuse charges.
The singer's company, Parkwood Entertainment, said in a statement on Thursday that it has acquired 100 percent of the athleisure clothing line.
Beyoncé and Green teamed up in 2014 to develop the brand, which includes leggings, sports bras and hoodies, and features the singer in its ads and promotional campaigns. The clothing range went on sale in 2016 at Green's Topshop retail chain to much fanfare.
The decision to take sole ownership of the brand comes "after discussions of almost a year," according to the statement, predating Green's current troubles.
After an eight-month investigation, Britain's Daily Telegraph published a story last month called "The British #MeToo scandal which cannot be revealed." The newspaper said a court injunction prevented it from naming the businessman or reporting the details of his alleged behavior and how he used non-disclosure agreements to buy the silence of his accusers.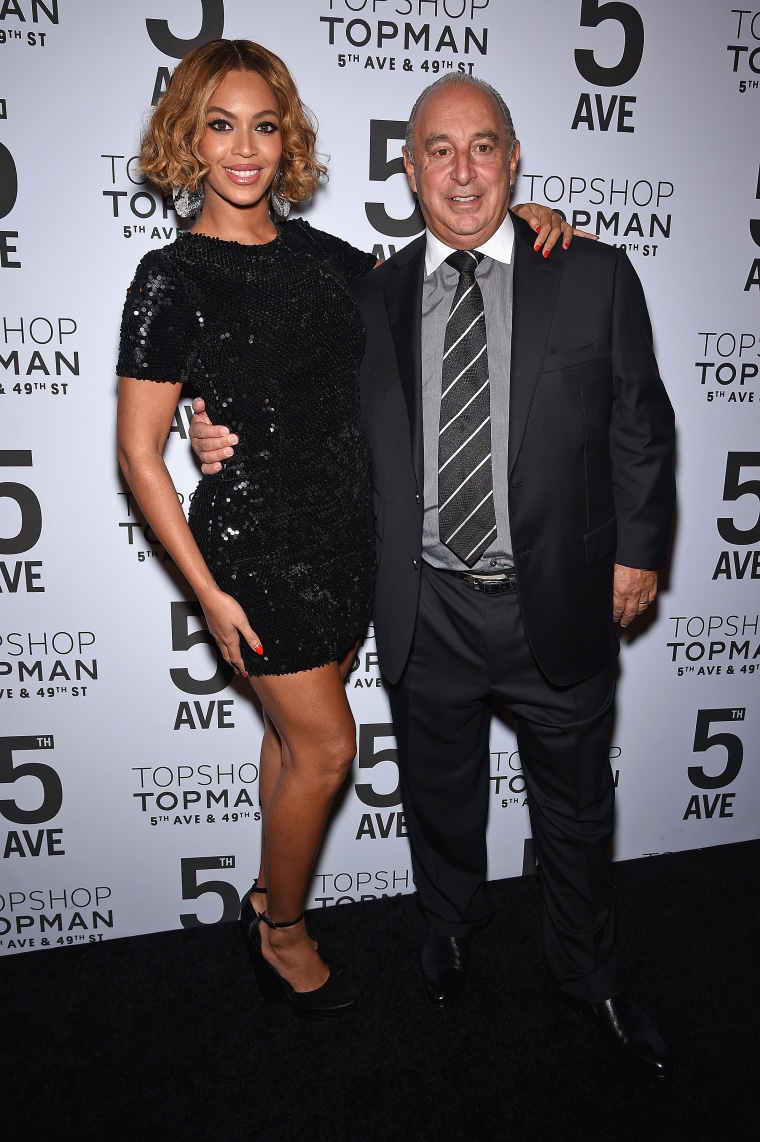 Green was later outed as the man in question after Peter Hain, a Member of Parliament, who said he felt a "duty under parliamentary privilege to name Philip Green as the individual in question." Green has denied the allegations.
Beyoncé has been under pressure to cut her multimillion-dollar ties with Green since the allegations were exposed; the "Independent Woman" singer is seen by many of her fans as a role model for girl power and is known for taking a stand against injustice.
"Beyoncé has put herself forward as a women's rights activist," Yasmeen Hassan, global executive director of human rights group Equality Now told the Times last month. "She and her team need to look closely at these allegations."
Her decision to ditch Green was applauded by fans who said "You go, girl."
While Beyoncé hasn't publicly commented on the allegations against Green, she has known the billionaire for at least 13 years. The singer performed at Green's son's lavish bar mitzvah in 2005, according to press reports from the time. With his billions in the bank and a familiar orange glow, Green has also been called Britain's equivalent to Donald Trump.
Green and Beyoncé have known each other for at least 13 years. The singer reportedly performed at Green's son's $7 million bar mitzvah in 2005, and his lavish parties have drawn an A-list crowd, including Gwyneth Paltrow, Leonardo DiCaprio and Kate Moss, according to various reports and photos taken over the years.
With his billions in the bank and tanned complexion, Green has been called Britain's equivalent to President Donald Trump.
Over the last few weeks, there have been calls for Green's celebrity friends and business partners to speak up about his alleged behavior. Simon Cowell bought out Green's stake in Syco Entertainment and said he was putting "principle" before profit, according to an interview with The Sun.
Shoppers are also taking a stand. The hashtag #PinkNotGreen has gone viral on Twitter to promote a boycott of the stores, including Topshop, that are owned by Green's Arcadia Group. However, some customers shared their concern that shunning Green's businesses may only hurt the lower-paid employees and not Green, who reportedly commutes to London by private jet from his home in Monaco.