Big Tobacco wants to reclaim the hearts and wallets of most adult Americans by rebranding its tarred image — pitching "smokeless" e-cigarettes, embracing the mantra "harm reduction," and funding science that could turn tobacco plants into life-saving medicine.
That tactical shift, not surprisingly, has cultivated cynics like anti-tobacco crusader Patrick Reynolds, grandson of R.J. Reynolds, who calls the moves mere "window-dressing PR campaigns."
Even at Reynolds American Inc. (RAI) — maker of Camel cigarettes and creator of the slogan "transforming tobacco" — spokesman Rob Dunham admits the strategy is "not without its challenges; there's a lot of history to overcome."
But amid perhaps the most ambitious image makeover in corporate history, Reynolds American's new direction got a timely boost Tuesday. Its recently acquired subsidiary, Kentucky BioProcessing (KBP), emerged as a key player in developing emergency Ebola treatments used on two American missionaries. The medium to produce that medical breakthrough: tobacco plants.
"We embarked on a transformation agenda that, at its heart, is envisioning a tobacco industry that, at some point in the not-too-distant future, looks very different than the one we see today — or the one we've seen historically," Dunham said.
"I'm not sure we would use the word 'rebranding.' The only reason I would balk at that (word) is it almost suggests we're trying to somehow re-position as a PR exercise to get people to think differently," Dunham added. "This is at the very core of our business strategy."
At Reynolds American, top planks in that platform include "our commitment to reduce the harm caused by cigarette smoking," curbing youth tobacco use, and "migrating historical cigarette smokers to other forms of tobacco that have the potential for far less risk," Dunham said.
For RAI — and for its top competitor, Philip Morris USA — much of that migration is toward the industry's fastest rising niche: electronic cigarettes. The battery-operated vaporizers deliver inhaled nicotine without the tar and combustion of traditional cigarettes. Some Wall Street analysts predict e-cigs alone may eclipse the traditional cigarette market within the next 10 years.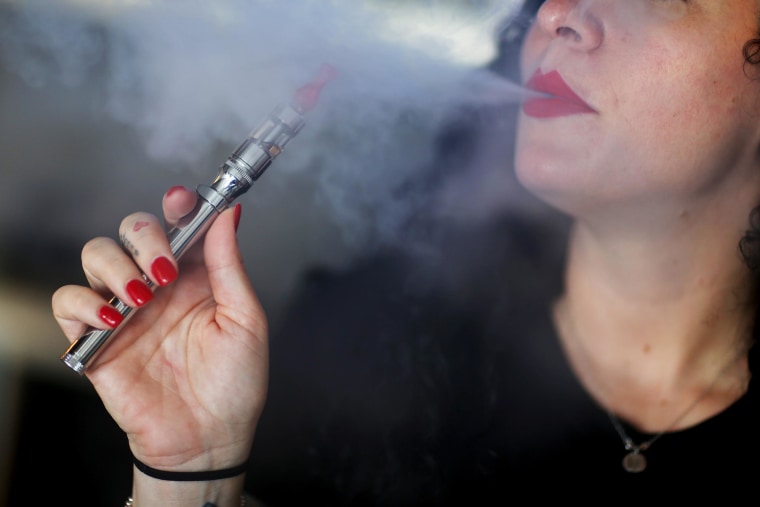 At Philip Morris — maker of Marlboro, the top-selling cigarette — executives haven't crafted a slick slogan to accompany a new business direction. But rebranding is part of the corporate DNA. Today, Philip Morris operates under the parent company Altria Group, Inc. The name Altria is rooted in the Latin word for "high."
Altria's latest products similarly reflect an evolving marketplace — during the last 50 years, cigarette consumption has been cut in half. In 2013, Altria launched its first e-cig, MarkTen, and expanded Verve, a chewable nicotine disc. Its website is sprinkled with language signaling a different approach, including a vow to "address societal expectations" and a promise to connect "adults who have decided to quit smoking with information to help them."
"We believe that, given our deep experience in the largest categories today, we truly understand what adult tobacco consumers are looking for," said Altria spokesman Bill Phelps. "So we've communicated publicly that we have a strategy to grow new income streams with innovative products that meet those adult consumer preferences."
Along with that shift, Altria has supported giving the U.S. Food and Drug Administration the authority to regulate tobacco products, Phelps said.
In April, the FDA proposed asserting its jurisdiction over new tobacco products such as e-cigarettes and nicotine gels.
"Our companies are focused on developing lower-risk products that would appeal to adult tobacco consumers," Phelps said. "And we think that's an important opportunity under this FDA regulation."
But after five decades of federal health warnings, heart-breaking tales from dying ex-smokers, and hefty civil penalties against cigarette makers for causing wrongful deaths, talk of "harm reduction" and "lower-risk products" has plenty of skeptics.
"Business transformation is like open-heart surgery — you've got to crack the ribs and remove some organs. It depends how serious they are," said Dean Crutchfield, a New York-based brand consultant. His past clients include BP, PepsiCo and McDonald's.
"Is it an entirely new business model? True brand transformation involves the business as well. You can't cover up the smell of inauthenticity," Crutchfield added. "What worries me when I start hearing someone saying 'transformation,' they start to sound (as if they're) beached on the sludge bank of corporate puff."
So, how to pull off such a monumental redo? Be honest with consumers "by not trying to cover this massive challenge with a single marketing position," said Raymond Bednar, president of Hyperion Marketing Returns in New York.
"You simply can't try to envelop the mess of the recent past in a new skin," Bednar said.
The tobacco corporations should step gingerly, he added, by branding their new products in a way that completely separates present from past while not alienating their core, avid – and addicted – users.
"I can't imagine them," Bednar said, "bringing out the retired Marlboro Man in an e-cig ad."
Then there are the true doubters, like Patrick Reynolds, grandson of R.J. Reynolds — the man who founded his self-named tobacco company in 1875.
"Their credibility is very low when it comes to trying to do good in the world," Patrick Reynolds said. "They're trying to adapt to the times. They see smoking as on the way out. They have a disappearing market base. They're looking to survive in the smoke-free world, and that is coming.
"The tobacco industry," he added, "they're trying to put on the emperor's clothes, but in the end, we see the naked truth."