/ Source: Associated Press
The largest U.S. jewelry chain on Wednesday decided to put a ring on its much smaller rival, creating a $6 billion jewelry juggernaut with expansive reach in North America.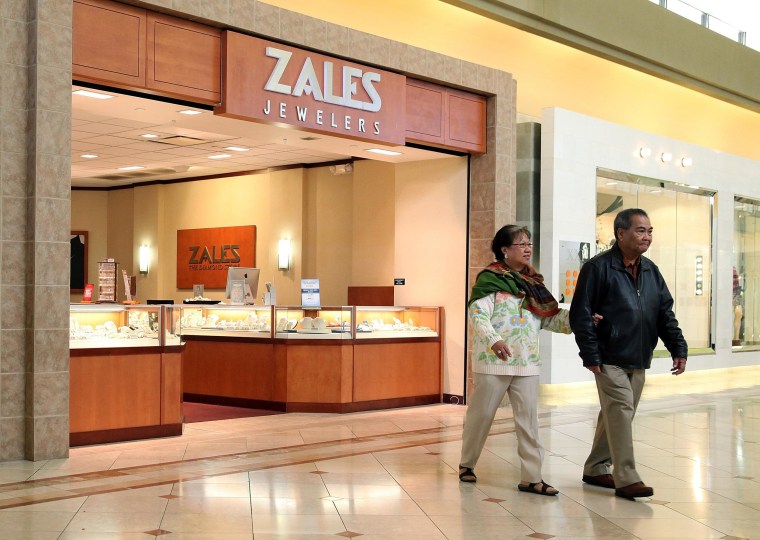 Signet Jewelers, owner of Jared The Galleria with its "He went to Jared" slogan and Kay Jeweler with its "Every Kiss Begins with Kay" ads, agreed to buy Zale for roughly $900 million.
Turns out, diamonds aren't just a girl's proverbial best friend; Investors seemed to like them Wednesday, too. On news of the planned acquisition, Signet's stock rose more than 18 percent, while shares of Zale soared more than 40 percent.
The deal underscores the harsh realities of the $32. 8 billion jewelry business since the Great Recession. Sales of necklaces, rings and other jewels got hammered during the economic downturn as shoppers pulled back on their discretionary purchases.
Now, business is slowly starting to come back during the economic recovery. But there are still a number of jewelry chains in the market, and sales are still far from their pre-recession peak of more than $36 billion in 2006.
"The deal is a rational response to the imbalance of supply and demand," said Craig Johnson, president of Customer Growth Partners, a retail consultancy in New Canaan, Conn. "There are too many stores chasing too few jewelry buyers."
Bermuda-based Signet has 1,400 Jared and Kay stores in the U.S. and 500 stores in the U.K. under the names H. Samuel and Ernest Jones. Dallas-based Zale Corp. has 1,680 stores in North America under Zales, Gordon's and other names.
Together, Signet and Zale would have 16 percent of the U.S. jewelry market, according to IBISWorld, a market research firm.
As part of the deal, Signet said it will pay $21 per share for Zale. That's a 41 percent premium to Zale's $14.91 Tuesday closing price. The acquisition still needs approval from Zale shareholders.
-The Associated Press