Maybe it's time to go back to calling Black Friday the day after Thanksgiving.
While the so-called shopping holiday and the ensuing weekend were busy for retailers, analysts and early statistics indicate that Black Friday continued to wane in importance this year. That's in large part because retailers launched sales earlier and extended them later, reflecting shoppers' growing preference for shopping online in their slippers rather than fighting crowds at the mall.
Stephen Baker, vice president of industry analysis market research firm the NPD Group, even suggested that it may be time to drop the moniker Black Friday, saying, "We're on the path to a very different kind of holiday selling season then we've had in the past."
In a way, retailers are victims of their own success at making it easy for people to shop whenever, wherever and however they want.
"There's an overall dilution when it comes to this entire shopping weekend," said Jesse Tron, spokesman for the International Council of Shopping Centers.
Although its exact origins are disputed, Black Friday came into its own as a distinct event in the late 1980s and early 1990s, when retailers started promoting it as the unofficial kickoff to the holiday shopping season. Its importance grew with each passing year, drawing increasingly large crowds into retail stores for "door-buster" deals and developing into one of the busiest shopping days of the year (though there's no evidence to support the popular idea that the day is when retailers turn a profit for the year).
But the growth of online shopping and retailers' response of earlier sales have chipped away at Black Friday figures.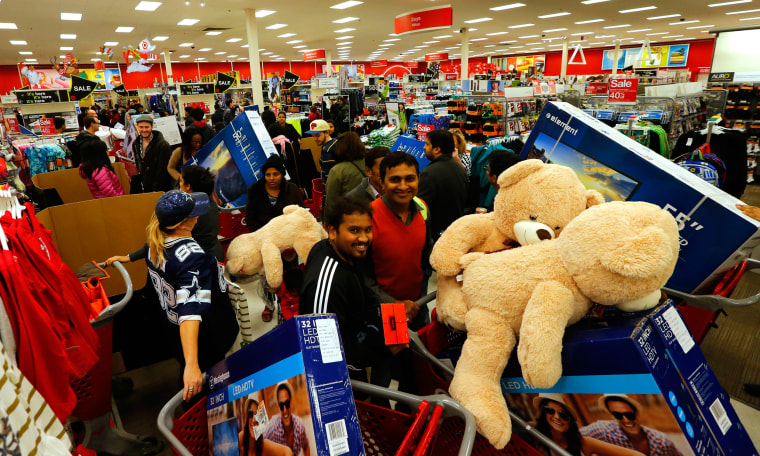 According to the National Retail Federation, 103 million people shopped online over the holiday weekend, edging out the 102 million who shopped in stores. In total, the NRF said more than 151 million people shopped over the long weekend – either online, in-store or both -- while about 94 million people said they didn't shop at all.
Those who shopped spent an average of $299.60, about three-quarters of which was on gifts, the NRF said. Because it changed its method of calculating spending this year, no comparable figure from 2014 was available.
While solid numbers on spending won't be available until the government releases consumer spending data for November, various research and analytics firms provided first-draft figures that gave a glimpse into the changing nature of consumers' shopping habits.
How the Recession Changed the Way Americans Spend Money
Research and analytics firm ShopperTrak, for example, estimated that Americans spent $1.8 billion on Thanksgiving Day and another $10.4 billion on Black Friday.
Data from analytics firm RetailNext, meantime, showed retail sales at brick-and-mortar retailers for Thursday and Friday fell 1.5 percent on flat customer traffic, while average spending per shopper dropped 1.4 percent. Online sales were up by double digits, it said.
Whatever the final figures show about the weekend shopping patterns, it seems clear that "this year may be a tipping point for retailers," NRF spokeswoman Kathy Grannis Allen said in an email.
"(As) more shopping is going to go online, especially mobile, I think the difference between the days is going to continue to decrease," said Yoram Wurmser, an analyst for eMarketer. "That's taken a little bit of the thunder away from Black Friday."
The de-emphasis of Black Friday isn't necessarily a big blow to retailers, as data show strength in overall online sales.
Online sales on Thanksgiving Day, for example, grew by 25 percent this year, according to Adobe Systems. And over the first 24 days of November, consumers spent almost $27 billion shopping online, up nearly 9 percent over last year. Shopping on mobile devices like phones and tablets accounted for nearly half of all retail visits and about a quarter of sales, according to Adobe.
But the markets were unimpressed with those bright spots.
Department stores, whose share prices had already declined recently, due to low expectations going into the last two months of 2015, fell further. Shares of Macy's were down 2.7 percent at $38.90 on Monday afternoon. Nordstrom shares were down 2.2 percent at $56.33, Kohl's stock was down 3 percent at $46.64 and Wal-Mart shares were down 1.4 percent at $59.04.
Cyber Monday Is a Trial by Fire for Many Retailers' Websites
For the year, Macy's stock has now plummeted 41 percent while Nordstrom is down 24 percent.
More than 80 percent of the stocks in the S&P retail index were down. Gainers included Best Buy , which was up 0.8 percent at $31.72, and Priceline Group , up 0.6 percent at $1,252.13.
Even online shopping heavyweight Amazon.com, which should benefit from the Internet shopping trend, was down 0.4 percent at $670.38.
"In the short term, players are saying 'Hey, this is not what I positioned myself for,'" said Frank Davis, director of sales and trading at LEK Securities in New York. "They thought maybe we'd get a bit of a pop, but that hasn't happened."
This year, analysts' predictions about which categories would fare well were mostly accurate.
Electronics, especially TVs, are typically big Black Friday fare, and this year was no exception, Baker said. "People certainly buy what you promote, and this year, everybody was promoting big screen TVs," he said. "People were clearly enticed by what those segments had to offer."
Toys, especially "Star Wars"-themed playthings, sold well. Headphones, fitness trackers and workout clothing also moved briskly. And with winter weather finally making an appearance in much of the country, clothing did better than expected.
No Leaping in This Year's 'Twelve Days of Christmas' Price Index
"We clearly saw that pent-up demand came in," said Sarah Quinlan, senior vice president of market insights for MasterCard Advisors.
That's a relief for beleaguered clothing stores, said Joseph Feldman, senior managing director at Telsey Advisory Group.
"There was a lot of fear coming off third-quarter earning that there was so much inventory, we'd be seeing these massive promotions," he said. But now it looks as if retailers might not have to lower prices beyond what they have planned, he said.
Shoppers at teen-oriented clothing stores like American Eagle and Abercrombie & Fitch, which have in the past had to slash prices to move goods, might not see the kinds of deals they have in previous years, Feldman said.
But retailers overall have done such a good job training shoppers to wait for sales that markdowns are a must, becoming more entrenched even as the idea of a one-day event fades.
"The backdrop is the consumer (is) very much focused on promotions and deals," said James Russo, senior vice president of Global Consumer Insights at Nielsen. "There's lot of focus on promotions."
Mobile technology plays a role in this shift, since people can comparison-shop a rival's prices even when standing in a store.
"Because of how influential that digital channel is, we're seeing a very smart savvy, conditioned consumer who knows they're going to wait for value," said Tron, of the shopping center council. "The traditional shopper journey has changed."
And the biggest change is the devaluation of Black Friday, said Baker.
"While Black Friday still generates an awful lot of buzz, I think it's definitely... lost some of its excitement," he said.
Reuters contributed to this report.