A deadly U.S. drone strike this week targeted a Somali man with a $7 million price on his head — a reward that's part of the bounty business, where big money awaits snitches and do-gooders alike, often proving that dangled dollars can trump loyalty, family and fear.
The attack Monday killed six militants in a remote region of Somalia, but the al-Qaeda-linked group al-Shabab would not say whether the missiles struck its leader, Ahmed Abdi Godane. Al-Shabab took responsibility for the Westgate mall attack in Kenya last year that claimed at least 67 lives.
There's no known link between the drone strike and the $7 million reward being offered for information on Godane. But a fuzzy image of him is one of some 60 photos on a U.S. State Department website that lists the most-wanted terrorists — a program called "Rewards for Justice." That catalog of chaos spans more than 20 nationalities and lumps a physician, an engineer and a lawyer with bomb-makers, assassins and hijackers.
The feds' list also contains two women and four U.S. citizens, including Adam Pearlman, (a.k.a. Adam Gadahn), 36, who was born in California and later became an al Qaeda translator. The price for information leading to Pearlman's capture is $1 million. The biggest reward — $25 million — is set aside for Ayman Al-Zawahiri, founder of the Egyptian Islamic Jihad.
"There are many reasons for sources coming forward, but money is obviously a powerful motivating force," said Deputy Assistant Secretary Robert A. Hartung, who oversees the program.
Since 2011, Rewards for Justice (RFJ) has doled out about $25 million to some 20 informants, according to its website.
"I cannot emphasize enough that this program helps save lives," Hartung said.
Launched in 1984 — a year after the bombing of the U.S Marine barracks in Lebanon killed 299 troops — the program's website reports it has paid more than $125 million to over 80 people "who provided credible information that put terrorists behind bars or prevented acts of international terrorism worldwide."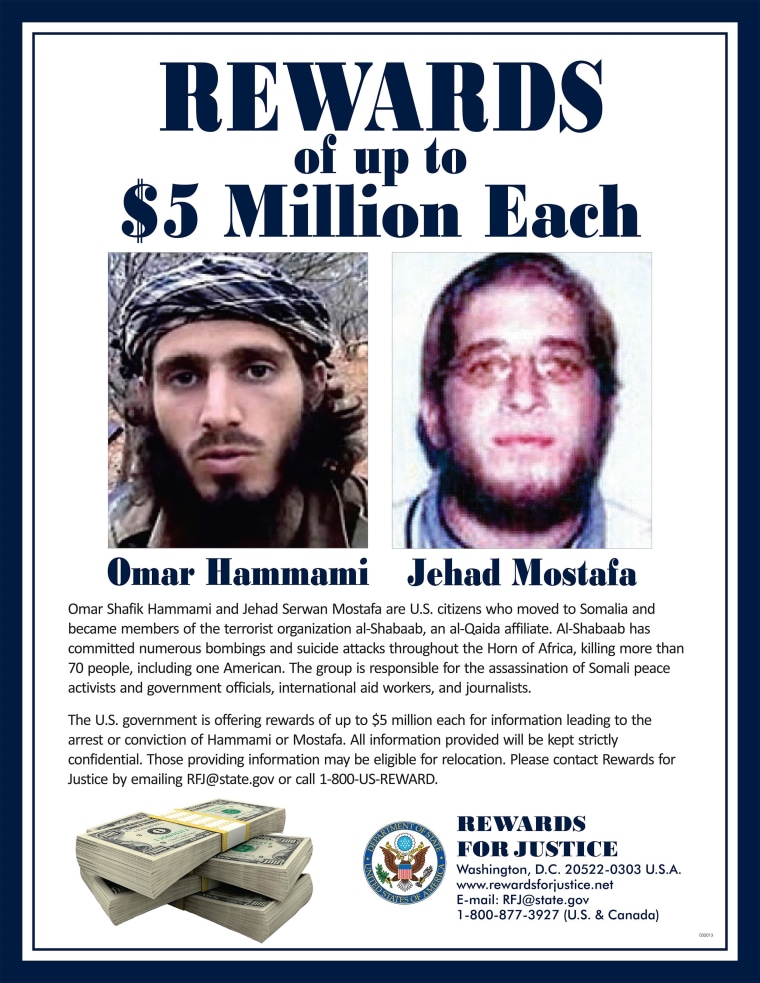 But the business of dispersing compensation to those who guide U.S. spies to top terrorists is founded on two rigid rules.
One: Don't call the money "bounties." That word is negatively linked to Old West imagery of marshals or citizens hauling in the bodies of wanted crooks, State Department insiders say. Call them "rewards."
Two: The distribution of those rewards — all funded by American taxpayers — must remain top secret. This is one fiscal pipeline where transparency can be a killer.
"Generally, RFJ is not at liberty to discuss payments to sources as confidentiality is the cornerstone of the program," Hartung said.
But there are cases when RFJ officials will offer a peek at the process — including in response to a question posed by NBC News: Has anyone pocketed more than one reward?
" But they have to feel like they can stay alive long enough to enjoy the reward."
At least one, Hartung said. In 2003, RFJ gave two separate $15 million payments to one individual who supplied intel on the whereabouts of Uday and Qusay Hussein, sons of former Iraqi dictator Saddam Hussein. Both were subsequently killed in a 2003 shootout with U.S. troops in Mosul, Iraq.
To earn a reward, a tipster must be nominated by a federal agency such as the Department of Defense. Next, an interagency committee composed of national security, military and law enforcement personnel "carefully evaluates" the information, Hartung said. Those deliberations are classified. If the council agrees, it recommends that the secretary of state approve the amount.
The secretary has "complete discretion over whether or not to authorize a payment, and can change the amount," Hartung said. Payments may be in the form of money — or in the financial equivalent of vehicles or livestock.
The State Department doesn't get annual congressional funding for its rewards. That money is withdrawn from yearly appropriations to the Emergencies in the Diplomatic and Consular Services budget, Hartung said.
Some U.S. security analysts see value in the ancient tool of paying the public for a pinch — a buck is a buck around the world. But in the terror business, fear often eclipses greed.
"A lot of people in the broader Middle East are motivated by money. But they have to feel like they can stay alive long enough to enjoy the reward," said Michael O'Hanlon, senior fellow with the 21st Century Defense Initiative and director of research for the Foreign Policy program at the Brookings Institution.
"It's going to require some degree of proximity to U.S. government people whom they know personally, allowing them to feel trust. Secondly, they have to feel the security is good enough locally to collect the reward. There's a fairly limited subset of cases where those conditions are applicable. It's worth doing. But you've got to keep your expectations modest," O'Hanlon said.
Bounty hunters made famous by TV shows work an entirely different side of the street, typically chasing down arrestees who have skipped town while free on bail bonds. The money in that industry is a bit more mainstream. According to BountyHunter.org, if a bounty hunter accepts about 100 to 150 such cases a year, he or she will earn about $50,000 to $80,000 by retrieving local scofflaws.
Like the State Department, the Federal Bureau of Investigation tries to crack its domestic cases by enticing tipsters. In February, the agency announced a reward of up to $10,000 for information leading to the arrest of any person aiming a laser at a plane.
But for many police departments, rewards just get financially messy.
"The more sensational the story, the more complex it became. It often resulted in multiple claims that became contentious," said Stephen Downing, a retired Los Angeles Police deputy chief. "Recall the Dormer reward."
In 2013, a California camp ranger who was carjacked by rampaging ex-cop Christopher Dorner asked a Los Angeles judge to block the release of a $1 million reward. The ranger argued he should receive some of the loot because his 911 call led authorities to Dorner, who took his own life after killing four people. The judge denied the request.
"Police do not usually offer the reward because they don't have the funds," Downing said. "It usually comes from politicians offering taxpayer money — and is usually accompanied by an exposure motive."