BuzzFeed News is shutting down.
In an email to staff shared with NBC News, BuzzFeed Inc. CEO and co-founder Jonah Peretti said the move was part of a 15% workforce reduction across a number of teams.
"While layoffs are occurring across nearly every division, we've determined that the company can no longer continue to fund BuzzFeed News as a standalone organization," he wrote.
Peretti said he had overinvested in BuzzFeed News "because I love their work and mission so much."
"This made me slow to accept that the big platforms wouldn't provide the distribution or financial support required to support premium, free journalism purpose-built for social media," he wrote.
He added that he had failed to "hold the company to higher standards for profitability" to give it a buffer during downturns.
Moving forward, BuzzFeed will have a lone news brand, HuffPost, which BuzzFeed acquired in 2020 and which Peretti said "is profitable, with a loyal direct front page audience."
Affected BuzzFeed News staffers will have an opportunity to apply for "a number of select roles" at HuffPost and BuzzFeed.com. Peretti said he planned to engage with the News Guild union about the cost reduction plans and what they would mean for affected union members.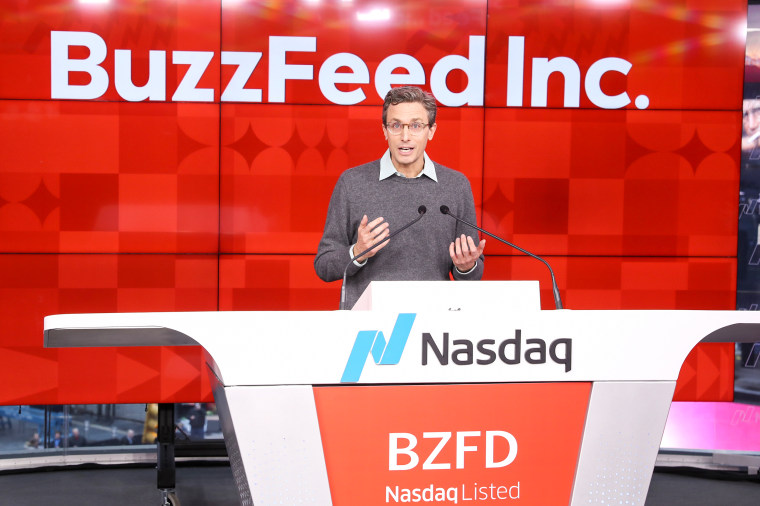 BuzzFeed News launched in earnest at the outset of 2012 after it named longtime New York City political reporter Ben Smith as its editor-in-chief. In 2021, the news organization won a Pulitzer Prize for a series exposing China's mass detention of Muslims. That same year, it was also named a Pulitzer finalist — the second time it had received the honor.
Later that year, BuzzFeed Inc. became a publicly traded company amid a global frenzy of reverse mergers, many of which have since lost significant value. In BuzzFeed's case, it never traded above its initial public offering price of about $10.
Following the announcement Thursday, shares in the company fell another 20%, to about $0.72.
Comcast, the parent company of NBC News, owns a minority stake in BuzzFeed Inc.
BuzzFeed's announcement came the same day the digital news media company Insider said it would shed 10% of its workforce. The Daily Beast was first to report the Insider layoffs.
The job cuts reflect a broader downturn in the media and tech industries, as the breakneck growth seen in the immediate aftermath of the pandemic has begun to rapidly fade amid a slowing economy. Other digital platforms that have announced headcount reductions include ESPN, Spotify, Yahoo and Vimeo.
MSNBC's Hayes Brown contributed reporting.