Generators have long been a fixture in states with frequent snowstorms and tornadoes — not in mild California. But that was before the state utility Pacific Gas & Electric announced it would be implementing rolling blackouts for the next decade to protect against wildfires, plunging residents into darkness for hours at a time and driving a boom in backup generators. While Wall Street rejoices over an untapped market, the surge in home generators is raising questions among environmental advocates about increased pollution, carbon monoxide poisoning and fire hazards.
Compounding the situation, California's air quality regulatory agency announced last week that it would allow manufacturers to sell generators that don't meet California's strict emissions standards through December — a move that will lead to an influx of generators that emit more harmful toxins and particulates into the air than federally approved engines.
"We're facing this weird new world where PG&E is going to be able to shut down power and put people out of power for more days at a time," Ann Carlson, an environmental law professor at the UCLA School of Law, told NBC News. "The whole question shifts because suddenly you have lots and lots of generators being run all the time. … We don't know what the cumulative impact will be."
Generating demand
Susan Ann Hurd's voice breaks when she talks about the stress of living in the dark as a result of the blackouts. Hurd has a nerve disability, and her husband — a fire captain with the California Department of Forestry and Fire Protection — was recently diagnosed with a nerve syndrome that has left him a partial paraplegic.
"I'm afraid he is going to fall and break his neck and we'll have no power to call 911," she said. The Hurds knew they needed to invest in a power alternative, so they bought a 3500 Predator generator for $800 in early October that runs on unleaded gasoline. It powers their two small refrigerators, a TV and their cellphones. They share the generator with neighbors who can't afford one of their own.
One California resident compared the frenzied hunt for generators to the apocalyptic survival scenario in 'The Walking Dead.'
The blackouts, which started in September, have sent entire swaths of the state into darkness. Schools and restaurants have been forced to close temporarily, and more than a million people have resorted to camping in their own homes, storing food in ice chests, eating meals over candlelight, and filling their bathtub with water to flush their toilets.
That has led to an urgent need for home generators. Some residents in Sacramento told NBC News they had searched as far as Fresno, nearly 170 miles away, for a generator because local stores were out of stock.
"You think about 'The Walking Dead,'" Sabina Melendez, a Vacaville resident who recently bought a whole house generator, said in an interview. "People's attitudes and behaviors are going to change when you're in a desperate situation."
Blackout bonanza
PG&E is supposed to trim the trees around its power lines and keep equipment updated — but it has failed to do so for decades. The company has been found responsible for at least 17 of the state's major wildfires in 2017, including a fire in the town of Paradise that resulted in 86 deaths. Under California law, utilities are financially responsible for wildfire damage if it is a result of negligence. PG&E filed for Chapter 11 bankruptcy in January, citing more than $30 billion in potential liability costs tied to wildfires.
PG&E is now on a fast track to update its aging infrastructure. To keep equipment from sparking any more fires in high-risk areas, it is implementing the rolling blackouts.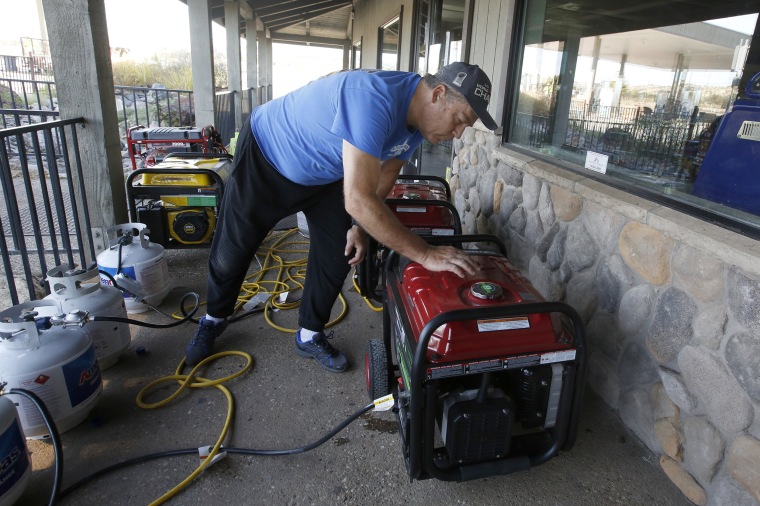 Unsurprisingly, the news that California won't have a reliable electric grid for the next 10 years has boosted share prices for companies such as Generac, which owns about 75 percent of the home standby generator market. The company's California business has skyrocketed, with in-home consultations up by more than 400 percent over the entire year and sales three times higher than a year ago, Generac CEO Aaron Jagdfeld said.
"We don't see it slowing down, we really don't," Jagdfeld told investors in October.
Generac isn't the only generator company seeing a spike in its California business. Champion Power Equipment saw sales increase tenfold during PG&E's three-day power shut-off in October, Todd Welzbacher, the company's vice president of sales, said.
"California was a market everyone essentially ignored," Tom Hayes, an analyst with Northcoast Research, said. "If PG&E sticks by their story, you'll see strong double digit growth through that period of uncertainty."
Generator manufacturers are hosting employee training sessions in hotel conference rooms. Dealer calendars are booked months in advance. One company is even opening a direct-to-consumer store.
Generator manufacturers are scrambling to meet the surge in demand. Generac is hosting training sessions in hotel conference rooms for new technicians and it's looking to open a storefront with a warehouse in the Sacramento area. Its dealers' calendars are booked months in advance. Kohler, which makes generators for homes and small businesses, said that it hopes to increase its capacity in California by 100 percent to meet demand. Briggs & Stratton, which carries a line of generators, plans to build out its dealer network over the next year or two and increase manufacturing according to demand.
"I don't think this is going to be an opportunity that goes away," Rick Carpenter, a spokesperson for Briggs & Stratton, said. "I think it's one that's going to be building over time."
Environmental concerns
The boom in generators in California raises questions about how the state will handle the influx of engines that release toxic matter. Before last week's waiver, every residential-type generator at or below 19 kilowatts had to be certified by California emissions standards in order to be legally sold.
Portable generators that are compliant with California laws are much cleaner than generators that meet minimal federal emissions standards. But they still emit pollutants called fine particulate matter, which are toxic air contaminants so small they can be seen only with a special microscope. These fine particles can be inhaled into the deepest recesses of the lungs, causing respiratory issues such as coughing and aggravated asthma.
These particles can be carried over long distances, and can increase acidity in lakes and streams, deplete nutrients in soil, and damage forests and farm crops, according to the Environmental Protection Agency.
Portable generators emit microscopic particles that can be inhaled into the deepest recesses of the lungs, causing respiratory issues.
"If the state continues to have major blackouts, generators will become a regular power supply," said Michael Stavy, an environmental economist and a renewable energy consultant. "But those generators aren't made to go 24 hours a day for months — they're made for emergency backup."
The California Air Resource Board said it is collecting information about the size and number of generators in the state and the impact of power shutoffs on air quality. But analyzing air quality is difficult during and after a wildfire, with data affected by ash released into the air and toxins from melting wiring or plastic pipes, plus lead paint and asbestos.
"Cumulatively, you may not have an increase in emissions that violates clean air standards," UCLA's Carlson said. "But you might have spikes in areas where generator concentrations are high."
So far, Placer County and Lake County air quality management districts have not found evidence that the increase in generator use has affected air quality. Northern Sierra said it does not have enough data to quantify the impact on air quality.
Meanwhile, the lights are back on at the Hurd home in Grass Valley — for now. Susan Ann Hurd is looking to buy a full house generator before summer, when temperatures can reach into the 100s. The heat irritates her nerves and sends her into seizures. She estimates she and her husband will spend around $18,000 for a home generator. They plan to dip into their savings, which they were going to use to retire and travel the country.
"This is what I would call an emergency, and I would be willing to deplete my savings for this," she said. "That's what we have to do to keep us healthy and survive."
CORRECTION (Nov. 11, 2019, 1:57 p.m. ET) A previous version of this article misstated the kinds of pollutants produced by portable generators, almost all of which run on gasoline or propane. Though all generators produce fine particulate matter, only diesel-powered generators produce fine diesel particulate matter, and few diesel generators are portable.