Carl Icahn has found another way to beat hedge fund titan Bill Ackman.
The billionaire activist investor, in addition to mopping the floor with his frenemy over their disagreement over Herbalife, was the first of the two on Twitter, dispatching his first tweet Thursday.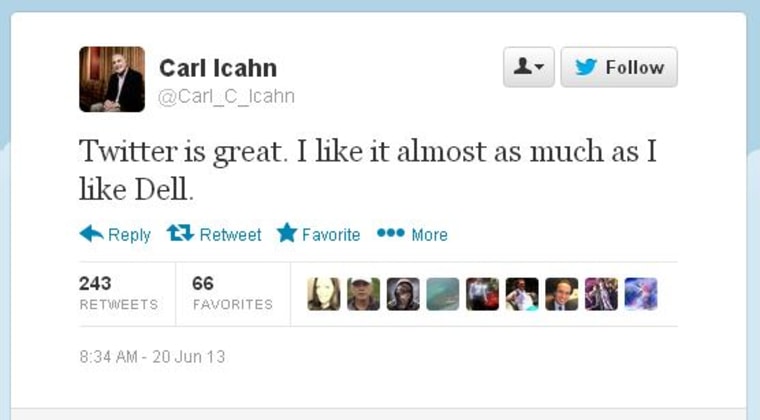 (Read More:Icahn, Ackman in Epic Showdown of Billionaires)
Icahn remains in a pitched battle to prevent Michael Dell from keeping the computer maker from going private.
Ackman, the head of Pershing Square Capital, has yet to grace the social networking site.
Icahn's move comes the same week as another hedge funder, Doug Kass, became a Twitter quitter after announcing he was leaving the site due to "haters" who have pilloried him over his short market calls.
(Read More: Twitter Quitter: Kass Says He's Done With 'Haters')
Icahn, no stranger to haters either, has amassed 4,215 followers so far.
Warren Buffett joined the site back on May 2, but has been a Twitter slacker, sending out only two messages, both on his initial day aboard.
Pope Francis has sent 67 tweets since joining March 17, several of them lambasting consumerism and a culture that seeks "success, power and money."