Volkswagen AG's top U.S. executive is stepping down nearly six months after the German automaker admitted to installing software to allow 580,000 diesel vehicles to emit excess emissions in the U.S., the company said on Wednesday.
Michael Horn, who has been president and chief executive officer of Volkswagen Group of America since 2014, is leaving by mutual agreement "to pursue other opportunities effective immediately," VW said.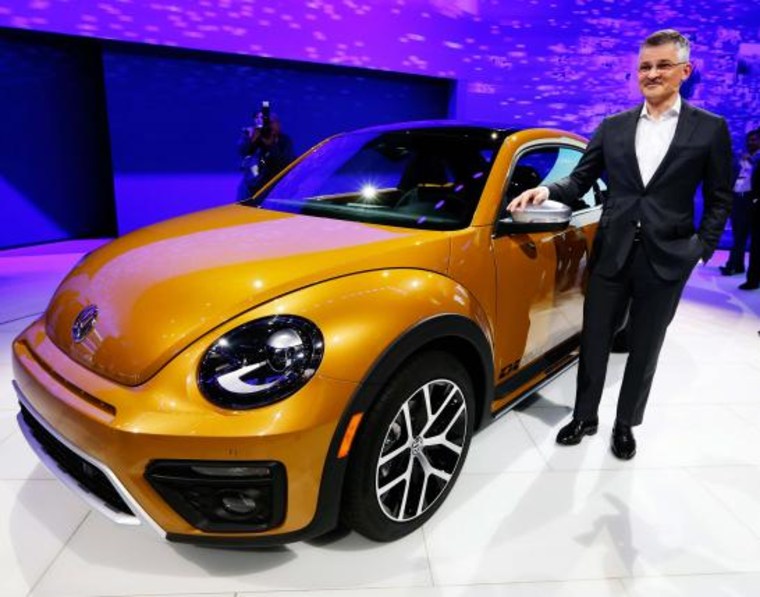 Horn, 54, could not immediately be reached. A lawyer for Horn did not immediately return a call seeking comment.
The German automaker said on an interim basis, Hinrich J. Woebcken, a former BMW executive who ran global purchasing among other jobs, is filling Horn's job. In January, VW named Woebcken as head of VW's North American region, effective April 1.
Horn sent an email to employees thanking them for supporting him and for pulling together during the crisis.
Horn's departure comes as VW continues to negotiate with California, the Justice Department and Environmental Protection Agency on possible fixes or buybacks for the diesel vehicles that emit up to 40 times legally allowable pollution. It faces a March 24 deadline to tell a federal judge whether it has an acceptable fix.
A top California official told state lawmakers Tuesday that VW may only be able to mount a partial fix and may have to pay to mitigate the harm caused by allowing vehicles to remain on the road.
Volkswagen faces an ongoing Justice Department criminal investigation. The Justice Department sued VW in January seeking up to $46 billion for violating environmental regulations and sent VW a civil subpoena under a bank fraud law.
Alan Brown, general manager of Hendrick Volkswagen in Frisco, Texas who is president of the National Volkswagen Dealer Advisory Council, praised Horn's tenure at VW and said he had talked to Horn over the last three days about his departure. Brown told Reuters Horn had been offered other jobs at Volkswagen outside the United States, but declined to take them.
Brown said it was critical VW maintain the strategy of growing U.S. volume and noted dealers have strongly supported the automaker through the crisis.
"We are not working out of gas stations any more," Brown said, noting VW's about U.S. 650 dealers have invested $1 billion over the last decade in facilities.
Brown is flying to Germany on Sunday and staying through Wednesday for meetings with VW executives in the aftermath of Horn's departure.
The VW dealer council in a statement called Horn's departure "a serious blow to the U.S. dealer network, the employees of Volkswagen of America, the workers at the Volkswagen plant in Chattanooga, and the entire Volkswagen community." It added that the "change in management can only serve to put the company at more risk, not less."
VW brand U.S. sales are down 14 percent this year after falling 5 percent last year. VW still faces a stop sale on all new diesel vehicles.
Brown said it was important VW stick with the business plan it approved to expand U.S. sales by quickly refreshing and redesigning vehicles.
U.S. VW dealers "don't want a handout. They want a chance to win," Brown said. He said VW should scrap the idea of positioning itself as a "near premium brand" and return to its roots in the 1960s of selling mass market vehicles like the iconic Beetle.
Dennis Gaudet, a New Hampshire VW dealer, said Horn was "probably the most popular (head) we've had as long as I've been a dealer" and added he knew the American market "better than most."
During the initial response to the crisis, Horn was VW's public face in the United States, apologizing days after the scandal became public and testifying before Congress.
"Let's be clear about this: our company was dishonest - with the EPA and the California Air Resources Board - and with all of you. And in my German words: We totally screwed up. We must fix those cars," Horn said on Sept. 21.
In October, Horn told a U.S. House of Representatives panel that VW's supervisory board and top leadership did not intentionally order the cheating, but said it was the work of a few individuals.
Horn told Congress he had no knowledge of the cheating.
Read More: Volkswagen Sold More Currywurst Than Cars in 2015