Ford and General Motors are reviving two familiar nameplates at the Shanghai Auto Show this week in a bid to make inroads in China, where the auto market could soon eclipse the U.S. and European markets combined.
The Ford Escort and Buick Riviera remain concept vehicles for now, but both offer hints of what the two U.S. manufacturers may have in store for Chinese consumers. Once a backwater event, the Shanghai gathering is now one of the world's most significant car shows, with dozens of new vehicles debuting there this year.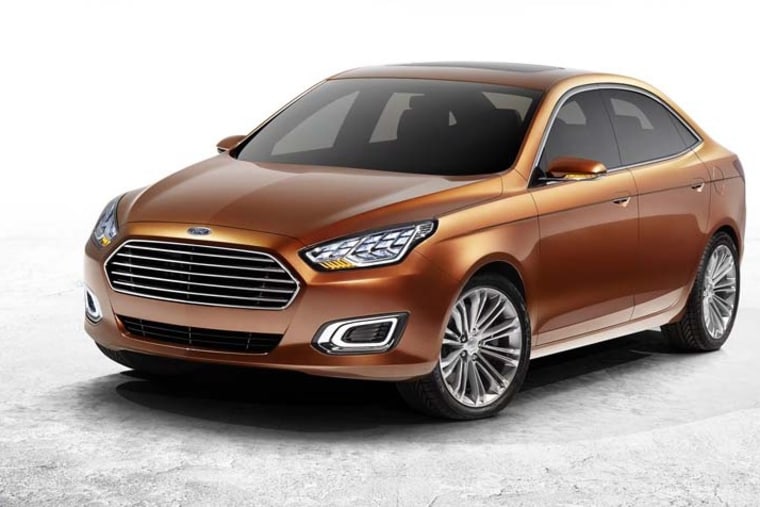 Senior General Motors officials forecast that sales in China could top 35 million annually by 2022. That's more than double the peak of the American market nearly a decade ago.
The Detroit Bureau:April Car Sales Appear to Defy Weak Economy
"No market is more critical than the China market for us," Tim Lee, president of General Motors' International Operations, told reporters.
You may hear the same thing from other manufacturers, whether Volkswagen, Toyota or Ford. And they're backing that up by using the Shanghai Auto Show to reveal some of their latest products. Among the new models debuting in China's second-largest city this week are:
· The Buick Riviera Concept, a futuristic show car that "offers a preview of Buick's future design language," suggested Shanghai GM President Ye Yongming;
The Detroit Bureau: Chrysler Will Lose $10,000 on Every Battery Fiat 500e It Sells
· The Ford Escort, a lower-priced take on the popular Ford Mondeo, known to Americans as the Fusion. A production version would target first-time family buyers in smaller cities;
· The Volkswagen iBeetle, which boasts an iPhone docking station and app that serves as entertainment system and allows you to monitor oil levels;
The Detroit Bureau:What Do You Get Merging a Volkswagen and an iPhone? The iBeetle
· The Acura Concept SUV-X, which will likely reappear as a compact entry-luxury crossover.
The Acura is just one of an assortment of high-line models on display in Shanghai. China, the largest outlet for several luxury brands, is expected to overtake the U.S. market before decade's end to become the world's largest luxury car market.
Mercedes-Benz headed to Shanghai with its GLA concept, while BMW presented its X4 coupe-crossover. Maserati showed off its sporty Ghibli sedan.
Porsche debuted the Panamera S E-Hybrid, its first plug-in hybrid – a nod to China's focus on battery power.
"The Chinese could create the inflection point that transforms the battery car into a viable reality," David Cole, chairman-emeritus of the Center for Automotive Research, recently told TheDetroitBureau.com.
Chinese bureaucrats have increased incentives for buying qualified electric vehicles – sometimes to more than $20,000.
The Detroit Bureau: Toyota Building New Lexus in the US for the First Time
At issue is pollution and congestion in major Chinese cities – wild cards that could short-circuit China's automotive market. In a recent report, Jun Ma, chief Chinese economist for Deutsche Bank, warned that the government could take measures, including "constraining auto ownership growth."
Some fear Beijing could limit auto sales or even force a shift to electric power. Critics counter that with electric cars could worsen the country's environmental problems because of China's electricity is generated by coal.
Some makers are doing better than others. General Motors, long locked in a battle for market dominance with Volkswagen, was up nearly 10 percent during the first quarter, setting an all-time record.
The Detroit Bureau: Buick Looks to Past as it Revives Riviera Name With New Concept Vehicle
Toyota is barely achieving half that growth after a 4.9 percent increase in 2012. Japanese marques, in general, continue to suffer as the result of an ongoing dispute over a chain of uninhabited islands claimed by both Japan and China.
While luxury cars clearly have a market in China, many industry analysts stress that the real growth in years ahead will come from first-time buyers in second, third and fourth-tier cities just beginning to feel the benefits of the Chinese economic boom. With a population estimated around 1.5 billion, that could be enough to maintain the momentum of the last decade.
The Detroit Bureau:Ford Brings Back Escort – Concept – for Shanghai