BEIJING — China raised tariffs Monday on thousands of U.S. goods in an escalation of its fight with President Donald Trump over technology policy and accused Washington of bullying Beijing and damaging the global economy.
The General Administration of Customs said it started collecting additional taxes of 5 and 10 percent on $60 billion of goods at noon. That coincided with the time for Trump's planned tariff hike on $200 billion of Chinese imports to take effect, but there was no immediate U.S. government confirmation it was collecting the higher charges.
The two governments imposed 25 percent penalty taxes on $50 billion of each other's goods in July in their first round of their fight over U.S. complaints about Beijing's plans for state-led creation of robotics and other technology industries.
The United States, Europe and other trading partners say Beijing's industry plans violate its free-trade obligations. American officials complain they are based on stealing foreign know-how and worry they might erode U.S. industrial leadership.
Monday's tariff increase followed a report by The Wall Street Journal that Chinese officials pulled out of a meeting to discuss arrangements for a new round of talks proposed by Washington. The Chinese government had given no public indication whether it would accept the invitation.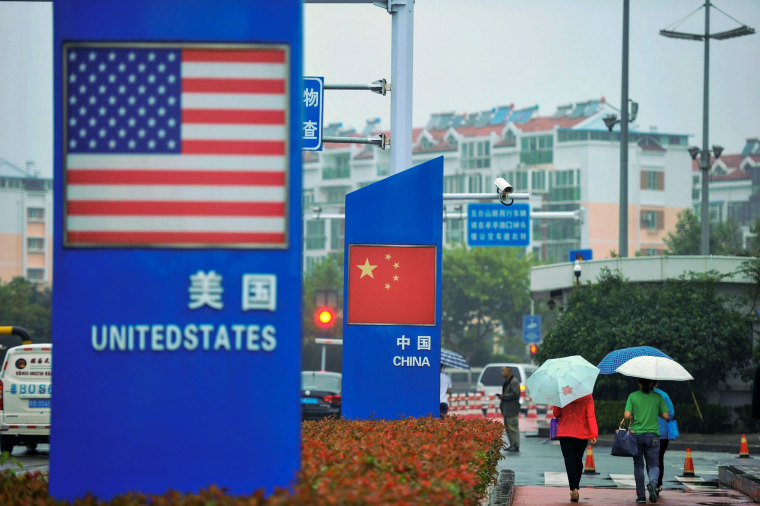 Also Monday, the Chinese government accused the Trump administration in a report of "trade bullyism" and said its "improper practices" are damaging the global economy.
The report accused the Trump administration of abandoning "mutual respect" and mechanisms set up to address trade disputes.
"It has brazenly preached unilateralism, protectionism and economic hegemony, making false accusations against many countries and regions, particularly China, intimidating other countries through economic measures such as imposing tariffs, and attempting to impose its own interests on China through extreme pressure," the report said.
Economists warn that a protracted dispute will eventually stunt growth across the globe. Companies on both sides of the Pacific are already reporting disruptions to their operations and are reviewing investment plans.
The trade tensions have also cast a pall over broader relations between Beijing and Washington, with the two sides butting heads on a growing number of issues.
China summoned the U.S. ambassador in Beijing and postponed military talks in protest against a U.S. decision to sanction a Chinese military agency and its director for buying Russian fighter jets and a missile system.