On any given morning, women retreat from the busy streets of New York City, welcomed into a spacious loft adorned in millennial pink with walls covered in colorful books, all written by women. A neon sign reading "No Man's Land" sets the tone for this women's "social club and home base," The Wing. The scene recurs across the country, from Charleston, South Carolina to St. Louis, Missouri, to San Diego, California, where the trend of women's only co-working communities has emerged to combat the fraternity culture women encounter in what they call "bro-working" spaces.
"There are so many things that link us as women," said Audrey Gelman, CEO and co-founder of The Wing, citing her inspiration behind the club as the women's clubs that existed between 1890 and 1920, impacting the suffrage movement. "Women today work; they're starting businesses and they're launching their own careers and we wanted to create The Wing as a space for them to do that as a launch pad."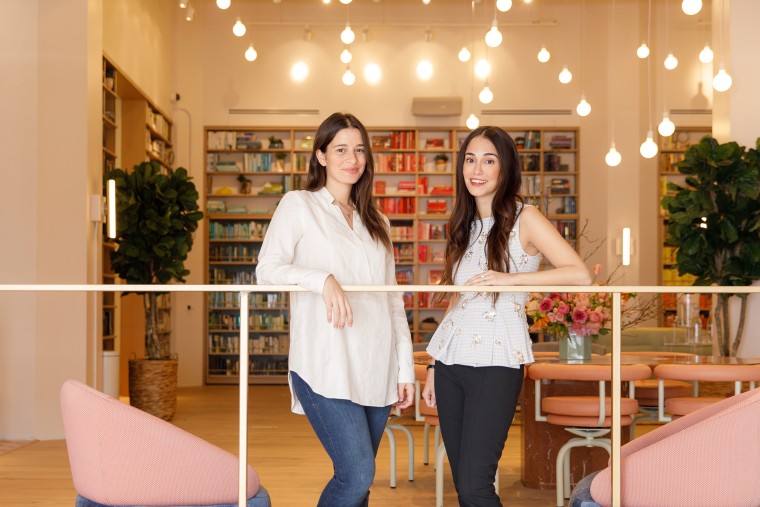 Despite the quick success of The Wing — 22,000 women applied to join in just a year — and other businesses like it across the country, it has not come without controversy.
"Our members are women, self-identifying women, trans women, and individuals who don't identify of the gender binary," Gelman explained, "That is our membership policy."
To spell it out, that means no guys allowed. The Wing doesn't allow members to bring in male clients for meetings; there isn't even a restroom available for men if they did find a way in. Legal experts see this practice as sex discrimination and the New York City Commission on Human Rights has opened an investigation into whether The Wing violates anti-discrimination law.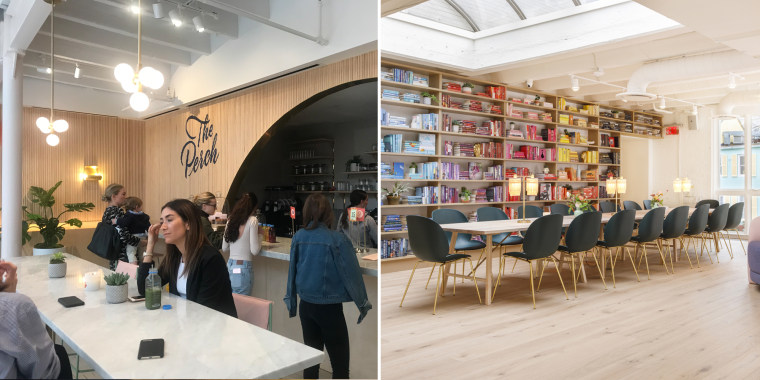 The commission declined to comment; The Wing's lawyer says they recently held a "positive and constructive meeting" together.
"We can't say it's illegal for the men to keep women out of their clubs and say it's legal for the women to keep the men out of their clubs, " said Katherine Franke, Director of Columbia University's Center for Gender and Sexuality Law. "The law has to apply neutrally in all contexts because the larger principle is one of equality, not of preferring some groups over others."
Franke worked for the Human Rights Commission when it first brought lawsuits testing the sex discrimination protections in private clubs and businesses in the 1980s.
"I'm hearing an echo today of the same arguments I heard in the '80s — made by men, made by white people, made by Christians," Franke explained. "It just breaks my heart that people who call themselves feminists are seeing that somehow it's okay for them to discriminate."
Across the country in San Diego, Hera Hub emphasizes that while it's "female-focused," men are encouraged to join the community and support the female members. Under five percent of members are men, but founder Felena Hanson says there are men in the space daily.
"To be supportive of women, you don't have to ban men," said Hanson. "The structure and style of business, and the competitive nature of the industry was really developed by men. Coming into that environment over the last 50 or so years, women often feel like outsiders in the industry. We want to create a space that is safe and supportive, but invite men into our boardroom — if you will — and ask that they're part of the conversation. It's not us versus them. "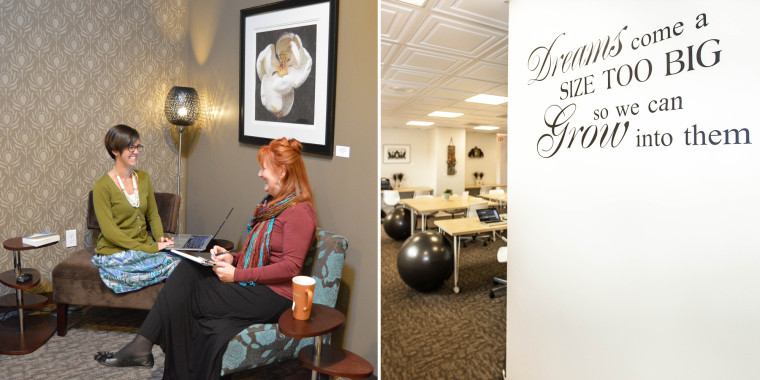 Vivian Sayward is a founding member of Hera Hub, utilizing the space to jump start her athleisure brand, Vivacity Sportswear. She credits the supportive community for helping her find her footing in the entrepreneurial world.
"This whole entrepreneur journey is extremely difficult," Sayward told NBC News. "Having this support system of different expertise helped along the way, and we exchange ideas all the time. I found my attorney who helped with corporate paperwork, at Hera Hub, along with my designer who is now my creative director. They have been on this journey with me since the inception."
Hera Hub was founded back in 2011, ahead of the "she-working" trend and years before any talk of the #MeToo or #TimesUp movement began. Now with the open conversation surrounding sexual harassment and inequalities in the traditional workplace, women rely on the privacy of these communities.
Back at The Wing, member Nisreen Hasib enjoys the concept of the women-only space, as she says the balance of power has not yet shifted entirely towards women.
"As women, when you're walking down the street, you're very cognizant of the fact that you might have to hold yourself a certain way, maybe even dress a certain way," Hasib said. "When I enter through these doors, I feel that drop away. I feel a lot more comfortable — and it's a lot easier to just be myself."