Call it Rudolph the Red-Faced Reindeer.
Domino's Japan has pulled the reins on its special caribou-based delivery program just one week after it launched, after the reindeer continually shook their antlers, refused to stop at delivery spots, and kept dislodging the pizzas from their delivery pouches.
The pizza giant announced Thursday that it didn't want to be saddled with any more reindeer training operations at its Hokkaido Integrated Research Center, and would return Santa's helpers to where they belong.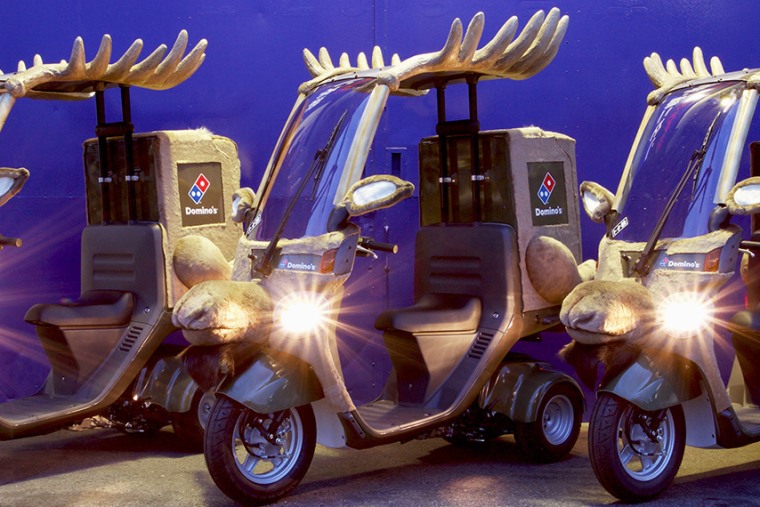 "It hasn't been possible to solve the [training] problems that have come up, [so] we reluctantly decided to end the reindeer delivery program," Domino's Japan said in a statement. "It has been difficult to control the reindeer."
But the buck didn't stop there. Undefeated, Domino's has instead started to deliver via scooters dressed as reindeer, complete with antlers and a fluffy tail.
The program was ostensibly introduced to demonstrate the company's new GPS-based delivery service, which allowed customers to monitor their piping hot pizza's path on a special app. The reindeer were included as a novel way of battling Hokkaido's blizzard conditions, where temperatures regularly drop into the low 20s.
Domino's even released a detailed action plan as part of the stunt, comparing the advantages of using a reindeer to a helicopter or a car. They noted "it didn't need a license" since it was a "light vehicle," could "carry heavy items," and came with "no costs."
Social media was split on the announcements, with some "calling it out for animal cruelty" and others asking how they could "tip it" and "what happens if it eats all the pizzas instead."