The boob tube might be turning a brighter shade of orange.
Earlier this week the Financial Times reported that Republican presidential candidate Donald Trump's son-in-law, Jared Kushner, had met with investment firm LionTree about the possibility of a Trump TV network, though Variety later cited sources as saying the meetings didn't go anywhere.
But in today's digital media world, Trump may not even need any outside help to get Trump TV off the ground and onto your screens.
So if you think tonight's final presidential debate against Democrat candidate Hillary Clinton, or even Election Day on November 8th, is one of the last times you might see him on television, think again.
Using new, low-cost, streaming models, a Trump TV Network could be on the air in just three months, according to an industry expert.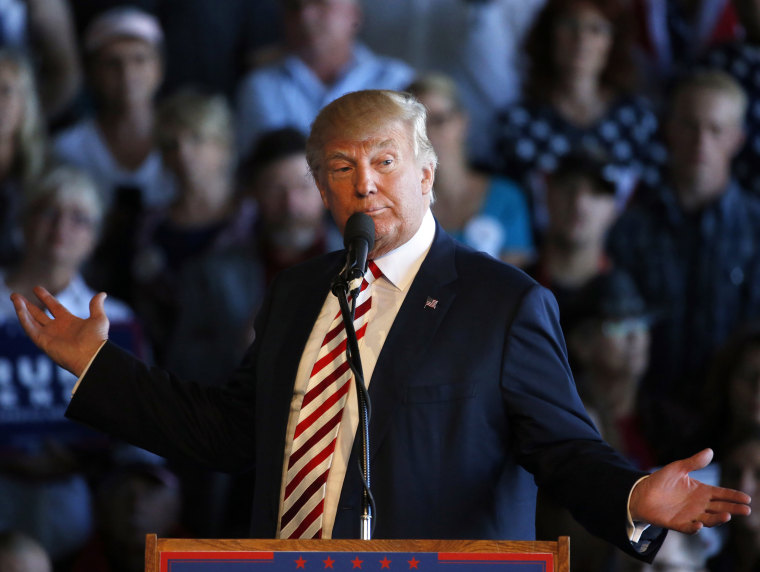 "If he's willing to launch with a limited slate, 5-10 hours of mostly just him, and the rest will come in the next six months, he can get that up in 3-4 months and just build from there," Alan Wolk, an industry analyst, told NBC News.
For example, Trump could start with himself as the nucleus and then add on unscripted and cheaper reality show programming, on-demand videos, and eventually move into scripted shows, said Wolk.
That would certainly be a lot faster, cheaper, and easier than setting up a traditional TV channel, which requires negotiating with cable and satellite companies and arranging and paying for content.
The key, ironically, might be to steal from the Chinese.
Trump could get up and running with a lower initial investment by tweaking the "OTT" or "Over the Top" programming model used to deliver shows via apps on your smartphone, online, and via services like Roku.
Several dominant video sites in China like QQ, Iqiy, and Yukou Toudu use these hybrid models. They blend a "freemium" ad-supported mode where roughly 20 percent of the site is free, but offer a monthly subscription for full access, plus pay-per-view content.
An email address associated with the Trump Organization's general counsel appearing on the registration renewal of trumptelevision.com on July 3, 2016. The same email address shows up in the registration for the donaldjtrump.com campaign website and others related to Trump's ventures.
Despite this and other hints, Trump has rebuffed suggestions swirling all summer that his ultimate pivot after the election would be the creation of a new media entity that might tap into his embiggened name recognition and the fervor of his disaffected base of supporters.
Last month, Donald Trump told the Washington Post that he had "no interest in a media company" and called reports suggesting the contrary "a false rumor."
Nontheless, Trump has in the past few months surrounded himself with advisers experienced in the day-to-day running of news media outlets, notably Roger Ailes, the former CEO of FOX News Network (though the two have reportedly had a falling out lately), and Steve Bannon, the co-founder of online conservative website Breitbart.
Potential guests might include conservative commentator Ann Coulter, alt-right superstar Milo Yiannopoulos, and Breitbart personalities.
"You can watch political stuff for free, his stuff with ads, and then a mix of political and reality programming. If he has access to the beauty pageant footage, some sort of reality thing," said Wolk. "Those are down and dirty and he can get them up much earlier. Then he might have specials or movies he buys rights to."
One question is to what degree the Trump brand would be tainted for potential investors and advertisers, and how politicized the content would be.
"Is he a gracious loser, doe he claim it was fixed, does he go on every day saying a Clinton victory is rigged?" said Wolk. "He's got to chill out or advertisers are going to run."
Should "Trump TV" launch, Trump would be following in the footsteps of another disruptive and media-savvy White House aspirant.
In 2014, the $9.99-a-month subscription-based OTT "Sarah Palin Channel" launched online featuring commentary from its namesake in videos with titles like "Moose Meat: It's What's for Dinner!" and "Still No Obama Plan to Defeat ISIS."
The channel ran for a year before folding on July 4, 2015.