U.S. stocks fell aggressively on Black Friday after a new Covid-19 variant was found in South Africa. 
The Dow Jones Industrial Average dropped about 905 points, or 2.5 percent, for its worst day of the year, while the S&P 500 and Nasdaq Composite slid 2.3 percent and 2.2 percent, respectively. The Dow was down more than 1,000 points at session lows. Friday was a shortened trading day, with U.S. markets closing at 1 p.m. ET because of the Thanksgiving holiday.
The drop comes after officials on Thursday warned of a new Covid-19 variant that's been detected in South Africa. 
The World Health Organization on Friday classified the variant as a "variant of concern." As the world continues to learn more about the new variant, which WHO named "omicron," epidemiologists say countries around the world should be on the alert.
In a statement released Friday, WHO said preliminary evidence suggested "an increased risk of reinfection with this variant" as it added the new discovery to the list of variants of concern.
The U.K. said late Thursday it was banning all direct flights from six African countries: South Africa, Botswana, Lesotho, Eswatini, Zimbabwe and Namibia. 
A few cases have been confirmed beyond Africa.
The Hong Kong government said Thursday that it had detected two cases, while Belgium became the first E.U. country to announce a case of the variant on Friday. Israel also said it had identified a case in a traveler returning from Malawi, with two other suspected cases placed in isolation. 
"When I read that there's one [case] in Belgium and one in Botswana, we're going to wake up next week and find one in this country. And I'm not going to recommend anyone buy anything today until we're sure that isn't going to happen, and I can't be sure that it won't," CNBC's Jim Cramer said.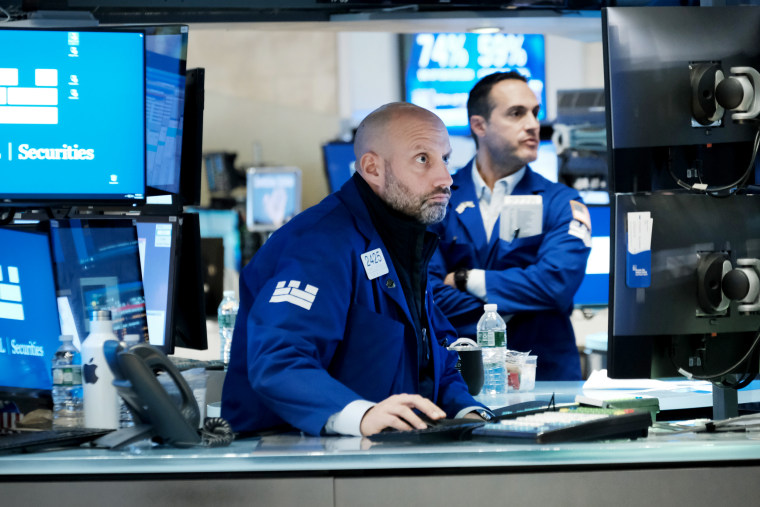 But several investment professionals told CNBC on Friday that the sell-off could be a buying opportunity.
"Friday is the day after Thanksgiving, probably not as many traders on the desks with an early close today. So potentially lower liquidity is causing some of the pullback," Ajene Oden of BNY Mellon Investor Solutions said on CNBC's "Squawk Box." "But the reaction we're seeing is a buying opportunity for investors. We have to think long-term."
Bond prices rose and yields fell amid a flight to safety. The yield on the benchmark U.S. 10-year Treasury note fell 15 basis points to 1.49 percent (1 basis point equals 0.01 percent). 
The Cboe Volatility Index, often referred to as Wall Street's "fear gauge," rose to 28, its highest level in two months. Oil prices also tumbled.
Travel-related stocks were hit hardest, and bank shares retreated on fears of the slowdown in economic activity and the retreat in rates. Bank of America dropped 3.9 percent and Citigroup slid 2.7 percent.
Meanwhile, investors huddled into the vaccine makers. Moderna shares surged more than 20 percent. Pfizer shares added 6.1 percent.
And some of the stay-at-home plays that gained in the earlier months of the pandemic were higher again. Zoom Video and Peloton each added more than 5 percent.
Asia markets were also hit hard in Friday trade, with Japan's Nikkei 225 and Hong Kong's Hang Seng index both falling more than 2 percent. Germany's Dax index slid more than 4 percent. Bitcoin fell 8 percent.