In 2011, amid a crackdown on international money laundering, the U.S. Treasury Department tried to close a loophole that authorities said allows drug cartels to move bulk cash across borders on gift and other prepaid cards.
The department's Financial Crimes Enforcement Network (FinCEN) proposed that money stored on these cards count toward a U.S. requirement to report cross-border movement of cash of $10,000 or more.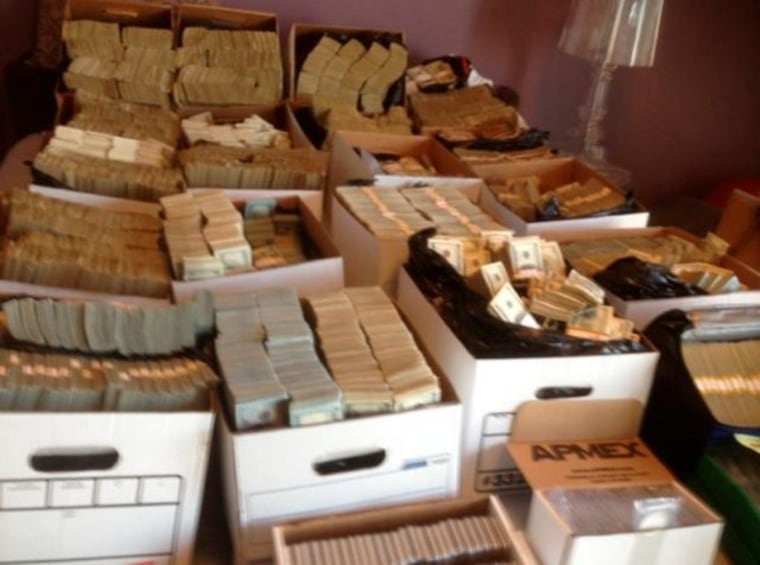 But FinCEN later withdrew its proposed rule after pushback from the prepaid card industry, according to law enforcement sources. The move has not been previously reported.
In response to questions from Reuters, FinCEN spokesman Stephen Hudak said the rule was being reworked and would be resubmitted, possibly by 2017.
"It's not dead," Hudak said.
The lack of a rule has stymied efforts to crack down on cross-border crime, including drug trafficking and money laundering, law enforcement officials said. The U.S. Department of Justice estimated in 2009 that up to $24 billion in cash is smuggled into Mexico each year, some of it on prepaid cards.
The use of the cards has grown steadily in recent years. More than $623 billion was loaded on gift cards and other types of prepaid cards in the United States in 2015, according to data from the Massachusetts-based Mercator Advisory Group.
The prepaid card industry opposed the rule, saying it would have discouraged people from using the cards.
"Implementing onerous requirements on reloadable prepaid cards could disproportionately harm vulnerable consumers, who rely on these products as their sole means of access to the financial services system," said Brad Fauss, President and CEO of the Network Branded Prepaid Card Association.
In March 2013, two years after FinCEN proposed amending the Bank Secrecy Act with the new rule, industry representatives met with officials from FinCEN and the Department of Homeland Security at the Office of Management and Budget (OMB), which reviews regulations, according to a record of the meeting topic, date and attendees published on a White House website.
Visa, the world's largest payments network operator and a major brand on prepaid cards, was the most vocal opponent at the meeting, according to a person who attended. Any member of the public can request a meeting about a regulatory action under review, and the OMB views these meetings as listening sessions.
In November 2014, FinCEN withdrew its proposal.
FinCEN's Hudak declined to comment on the meeting. He said the agency withdrew the rule "for further consideration and analysis of the benefits and costs."
Meetings between OMB and parties with a stake in proposed regulations are common, and it often takes years for an agency to complete the review of proposed regulations. But it is unusual for agencies to withdraw rules once they are proposed. Over the past decade, less than 6 percent of draft regulations were withdrawn by the agency that proposed them, according to OMB statistics.
In exchanges with law enforcement officials, "FinCEN just regurgitated the same arguments that the industry put out there," said a law enforcement source who asked not to be quoted on relationships with regulators.
A Visa spokeswoman declined to comment on the meeting. She said Visa's prepaid cards "are in full compliance with the law and are designed to deter illegal activities such as money laundering."
Limited Data
Prepaid cards come in a variety of forms. So-called "open loop" cards carry credit card company logos and are re-loadable. Gift cards that can be used at specific outlets are known as "closed loop" cards.
Fauss, president of the prepaid card association, said that, unlike cash, open loop cards can not be used anonymously because they require vendors to collect purchasers' identification.
Law enforcement officials said they have little information about how often the cards are used for illicit transfers, and the rule would have shed light on how often the cards are crossing borders.
During the routine 60-day public comment period on the rule in 2011, U.S. Immigration and Customs Enforcement submitted one comment supporting the rule. Industry groups and card companies submitted a dozen opposing it.
The industry said it would be difficult to implement because, in order to check balances, border agents would need card scanners, which are expensive and invade customer privacy. It said cross-border tracking was unnecessary because card companies already have implemented load limits and other controls.
The industry also argued the rule could unfairly affect the poor. Prepaid cards can be used for U.S. government benefits and payrolls for workers without bank accounts.
This type of argument has been raised more broadly by financial institutions claiming overzealous money-laundering regulation has led to "de-risking," where banks pull out of certain lines of business and even parts of the world, leaving few options for some customers.
"The proposed rule could result in bank-issued prepaid cards being stigmatized as second-class financial products in comparison to debit cards and credit cards," wrote Alex Miller, Visa's then-associate General Counsel in one of the 2011 comment letters.
The industry also opposed bipartisan Congressional legislation in 2010 calling for controls on prepaid cards. The bills died after the Network Branded Prepaid Card Association lobbied against them, according to records compiled by the nonprofit organization Center for Responsive Politics.
Senator Chuck Grassley, a Republican from Iowa, co-chaired a 2011 Senate Caucus hearing on money laundering that aired concerns about prepaid cards. He did not know FinCEN had withdrawn its proposed regulation until he and Senator Dianne Feinstein, a Democrat from California, sent letters last year to the Secretary of the Treasury and the Director of the OMB asking about it, a Grassley spokeswoman said.
"The long delays in finalizing regulations to crack down on this practice are frustrating to those of us who want to stop this way of laundering criminal proceeds," Grassley said in an emailed statement.
In 2011, Kumar Kibble, then Deputy Director at U.S. Immigration and Customs Enforcement testified in Congress that authorities had found hundreds of the cards hidden "in a compartment similar to those used to conceal cash, drugs and other contraband."
John Tobon, deputy special agent in charge of Homeland Security Investigations in Miami, said the cards can be used to pay couriers smuggling money, drugs or other merchandise as large cash transactions come under greater scrutiny.
He said the European Union has become concerned about the use of the cards in recent terror plots. The EU recently published a proposal that would increase regulation of the cards in member states.
"The regulations are absolutely still necessary," Tobon said.