Mylan's price hikes on EpiPens have added millions to Department of Defense spending since 2008 as the agency covered more prescriptions for the lifesaving allergy shot at near retail prices, government data provided to Reuters shows.
Pentagon spending rose to $57 million over the past year from $9 million in 2008 — an increase driven both by volume and by price hikes that had a bigger bite on prescriptions filled at retail pharmacies, according to the previously unreported data.
The Pentagon gets a government discount on EpiPens dispensed at military treatment facilities and by mail order. But nearly half of its spending was at retail pharmacies where it most recently paid an average of $509 for EpiPen and $528 for EpiPen Jr two-packs — three times higher than its discounted rate, the data shows.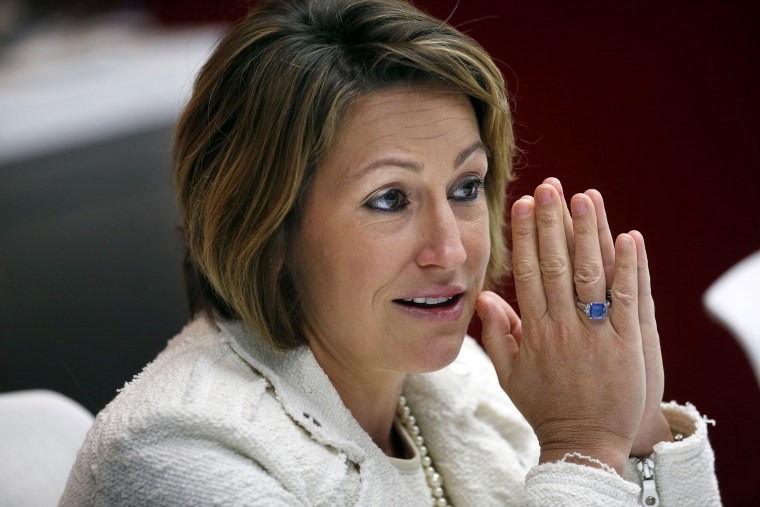 That may change. Both the Pentagon and Mylan told Reuters that discussions are underway that could extend the military discount to EpiPens filled at retail pharmacies through the use of rebates.
Mylan spokeswoman Nina Devlin declined to comment on the specific Department of Defense spending. She said in an emailed statement that talks were underway to address "any questions or concerns from the agency."
She declined to say if any repayment was on the table.
A Reuters analysis of the data estimated a difference of about $54 million between what the agency paid for EpiPens at retail pharmacies from 2009 through 2016 and what it would have paid at military clinics.
Mylan Chief Executive Officer Heather Bresch has drawn public scrutiny for raising the list price on a pack of two injectors nearly six-fold to $600 since 2008.
Affordability has become a bigger issue with the increased diagnosis and awareness of food allergies. Families who rely on EpiPens to safeguard their children against possibly fatal allergic reactions often purchase several to carry with them, keep at school and with caregivers.
Related: Taking a Look Inside the Upgraded EpiPen
In response to the criticism, Mylan is providing more families with coupons to pay for EpiPens and plans to market a half-price version. The drugmaker also agreed to pay $465 million to settle questions over whether the Medicaid program for the poor overpaid because EpiPens were classified as a generic treatment, a category that allows manufacturers to give smaller rebates to government agencies.
While Medicaid providers don't take issue with the increased use of EpiPens, they have bristled over the price hikes.
"The rate of increases in their cost is not justifiable," said Dr. J. Mario Molina, chief executive of Molina Healthcare, which runs Medicaid plans in California and 11 other states.
The full picture
The impact of Mylan's price hikes on government health programs, such as Medicaid, has been obscured by highly complex pharmaceutical pricing and opaque negotiations.
The Centers for Medicare and Medicaid Services, as well as several large state Medicaid programs, have released partial details on their spending, saying full information on rebates is confidential under U.S. law. Without such details, it is impossible to discern what price an agency is paying for EpiPen.
At Reuters' request, the Defense Department provided the most comprehensive picture of EpiPen spending by a government agency, including fiscal year expenditures since 2008, average price per pack and the number of prescriptions filled by type of dispensing location for all EpiPens obtained by military service members, their families and retirees.
The department's spending on EpiPens has increased fivefold since 2008, far outpacing the 130 percent growth in prescriptions, the data shows.
Defense spending on EpiPens at retail pharmacies has grown more than tenfold, to $28 million from $2.4 million in 2008.
Defense spending on the injectors at retail pharmacies — which accounted for 53,500 of 226,000 EpiPen prescriptions for the last fiscal year that ended Sept. 30 — has grown more than tenfold, to $28 million from $2.4 million in 2008.
While EpiPen spending represents a fraction of a percent of the Defense Department's $49 billion annual healthcare budget, the data illustrates the premium it was paying for EpiPens at retail outlets.
"Lawmakers would not be terribly happy to hear that DoD is paying more at retail," said Brian Bruen, a drug economics researcher at George Washington University's Milken Institute School of Public Health.
Discount by Definition
The Defense Department and Department of Veterans Affairs typically pay among the lowest drug prices in the country because of discounts mandated by law, as well as rebates negotiated with drugmakers, Bruen said.
Indeed, the Pentagon has paid $173 for an EpiPen two-pack filled through mail order and $169 at military facilities in fiscal year 2016.
A key factor for government discounts is whether a drug is patent protected and has market exclusivity, or it is a generic, made cheaper by competition.
The EpiPen, which packages a generic allergy antidote in a patented, easy-to-use injector, is somewhat of a hybrid.
For the Defense Department, pharmaceutical companies pay rebates on brand name drugs dispensed by retail pharmacies, reducing the final cost to the agency's discounted rate.
EpiPen's classification as a generic drug prevents it from receiving mandated rebates. Mylan provided documentation it said showed the military had accepted the generic classification for EpiPen in 2008.
Under Mylan's settlement with the federal government, Medicaid will classify EpiPen as a branded drug, Devlin said. That will qualify Medicaid for a 23 percent rebate, up from the 13 percent it gets on generics. Any price hikes will be capped at the inflation rate, a protection not afforded generic drug purchases.
"It was always our intention that the reclassification would benefit all government agencies impacted by the classification, including the VA and Tricare (Defense) programs," Devlin said.