ESPN has long been a top player in sports media, with its signature "SportsCenter" news program at the center of that success, and profits, too.
But the giant sports network is being forced to re-evaluate its path, as a younger generation's real-time digital habits are reshaping the sports media landscape. And it looks like ESPN may be starting with "SportsCenter."
The company is expected to lay off up to 300 people over the next few months, according to The Big Lead citing multiple sources. It attributed the moves to parent company Disney asking the sports network to cut $100 million from its 2016 budget and $250 million in 2017. The Big Lead's sources said ESPN will cut the show's airtime in half and will drop its afternoon live show.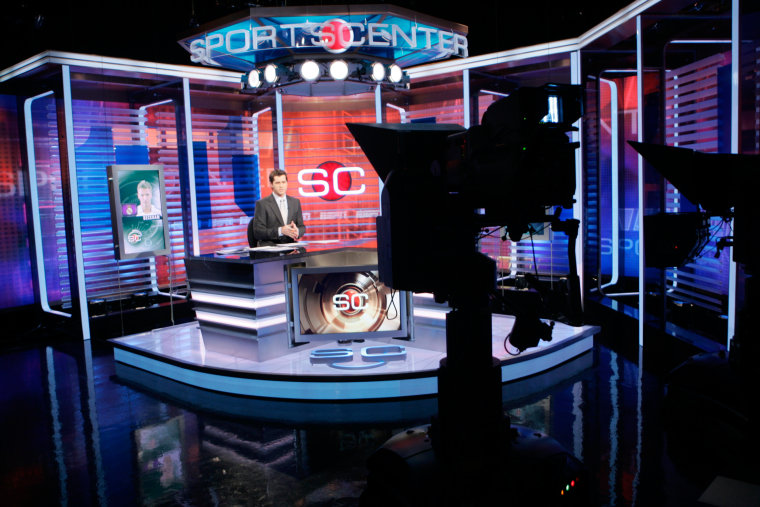 In a statement to CNBC, the network said: "ESPN has historically embraced evolving technology to smartly navigate our business. Any organizational changes will be announced directly to our employees if and when appropriate."
ESPN Sues Verizon Over New Cable Plan
"I don't know if the average consumer is now buying (consuming) in 30-minute or one-hour blocks," said Rick Burton, a sports management professor at Syracuse University. "All of the day-parts concept is under attack. It's not only under attack in ESPN, but it's under attack at ABC, CBS, NBC. People now watch when they want to watch, and they will take it in shorter and shorter segments or blasts, and there are many more options."
For those reasons, "SportsCenter" is no longer a must-see for a whole new generation of impatient fans who are increasingly turning to sites like Bleacher Report and SB Nation to get their news fix, rather than wait on a TV show. Consider Perform Media, which owns sites like Sporting News and Goal.com and opened U.S. operations in 2010. The company says four years later, its audience was upward of 41 million unique visitors. In the past year, Vox Media's SB Nation has grown its unique users by more than 48 percent year over year.
That kind of growth in sports digital media may be threatening ESPN's market share. Sources who have seen Nielsen data say that there are 3.2 million fewer homes with access to ESPN TV properties year to date.
Part of the blame can be placed on cord cutters, who are opting into over-the-top viewing options and custom content streaming packages instead of a monthly cable bill. Subscribers pay about $6 per month out of their monthly fees to ESPN. At the same time, broadcast sports rights prices are at an all-time high—and to remain on top, ESPN needs to foot the bill to be able to show NBA, NFL, NHL, MLB and more on TV.
Will This Be the Netflix of Sports?
"Live sports will always be the best screen available, but (sports) news is now the first screen available," said Jeremy Carey, managing director of Optimum Sports, the sports media agency arm of Omnicom Group. "If you look at the dynamics at ESPN, 'SportsCenter' has long been a profit for them, but the model shifting to the first screen available means there's a bit of a race right now, and it's for news content."
Carey said sports outlets are competing to post information that trends digitally and on social media, which doesn't necessarily wait for a scheduled broadcast.
"With live sports, time-shifted viewing is minuscule compared to other forms of video entertainment," he said. "Because of this, sports news is a real-time endeavor, and the traditional mediums aren't necessarily the most efficient delivery system."
ESPN Crushes Records With USA-Germany Game
SB Nation Editor-in-Chief Kevin Lockland said modern sports viewers have grown up in a digital world, and they want their information from that type of medium. In addition, there's a demand for more than analysis: They want to know the culture around the games.
Through its conversational tone, Lockland said, the Vox Media site shares what is happening on the field as well as what is going on in the stands. The site isn't bound to the linear nature of TV, so the team can publish things as they happen.
"We've positioned ourselves as a sort of sports appreciation machine," Lockland said. "Our goal is to try and enhance a fans' experience."
In addition, he said today's fans aren't limited by geographic location. Thanks to the growth of fantasy sports, Lockland said, people want information on a variety of players on different teams.
"I think especially over the past five to 10 years, it's less about gaining market share and more about being in the top box of choices a sports consumer makes," he said. "They are going to multiple sources. Our goal is to be one of the top choices for a modern sports fan."
Can Digital Video and Social Media Save Baseball?
The strategy of focusing on creating shareable big play content and meme-able moments — which doesn't rely on buying league rights — is helping digital media groups gain position, said Dan Donnelly, executive vice president at Sports at SMG, a Starcom MediaVest group. He said fans want to know more about the story behind the game. Digital media companies have obliged, giving way to the rise of companies like SB Nation as well as publications that have branched out to cover sports like Complex Media and Vice.
"What we're seeing is consumers are continuing to sit in front of that big screen TV in many ways, but what's happening is at the same time people are interacting with other platforms," he said. "There's the opportunity to engage with that same consumer, and at the same time you have the ability to enhance that experience and maybe try to get into the story-making mode."
With marketers trying to reach that highly desired and hard-to-reach male millennial audience, Donnelly said, they're willing to go where they see the eyeballs flocking. Companies like DraftKings and FanDuel (which were the top NFL advertisers this year) have snatched up prime real estate, and demand is at an all-time high. Advertisers are willing to try other options.
ESPN Without Cable: Will It Eat Its Own Viewers?
"In lot of cases, (ESPN) is more efficient than some of the other avenues, and rightfully so," Carey said. "But when we look at it, we're looking at reaching an audience. …The (ad) budget allocation is going to represent where the audience is, what's changing, how we reach that audience, how we use our data, and how we are starting to construct deals with vendors for data so we can talk to the audience in the right way."
Despite the threats of digital domination, Donnelly and Carey agree that ESPN is still the clear-cut market leader and will be for a while. Donnelly said that when it comes to live sports coverage and the "game around the game" lead up, everyone else pales in comparison.
Also, ESPN is willing to adapt. ESPN said its network is undergoing a number of "strategic enhancements," including adding more programs and live hours on weekend mornings. It said that the afternoon "SportsCenter" team would also be working on more original content for digital and social platforms, and resources would be shifted to fulfill those projects. During its 2015-16 Upfront presentation, ESPN announced it was moving "The Mike and Mike" show to New York in order to collaborate with ABC's "Good Morning America" cast, as well as bring in more pop culture elements.
How to Become a Millionaire – Play Fantasy Sports
Donnelly pointed out that "SportsCenter" has been branching out to include more digital content, as well as lifestyle items on its main broadcast, such as having musicians perform.
"They're trying to bring the millennial into that environment where it's not just about the game itself," he said. "It's got to be something more than that. It has to have a lifestyle element to sports, but not go too far because fans still love the actual games."
Carey doesn't fear for ESPN's future.
"ESPN gets through into the forefront of the conversation, but all the sports media conglomerates are actively doing it (changing to add digital content)," Carey said. "ESPN's just been so far ahead of the pack that everyone tends to look at them. I can certainly say that ESPN has taken the right steps to insure they continue to be the top source for sports news."
Syracuse University's Burton added: "Everyone is having to change to fit the consumption habits of the people who have the money."