A move by Etsy, the online marketplace for quirky, hand-crafted goods, to partner with retail giant Macy's, has riled some of its 1 million sellers, who accuse the website of selling out its core values in an attempt to placate Wall Street.
Macy's joins Whole Foods, The Land of Nod, and Lou & Grey to become a "flagship retail partner" with Etsy. In an announcement last week, the online craft market said that starting in spring 2016, Macy's will stock "a unique product selection from Etsy designers" in a brand-new "One Below" floor at its Herald Square location.
Markets reacted favorably to the news. Etsy has struggled since going public earlier this year, with Fortune magazine naming it the "worst performing IPO of 2015." And things certainly didn't improve for Etsy when Amazon announced last month that it was launching its own craft marketplace, Handmade at Amazon: Etsy share prices sank to 55 percent of their IPO price.
While the retail partnerships program presents Etsy sellers with the opportunity to hit a homerun by getting their goods into a major retailer, some longtime "Etsians" saw it as just the latest in a series of missteps by the company.
Amazon Goes Etsy: New 'Handmade' Storefront Sells Artisan Goods
When it launched in 2005, Etsy quickly established itself as a platform for crafty moms as much as for street-fair artisans and established artists. It came to be known for its dependably wide variety of small-batch, handcrafted, one-of-a-kind goods such as crocheted coffee cup holders and personalized jewelry pieces.
Today, however, many artists feel that Etsy's push for expansion is blurring the lines between "mass production" and "handmade."
"In theory, it is quite exciting that there could be a direct stream for small Etsy sellers to be linked up with manufacturers and large wholesale accounts," said Diane Lupton, whose Etsy KnotWork Shop storefront sells a variety of funky, custom pieces. "But our experience has shown that it will likely not help the vast majority of sellers, and will probably further drown small shops in the sea of manufactured, rather than handmade, goods. We want Etsy to go back to its roots."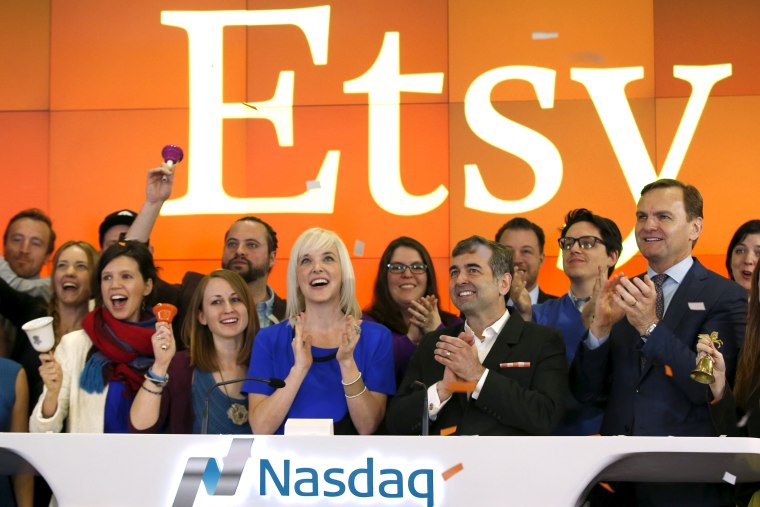 Lupton is part of an Etsy break-away group that wants to limit its dependence upon Etsy as a revenue stream and has started promoting wares through other means, including the new Amazon craft marketplace, independent websites, and Facebook. "We have seen too many changes over the years which have consistently downgraded our ability to sell here," she told NBC.
"I would say the vast majority of us are upset about Etsy's move to manufacturing in any way," Lupton continued. "We feel it is the death knell for the small shops, particularly the single employee businesses that helped build Etsy."
"Etsy should have approached growth by allowing handmade shops to hire employees to work under the owner's supervision-in house," seller Laura of DzinesLaura wrote on an Etsy discussion forum. "Growth should have come from allowing a higher production of handmade while keeping true to what handmade is. In my opinion, Etsy has used growth as an excuse to change their definition of handmade."

Video: Kanye 2020 Campaign Gear Already Up for Sale on Etsy
For its part, Etsy has downplayed any claims that the new retail partnership program encourages sellers to crank out mass produced items, pointing to its seller policies that forbid such practices.
Dana Mauriello, director of seller category growth at Etsy, told NBC, "Should a seller need to fulfill a larger volume order from a retailer, large or small, that they feel they can't produce on their own, they may choose to seek outside production help as long as they can demonstrate authorship, responsibility and transparency."
"Small, independent business is at the heart of Etsy, and always will be," she added. "But we also welcome large retailers into our community who are willing to adhere to our values of planning and building for the long term."
And some Etsy sellers are delighted to have the new business opportunity.
Christen Strang, whose HappyTatts Etsy storefront sells whimsical temporary tattoos, told NBC, "Some purists will say that there should be no mass production of any kind on a website meant for handmade goods. But to an artisan who might sell 5 (or) 10 items per week, a wholesale order for 100 of those items is her own personal definition of mass production."
Janelle Gang, who sells handmade pottery through her Nelle Design storefront, has partnered with larger retail partners through Etsy. She believes these new relationships benefit the customer, retailer, and the Etsy seller, though she acknowledges there is a learning curve.
"There is such a fine line of respect, profit, and understanding for everyone involved in the process," she said. "But I truly believe Etsy has the very best interest in their core values for the makers. Etsy is an amazing platform and catalyst for so many makers around the world."
Retailers also seem excited about the partnership. "We think that the fact it is Etsy is something that is really compelling to our customer," Nordstrom's Lori Marten told Fast Company in an interview earlier this year. "They love the fact they are buying something made in the United States. They love the story behind the artist."