The newest "repeal and replace" generating controversy isn't over Obamacare; it's about North Carolina rolling back the so-called "bathroom bill" that has cost the state an estimated $4 billion since it was passed last year.
But LGBT advocates and legal watchdogs say the replacement is so similar that the repeal effectively is in name only, which could doom the state's chances to woo back the companies and athletic organizations that left the state when the law was first passed.
The Republican-led legislature voted Thursday to implement what lawmakers called a compromise between their conservative body and new governor, Roy Cooper, a Democrat who secured victory last November, in part, by promising to roll back the requirement that transgender people use public restrooms that correspond to their birth gender.
Related: Who's Satisfied by the 'Bathroom Bill' Repeal?
The state's Chamber of Commerce offered support of the bill before the vote Thursday. "The North Carolina Chamber thanks House and Senate leadership and the Governor for coming together on a bipartisan basis to find a solution," president and CEO Lew Ebert said in a statement.
Not Good Enough
Not all businesses were sold, though: Levi Strauss & Co. and Dow Chemical both tweeted their support for a repeal. Levi criticized the repeal-and-replace vote, and Dow re-tweeted statements from the Human Rights Campaign pushing for a full, "clean" repeal.
Groups that opposed the passage of HB2 sharply criticized the repeal-and-replace action, with Sarah Gillooly, Policy Director for the ACLU of North Carolina, labeling the replacement bill as a "backroom deal" in a statement. "The way to undo HB2's profound damage to North Carolina and its people has always been a full, clean repeal, but this proposal would keep anti-LGBT provisions of the law in place," she said.
Related: Tar Heel in Tatters as Businesses Flee From 'Bathroom Bill'
"This so-called 'deal' is politics at its worst," GLAAD president and CEO Sarah Kate Ellis said in a statement, calling the repeal-and-replace a "last minute idea" that was motivated more by the prospect of losing business than protecting residents' rights.
For some parts of the state's economy, a lot is riding on what happens next.
A Higher Price to Pay
The Associated Press earlier this week published an analysis showing that HB2 has cost the state $3.76 billion. It added up the anticipated economic impact of corporate expansion plans that were scrapped and events that were canceled.
Supporters of HB2 dismissed the AP's calculations, but in reality, the true total might be even greater. "This is likely to be a lower-level estimate because it does not include losses from businesses who have not even considered expanding in NC due to HB2," said Michael Walden, an economics professor at North Carolina State University.
Walden said the overall impact on the state's economy was relatively small, although certain sectors bore an outsized portion of the impact.
"Our economy was definitely impacted, both on the business recruitment and expansion side of things, but also tourism," said Richard Beard, legislative chair of commercial real estate association NAIOP's North Carolina Piedmont Triad Chapter.
Beard said commercial development, especially in the office markets of cities like Charlotte and Raleigh, was affected by HB2. "I think the controversy of the bill and the publicity it was getting, these companies — they don't want to get into the political crossfire of the issue," he said.
UCLA School of Law's Williams Institute, which researches sexual orientation and gender identity, calculated that HB2 cost North Carolina $5 billion in federal funding and business investment alone.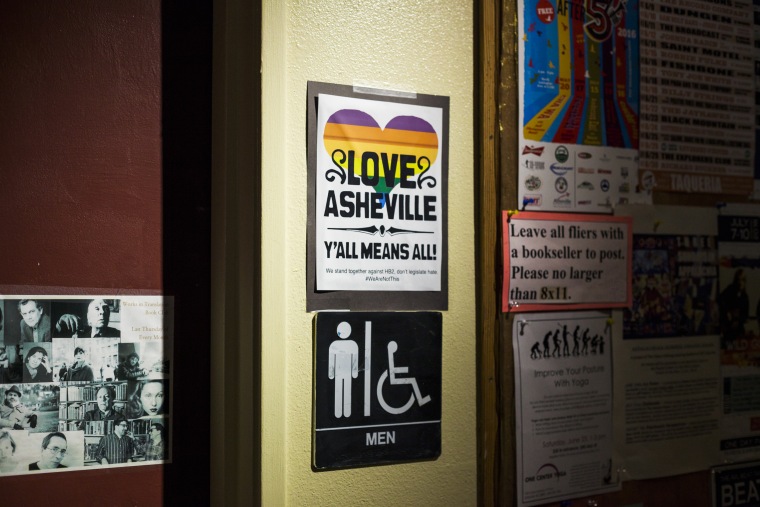 Tar Heel State Still Tarnished
Sports marketing experts say a return to North Carolina could be a reputational risk for organizations like the NCAA, which pulled North Carolina out of its schedule rotation for tournament games.
"No sport organization can afford to be associated with any activity that insinuates discrimination," said Richard Burton, the Falk professor of sport management at Syracuse University. "If they believe they could be accused of endorsing discrimination, they will stay away."
"If these organizations continue to not allow major events to happen in the state of North Carolina, there will be continued losses to local businesses," he said. "The state itself is losing money on the taxation side, but it's the local business operator, the hotel or restaurant owner, that's probably feeling a much greater loss."
The Greater Raleigh Convention and Visitors Bureau and the Greater Raleigh Sports Alliance issued a joint statement following Thursday's vote saying they were "cautiously optimistic" that the legislative compromise would placate prospective visitors, but acknowledged that it was still an open question. "It is also too early for us to speculate on what impact this will have," they said.
"If there's in any way still discrimination for gays and transgender people, you can't say everything's back to normal," said Bob Dorfman, a sports marketing expert at Baker Street Advertising. "Based on that, you'd think they'd have to continue the ban and ask for a true repeal of the bill."
Dorfman suggested that companies or franchises that ignore the controversy do so at their peril.
"Even if the LGBT population is in the minority, it's the perception of upholding discriminatory policies" that will turn off consumers, he said. "People who are straight support that group and support equality for that group. The tide in the United states is full equality for everybody. You just can't go against that."