The founding CEO of Fox News, Roger Ailes, has passed away, but the media empire he created and eventually pushed him out lives on, though still much in the image he cast for it.
When News Corporation chairman Rupert Murdoch started the conservative cable Fox News network in 1996 and hired Ailes to run it, Fox had to pay operators up to $11 per subscriber at the time, a departure from normal practices. Within five years, it had eclipsed rival CNN in the ratings and went on to become the number one ranked cable news network for over a decade.
It became part of the overall cable bundle, giving 21st Century Fox great reach, and delivering a massive, highly engaged audience to advertisers.
In turn, the channel delivered massive returns for shareholders.
Up until Ailes's departure, the company was responsible for 20 percent of parent company 21st Century Fox's operating income, a jewel in the crown. The profits gave him power. Allegations of how he abused that powerfrom very the star female anchors he lifted up became the source of his own undoing.
Related: Roger Ailes: How 'Cruelest Lesson' Fueled Rise of Fox News Chief
"He's a complicated figure," said Washington Post media and politics reporter Callum Borchers. "He deserves all the credit he received over the years for changing the media landscape for not only creating an incredibly influential network, but in politics."
"He had some charming personal qualities we've heard in the wake of his death from people who worked with him, but he was a flawed man as well," said Borchers.
"It's unfair to paint him as all bad...but it's also unrealistic to romanticize him as pure genius."
'A fantastic showman'
Ailes cloned the best parts other cable news networks. Then he catered the content to the viewpoint of a conservative audience who felt its concerns weren't being reflected in the national news coverage, and added a bit of razzle-dazzle. The result was a ratings juggernaut and force that shaped national politics.
"Ailes understood how to program to people's underlying psychology," said Michael J. Wolf, CEO of consulting firm Activate. "It was the first-ever designed news program that appealed to the things people are worried about. Were they going to be safe? Was the economy going to be safe?"
The resulting engagement has allowed it to command sizable license fees. Cable subscribers pay roughly 89 cents month for the Fox News Channel, according to a 2012 estimate by research firm SNL Kagan. CNN was estimated to average 57 cents per subscriber and MSNBC just 18 cents.
"He was a fantastic showman," said Elizabeth West, a professor at Columbia University's School of Journalism. (Aisles once said his lack of degree from the school is what qualified him to run a news network.)
"He had experience in talk shows," continued West, "He knew how to use glitzy graphics and music. He knew how to pick talent," combining "attractive people" with conservative commentators in a way that proved "very powerful."
RELATED: Roger Ailes Scandal: Julie Roginsky‬‬ Hits Fox News With Sex Harassment Suit
But allegations of sexual misconduct with some of those "attractive people" swirled and he resigned in July of 2016. His departure followed the filing of former Fox News Channel host Gretchen Carlson's sexual harassment lawsuit against him. Former Fox and now NBC News anchor also Megyn Kelly detailed alleged harassment by her former boss in her memoir. Roger Ailes denied the allegations.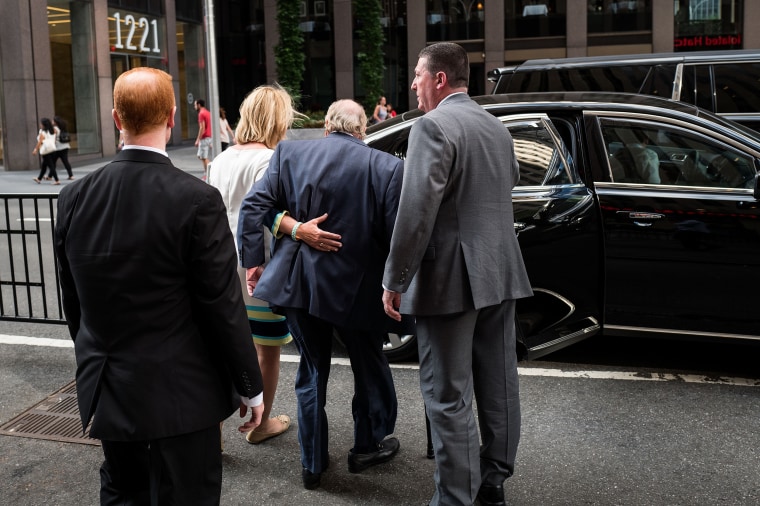 Since Ailes resigned and received a reported $40 million golden parachute, the Fox News Network has continued to broadcast in much the same fashion as before. Though there have been a few more staff departures.
"You can build a very successful network and then at some point it doesn't need you," said Borchers.
Disgrace and turning point
In his aftermath, the media discourse feels more polarized than 20 years ago when Aisles entered the news business. You can choose more channels and viewpoints, both on TV, cable, and online.
You can even choose which set of facts you prefer.
And in his disgrace and now demise there is a turning point for women in the media business that he left such an indelible stamp upon, said professor West.
"I noticed last year many women coming forward with stories of what they endured from their bosses and they felt this was they endured as having price of having a job," in media, she said. "Whether it was casual harassment or quid pro quo... for a long time we didn't talk about it."
That change, too, has become part of the Ailes legacy.
"I hope a number of women, and younger women, are now saying, "No. That's not right," said West.