Face masks and air purifiers sold out at pharmacies and department stores in Singapore Friday as a thick blanket of haze has descended on the wealthy Southeast Asian nation over the past week in its worst air quality problem ever.
The Pollutant Standard Index, a measure of air quality, surged to a record high of 401 on Friday, a level that's deemed "hazardous" by Singapore authorities.
The haze in Singapore is an annual phenomenon caused by Indonesian crop burning, but this year it has come earlier than usual and is much worse than normal. Levels seen on Friday were almost double those during Southeast Asia's prolonged haze crisis in 1997, when the PSI reached 226.
(Read More: Singapore Air Pollution Reaches All-Time High)

Local hospitals have also seen a rise in patients with haze-related conditions such as such as eye irritation and chest pain, according to local media reports, with more workers taking sick leave as well.

Schools, which are the heart of the city state's highly-educated population, have been forced to cancel outdoor activities for children and reduce physical indoor activities.
Residents of the island nation, which prides itself on providing high quality of life and efficiency, have tried to handle the crisis with some humor.
Comical memes are all the rage on popular social media platforms like Twitter and Facebook, as residents, confined indoors to escape from a haze that's hit record levels on Friday, took their creativity – and humor – to the next level.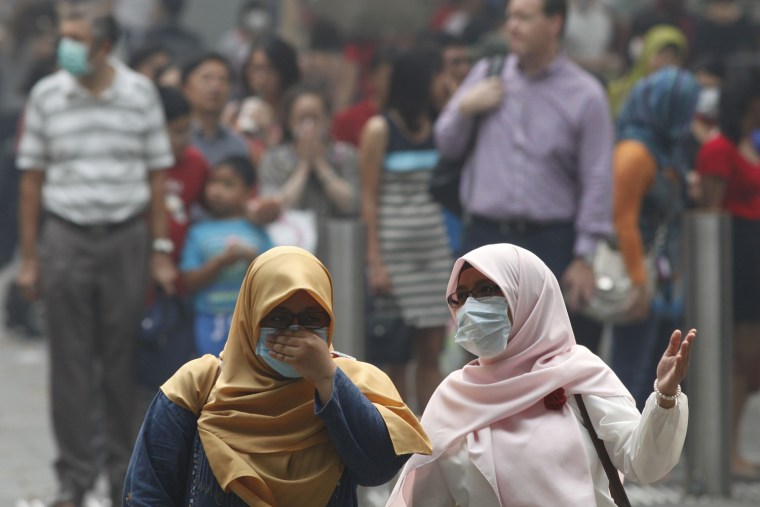 Among the most shared images is one of the famous Singapore mascot, the Merlion, covered by a gas mask, which was posted by Amy Kong on Facebook.
Other residents have dedicated entire websites to poking fun at the worsening air quality. Many Singaporeans have also taken to Twitter to voice their concerns with the haze, using the hashtag #mustbethehaze.
"Singapore is small, and barely visible on the world map. Now (it's) got haze," tweeted Sg SchoolProblems.

Comedy aside, there is growing frustration among residents about the government's handling of the smog, which is expected to persist for days or even weeks.
(Read More: Face Masks, Anyone? Singapore Struggles With Haze)
"I booked a flight to Bali to escape the haze, " said Andrew K, a 31-year-old American working in the country, who is planning work trips in other cities in the coming weeks. "What's the point in being here with the pollution like this?"
According to data from global travel search site Skyscanner, there has been a 22 percent increase in outbound flight searches this week, compared to the previous week, with Bali, Bangkok and Hong Kong the top three searched destinations.
On Thursday, Singapore and Indonesian officials held emergency talks to discuss how to extinguish fires on farms and plantations on the Sumatra Island. Indonesia dispatched two helicopters early Friday with cloud-seeding equipment in a bid to eliminate the fires, the AFP reported.
"They are sending these 2 little tiny planes, to put out all these fires. They are obviously not taking this seriously. Is that the best they can do?" said a 26-year-old Singapore permanent resident, who declined to be named.
"The PSI has hit over 400, and the government hasn't put in a work stop order? That is just ridiculous, he added. "We are breathing poisoned air. Something has to be done about this."
CNBC assistant producer Rajeshni Naidu-Ghelani contributed to this report.