Top female soccer players filed a federal complaint Thursday that they are paid less than their male counterparts. This is despite attendance for women's national soccer team games rising to striking range with the men's game levels in the past year, an NBC News review of league records shows.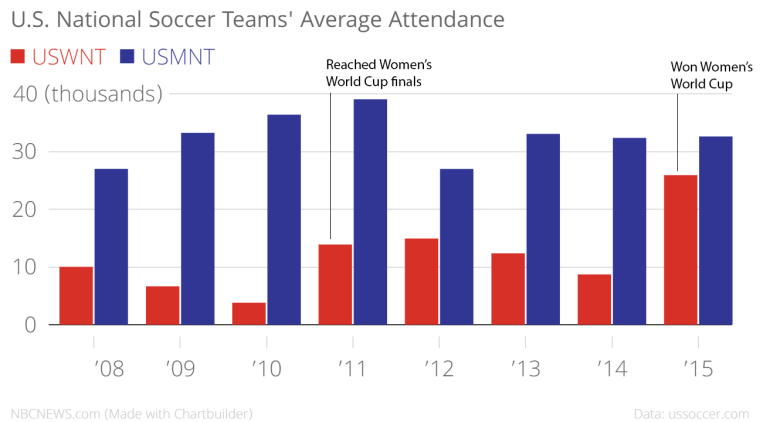 In 2015, the year they won the women's World Cup, the United States women's national soccer team (USWNT) average attendance was 25,906, versus 32,606 for the men (USMNT).
Historically, though, there have been far fewer attendees at the women's games. From 1990-2015, USWNT average game attendance ranged from 2,341 to 25,906. For the USMNT during the same period it varied between 16,921 and 39,045.
Five U.S. Women's National Team players were involved in the wage discrimination complaint against U.S. Soccer, the sport's governing body. They were among U.S. women's soccer most high-profile, the co-captains Carli Lloyd and Becky Sauerbrunn, midfielder Megan Rapinoe, forward Alex Morgan, and goalkeeper Hope Solo.
The players complained that female players can receive as little as 40 percent as their male counterparts, even though the women have notched three World Cup championships. The men's team hasn't fared as well in recent years.
The female soccer players receive an annual yearly salary while the men are only paid when they're called to the national team. But the women say a lopsided bonus structure for appearances leaves them unfairly behind in overall compensation.
The complaint is the latest and strongest move in a growing feud between the female soccer players and the league and adds to a growing debate about a gender pay gap in sports, especially in tennis.
A representative for U.S. Soccer couldn't immediately be reached for comment.