The pharma boss who became infamous after hiking the price of an HIV-related drug by 5,000 percent was arrested Thursday by the FBI, prosecutors said, accusing him of orchestrating a "trifecta of lies, deceit and greed."
The take down of Martin Shkreli — a hedge fund manager-turned-pharmaceutical company CEO — comes amid a probe related to "widespread" securities fraud through a hedge fund and drug company he once ran, according to a complaint filed by federal regulators.
Shkreli, 32, who was taken into custody at his midtown Manhattan residence, is currently the head of Turing Pharmaceuticals and KaloBios Pharmaceuticals. He was previously the manager of hedge fund MSMB Capital Management and chief executive of biopharmaceutical company Retrophin Inc.
Shkreli is named in a seven-count indictment in federal court in Brooklyn, New York, along with Evan Greebel, who was Retrophin's outside counsel.
At a news conference Thursday afternoon, U.S. Attorney Robert Capers in Brooklyn said Shkreli treated his companies as a "personal piggy bank" and ran them "like a Ponzi scheme."
Shkreli is being charged for illegally using Retrophin assets to pay off debts after MSMB lost millions of dollars.
The indictment said Shkreli and Greebel, along with others, orchestrated three interrelated fraud schemes from September 2009 through September 2014.
Related: Pharma Boss Martin Shkreli Unmasked as Wu-Tang Clan Album Buyer
It said they fraudulently induced investors to invest in two separate funds and misappropriated the assets of publicly traded Retrophine to satisfy Shkreli's personal and unrelated professional debt obligations.
Capers said Shkreli had a history of duping investors in one hedge fund to pay off debts from another, and instead of coming clean, continued with his scheme.
"He did that to conceal the lies he told, namely, that their investments were doing well and they were getting handsome returns," Capers added.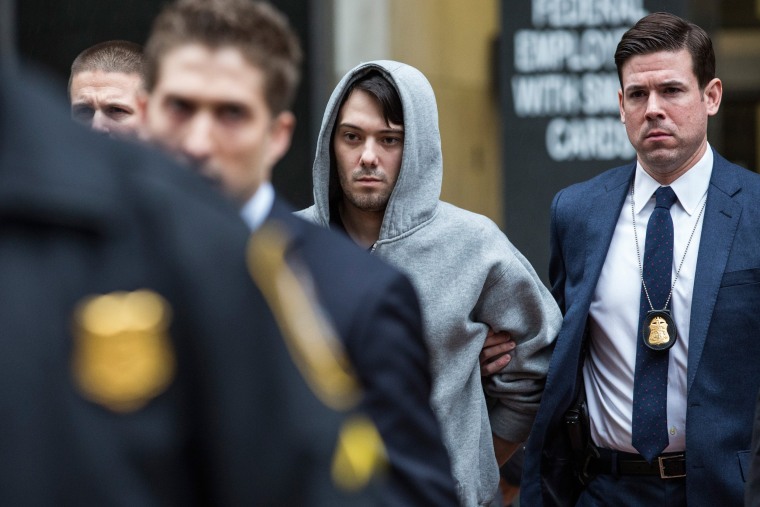 Shkreli is charged with securities fraud, securities fraud conspiracy and wire fraud conspiracy for orchestrating the three interrelated schemes.
Greebel, 42, is charged with wire fraud conspiracy for his role in the Retrophin scheme.
The pair, who could each face up to 20 years in prison, were arraigned Thursday afternoon. Greebel's bond was set at $1 million while Shkreli's was $5 million.
Both were able to pay and walked out of court soon after.
The men were also required to surrender their passports and were told not to have any contact with each other.
Marcus Asner and Baruch Weiss, attorneys for Shkreli, declined comment to CNBC.
The investigation dates back to at least January when Retrophin said it received a subpoena from prosecutors seeking information about its relationship with Shkreli.
That subpoena also sought information about individuals or entities that had invested in funds previously managed by Shkreli, Retrophin said in a regulatory filing.
MSMB Capital Management was founded in 2009, and Shkreli announced its closure in 2012. Retrophin was founded in 2012, and Shkreli was its CEO until the company fired him in September 2014.
Related:Company That Raised Drug Price 5,000% Investigated by New York AG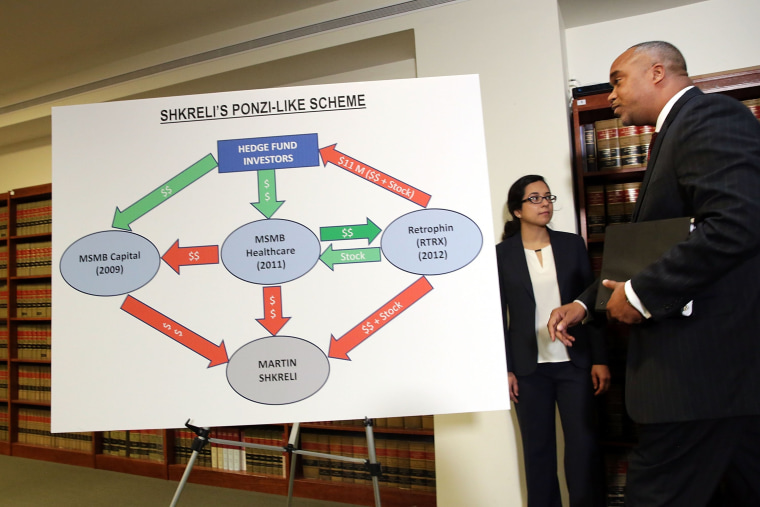 Retrophin in August sued Shkreli in federal court for $65 million, claiming he had used his control over Retrophin to enrich himself and pay off claims of investors in MSMB, which he had also defrauded.
"The $65 million Retrophin wants from me would not dent me," a defiant Shkreli previously told Bloomberg Businessweek about the suit. "I feel great. I'm licking my chops over the suits I'm going to file against them."
In September, Shkreli became a lightning rod over another issue: the soaring prices of prescription drugs.
He announced that month that he was ratcheting up the cost of Daraprim from $13.50 to $750 per pill, stoking outrage. Headlines called him the "most hated man in America." Presidential candidates from Hillary Clinton to Donald Trump pilloried him; Trump called Shkreli a "spoiled brat."
The CEO defended his actions, saying his first priority was to his investors.
The backlash,however, led the privately held company to say last month it was cutting the cost of the drug.
Shkreli was also unmasked this month as the buyer who reportedly paid $2 million for the only copy of the new Wu-Tang Clan album, "Once Upon a Time in Shaolin."
Federal prosecutors on Thursday said they were not aware of where he got the funds to pay for the album. They also declined to speculate on why he favored boosting the price of Daraprim.
Shkreli's financial perch is a long way from his working-class Brooklyn neighborhood; Shkreli is the son of Albanian and Croatian immigrants who worked as janitors.
With a knack for crunching numbers, he made inroads in the elite world of Wall Street. As a 17-year-old college student, he interned under hedge fund manager and CNBC "Mad Money" host Jim Cramer, Bloomberg reported.
He graduated from Baruch College with a business degree, and set up his own hedge fund in his 20s with the help of an investor. He focused on the biotech field, eventually earning the monikers "boy genius" and "Pharma Bro."
He also earned a reputation as a risk taker — but fell into trouble with accusations of misusing company funds.
Shkreli, who once idolized Bill Gates, has been an avid social media user, firing off tweets about everything from his company's stock to his crush on pop star Katy Perry.
He also regularly lives-streams his more mundane activities on YouTube, sometimes sporting a laid-back style of hooded sweatshirts and sneakers.
In the latest three-hour video posted on Wednesday night, he plays guitar and computer chess, and listens to people comment online about him buying the Wu-Tang Clan record.
His favorite genre of music is hip-hop, he has said in interviews, and remains an aspiring rapper.
"I don't rap for the money — I do it because I love it," he tweeted last week.
In a New York Times profile published this month, Shkreli was labeled the "bad boy of pharmaceuticals."
Despite being criticized for his "greedy" behavior, Shkreli told the newspaper that he receives little compensation from his companies. He struck back at the suit by Retrophin that he illegally lined his pockets.
"It's rife with inaccuracies," he told The Times, adding it contained "vile accusations."