The Federal Trade Commission has gone to court to stop companies from allegedly bombarding cell phone users with hundreds of millions of unwanted text messages that promised "free" gift cards.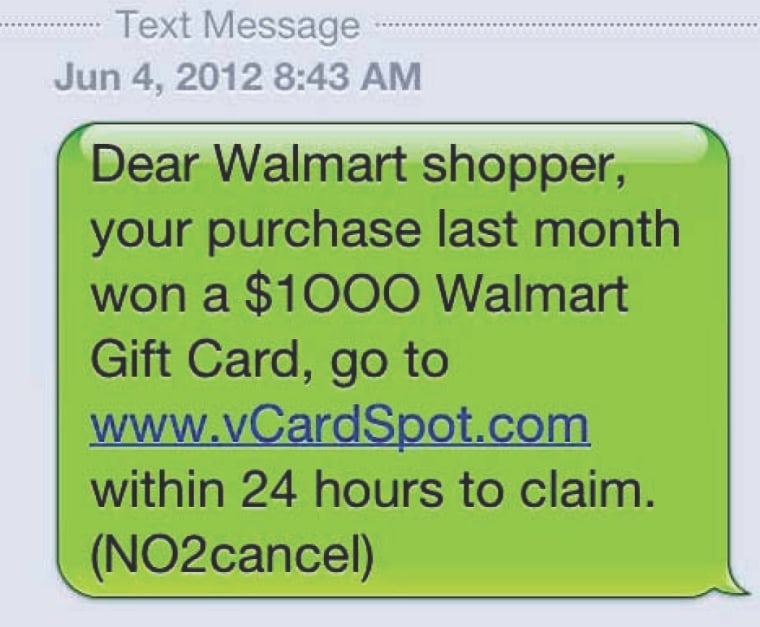 The FTC complaints, filed in courtrooms around the U.S., charge 29 defendants with sending more than 180 million of these spam texts.
"Today's announcement says 'game over' to the major league scam artists behind millions of spam texts," said Charles Harwood, acting director of the FTC's Bureau of Consumer Protection in a statement.
If you have a wireless phone, there's a good chance you got one. The text messages offer free $1,000 gift cards from big name companies such as Wal-Mart, Target and Best Buy.
(Related: Warning: Bogus 'smishing' messages tell lies)
The FTC claims the texts were designed to get people to click on a link that would take them to deceptive websites that requested sensitive personal information – supposedly needed for shipping –before they could get that "free" card.
The commission suspects the information collected was sold to other companies for marketing purposes.
But that was just the beginning. Once the personal information was gathered, people were directed to another site where they were required to sign up for a number of "offers" in order to be eligible for the gift card.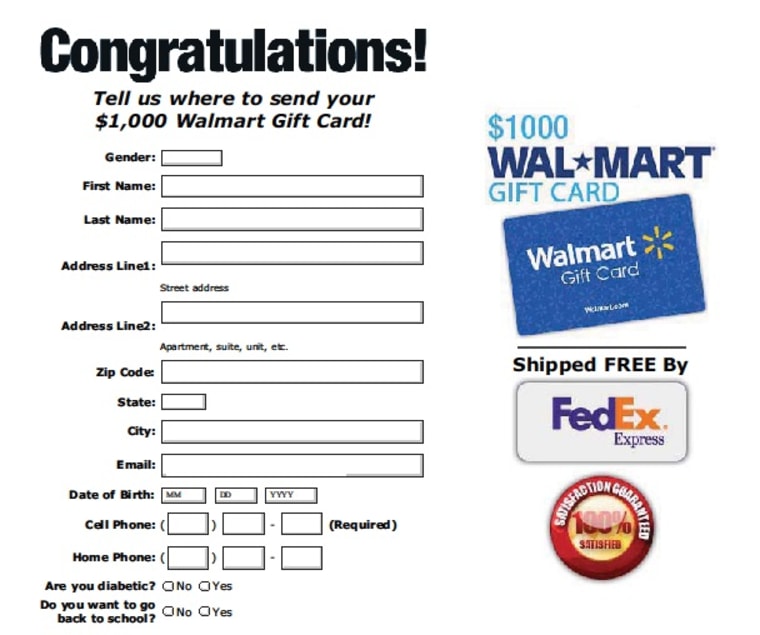 The FTC's investigation shows some people had to sign up for as many as 13 offers. This often meant providing a credit card number to sign up for some type of subscription. In some cases, they had to submit applications for a credit card, an action that would show up in their credit history and could affect their credit score.
(More information:FTC Cracks Down on Senders of Spam Text Messages Promoting "Free" Gift Cards)
In its complaint, the government claims the operators of these websites violated the FTC Act by not disclosing all of the conditions attached to that supposedly "free" gift – including the possibility that "lucky winners" would be required to spend money to get it.
The FTC says its investigation shows the text messages were sent to random phone numbers, including to cell phone subscribers who did not have a text message subscription plan. These consumers paid the cost of receiving that spam text. While it may seem like everyone has a text plan, the FTC says as many as 12 percent of mobile phone users do not.
The FTC's complaints target those who allegedly sent the unwanted text messages and those who allegedly operated the deceptive websites. The courts are being asked to stop the companies and individuals from continuing "their alleged deceptive and unfair practices" and to freeze their assets.
Herb Weisbaum is The ConsumerMan. Follow him on Facebook and Twitteror visit The ConsumerMan website.