35 Crestwood Dr, Watchung NJ
For sale: $1.5 million

Located just 24 miles from New York City is a home that looks more like it belongs in the forests of Russia than in New Jersey.
And it was designed exactly that way, says owner Mishka Kluk.
"This kind of architecture structure came from Eastern Europe and Russia," she said. "We believe in the beauty of the house, the use of materials and the color."
The home opens up to a nearly 1,500-square-foot great room with 20-foot-high ceilings. An enormous stone fireplace and floating staircase dominate the open space, which leads to the kitchen. Natural wood and stone materials are carried throughout the home, and some of the wood was sourced directly from the home's lot, including the wood used to make the handcrafted entry doors. Wooden window frames with tinted glass were made in Germany.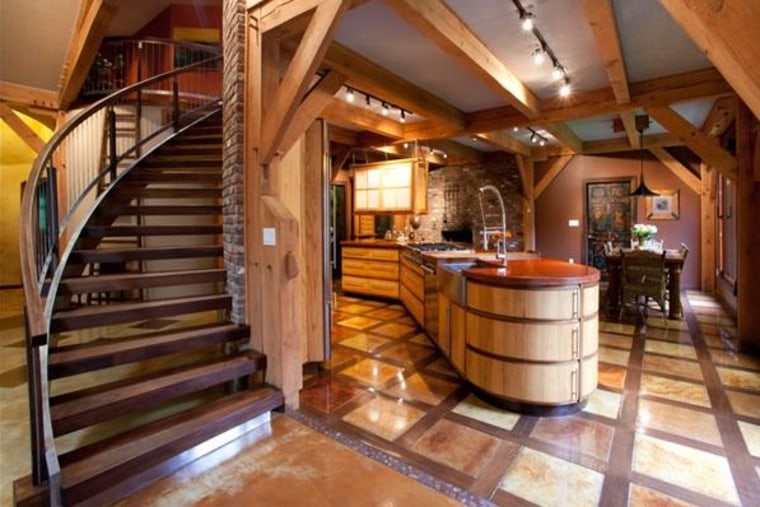 A handmade copper patina table dominates the kitchen and provided the inspiration for the murals on the inside of the doors, Kluk says. The kitchen floor is made of wood and handmade concrete, and the countertops are also a tinted concrete.
Upstairs, the master suite is dominated by an enormous copper bathtub set in the same black walnut used in the construction of the floating staircase. Rather than separate the bath area from the rest of the room, the master bedroom is entirely open, with the copper tub and matching copper sink just feet from the bed.
Built in 2008, the entire home measures 6,000 square feet with 5 bedrooms and 4.5 baths and sits on an 2-acre lot in Watchung.
The home is listed by Paul Stillwaggon of NJ Estate Real Estate Group.
A calculated monthly mortgage payment would be $5,431, assuming a 20 percent down payment on a 30-year fixed mortgage.
More from Zillow: