More than 800 flights across America were canceled Sunday, marking the fifth consecutive day that commercial carriers wiped off at least 500 journeys, airline tracking data showed.
There were 868 cancellations of flights to, out of or within the United States on Sunday, accounting for 3% of those total scheduled journeys, according to the Houston-based FlightAware.
Sunday's cancellations followed other recent, challenging travel days: Saturday (633 cancellations), Friday (709), Thursday (878) and Wednesday (1,403), the data showed.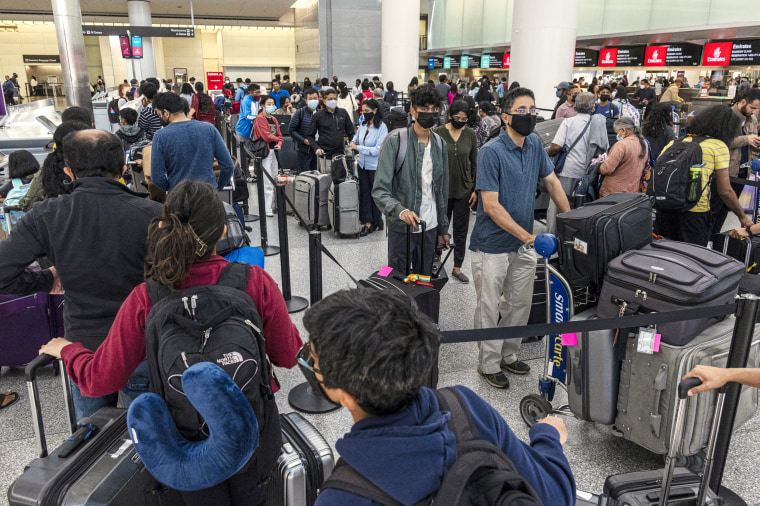 This past weekend's airport misery actually marked a slight improvement from the previous week when there were 1,480 cancellations June 17, 864 on June 18 and 913 on June 19.
The passengers most affected were those booked Sunday aboard Delta Air Lines (234 cancellations, marking 8% of total scheduled), United Airlines (82 and 4%), Republic Airways (85 and 9%), Allegiant Air (25 and 5%), Cape Air (55 and 19%) and Jazz Aviation (79 and 31%).
Delta blamed its cancellations on "compounding factors affecting our operation" which included "higher-than-planned unscheduled absences in some of our work groups, weather and air traffic control constraints."
"Canceling a flight is always our last resort, and we sincerely apologize to our customers for any disruption to their travel plans," the Atlanta-based carrier said.
United said its cancellation numbers are skewed by schedule changes out of Newark, New Jersey, announced last week.
Allegiant also said in a statement Monday night that its numbers in the FlightAware database were skewed by a "schedule adjustment to 14 flights that were originally supposed to operate" Sunday.
The Las Vegas carrier said that passengers who were impacted by those changes were re-accommodated to other flights or issued refunds.
Halifax, Nova Scotia-based Jazz said in a statement: "The ramping up of operations and increased number of travelers have been challenging for all involved in the airline industry. Staffing issues at third-party providers have had an ongoing impact on airline and airport operations."
Representatives for Republic and Cape Air could not be immediately reached for comment Monday.
Between 2011 and 2019, the flight cancellation rate was stable, hovering between 1.1% and 1.8% in any given year, according to FlightAware.
Then it spiked to 5% in 2020 due to the pandemic, before settling down again to 1.6% in 2021 as vaccines took hold and Americans returned to take advantage of a pared-down schedule of flights, data from the Houston tech company showed.
The cancellation rate so far for 2022 has risen to 2.8%, coinciding with scores of Americans voluntarily sidelining themselves from employment.
That's translated to a wide swath of airline and airport employees leaving the workforce with any one absence, from a pilot to an airline mechanic, keeping a flight from getting off the ground, said FlightAware spokeswoman Kathleen Bangs, a former airline pilot.
"You need fuelers, you need aircraft cleaners, bag handlers, all of that," she said. "It really takes a choreographed symphony of people to get an airplane in, get it turned, get it back out again."
Bangs expects this wave of cancellations to stabilize by the fall season as airlines pare back schedules and aggressively hire new pilots and other workers.