NEW YORK - The U.S. Federal Trade Commission is investigating Turing Pharmaceuticals for possible antitrust violations in connection with the company's decision to hike the price of a life-saving drug by more than 5,000 percent, a lawyer for former CEO Martin Shkreli wrote on Friday.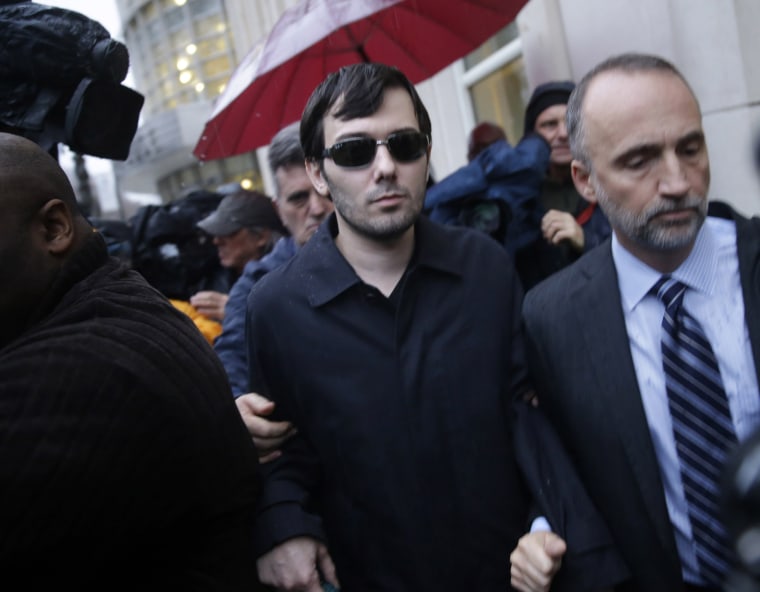 The probe was disclosed in a letter to the U.S. House of Representatives' Committee on Oversight and Government Reform from Baruch Weiss, Shkreli's lawyer, as grounds for why his client would not answer questions about drug prices at a Jan. 26 hearing.
The committee had subpoenaed Shkreli, who has been indicted separately on securities fraud charges, to appear to discuss why, as Turing's CEO, he decided to raise the price of Daraprim to $750 a tablet from $13.50.
The drug, which was acquired by the company, is used to treat toxoplasmosis, a parasitic infection especially dangerous to AIDS patients and others with compromised immune systems.
Martin Shkreli Invokes Fifth in Refusing to Give Records to Lawmakers
In a letter seen by Reuters, Weiss said Shkreli would "gladly cooperate" with the committee and produce documents if it granted immunity to the controversial 32-year-old former drug executive.
But even if that happened, it would not occur before Tuesday's hearing, "so there is no reason on that account for Mr. Shkreli to appear" at it, Weiss wrote in the letter.
In light of government probes involving Shkreli, Weiss said his client would otherwise refuse to answer questions under his constitutional right not to incriminate himself.
The probes include a FTC investigation concerning Daraprim that had not been previously public. It mirrors another antitrust investigation cited by Weiss by the New York state attorney general.
Weiss wrote that the "same facts that would support liability under civil antitrust violations would support criminal antitrust charges," and that as a result, any statements by Shkreli about Daraprim could be used against him.
FTC spokesman Peter Kaplan had no comment on Friday.
Kalobios, Briefly Run By Martin Shkreli, Files for Bankruptcy
A spokesman for Turing had no immediate comment. The company later issued a separate statement confirming that its chief commercial officer, Nancy Retzlaff, would testify at the hearing.
In his letter, Weiss cited her appearance as a witness to contend that the committee "will obtain the information it needs."
Shkreli was separately indicted in a federal court in Brooklyn, New York, on securities fraud charges stemming from his prior management of hedge fund MSMB Capital Management and biopharmaceutical company Retrophin Inc .
Prosecutors said Shkreli engaged in a Ponzi-like scheme, defrauding hedge fund investors and then misappropriating $11 million in assets from Retrophin to repay them. Shkreli has pleaded not guilty.
While those charges are unrelated to Daraprim, Weiss said "the prosecutors have advised us that the government's criminal investigation is ongoing," leaving it unclear if the case could involve issues that would be before the congressional panel.