When eight of the world's most powerful leaders wrap up their meeting in Ireland on Tuesday, look for bold pledges to curb widening trade protectionism and close global tax loopholes.

The results, though, will likely be about as effective as past sweeping pronouncements to end world poverty, stop global warming and create a balanced framework for sustainable economic growth.
This year, the elite club will meet Monday and Tuesday at the Lough Erne Resort, a five-star hotel and golf resort on the shore of Lough Erne, in County Fermanagh, Northern Ireland.
Any time eight of the world's most powerful heads of state gather in one room, there will be plenty to talk about. But much of the most important jawboning and arm-twisting happens behind the scenes.
This year, for example, German Chancellor Angela Merkel—a staunch opponent of loose-money policy in Europe—will reportedly meet one-on-one with Japanese Prime Minister Shinzo Abe, who has recently flooded the world's currency market with yen and showered Japan's economy with debt-funded government spending.
"It is understandable that there are different views of the role of central banks and monetary policy around the world," a German official deadpanned to Reuters.
With the eight countries (as well as the rest of the developed world) struggling to balance budgets and pare debt, the group is also expected to address the torrent of funds seeking shelter from the taxman.
From wealthy Russian oligarchs stashing cash in Cypriot banks, to U.S. corporations hoarding money offshore and routing profits through havens, the lost tax revenues are starting to add up. What better place to discuss possible solutions than Ireland, where American corporate icon Apple recently conceded that it is parking profits to blunt the Treasury's tax bite.
(Read More:'We Pay Our Taxes': Apple's Tim Cook)
The group will have its work cut out for it, according to most analysts. Capturing a fair share of corporate profit, for example, was a lot easier when much of a company's business was devoted to producing physical goods that were hard to stash offshore. Today, companies like Apple can shift billions of dollar's worth of patents to a friendly tax haven with the click of a mouse.
Casting a tighter tax net will also require a global scheme for which there is no comprehensive means of enforcement. And unless all tax-friendly countries agree to tighter rules, the reformers will simply watch a lucrative business move to the holdouts.
Regardless of the agenda topics that survive long enough to become part of the meeting's final brief, don't expect much in the way of concrete results Tuesday. Other than a breathtakingly underwhelming "communique" from this annual gathering of the world's most powerful politicians.
At last year's meeting, for example, the group boldly pledged to "take actions to boost confidence and nurture recovery including reforms to raise productivity, growth and demand within a sustainable, credible and non-inflationary macroeconomic framework."
The group also threw their full support behind "sound and sustainable fiscal consolidation policies that take into account countries' evolving economic conditions and underpin confidence and economic recovery."
About the only part of the G8 meeting that will have less impact will be the obligatory demonstrations outside. This year, protests over ongoing "austerity" budgets in Europe seem to be edging out perennial complaints about widening wealth inequality and the developed world's foot-dragging on global warming.
The ongoing slowdown in global economic growth has also surfaced as another likely item in the protectionist measures that threaten to further gum up international trade—leading to further slowing.
(Read More:Report Warns G8 of Stealthy Surge in Protectionism)
One of the most powerful protectionist measures has been the opening of money spigots by central banks around the world, led by the Federal Reserve's $3 trillion cash infusion. Though easy money helps lower interest rates and spur growth at home, it also depresses the dollar and makes U.S. exports cheaper when bought with other currencies.
The Bank of Japan recently upped the ante by pumping enough yen into the global river of money to depress that currency's value by 25 percent against the dollar since November.
(Read More:Japanese Bond Swings Not That Bad)
With trade slowing, the arms race to boost exports is escalating as countries publicly calling for free trade deploy a wide arsenal of protectionist weapons, according to a recent report from a group that monitors international trade policies.
The Global Trade Alert report found that more protectionist measures were imposed in the last quarter of 2012 and first quarter of 2013 than in any period since the group began monitoring in 2009.
"The past 12 months have seen a quiet, wide-ranging assault on the commercial level playing field," the report said.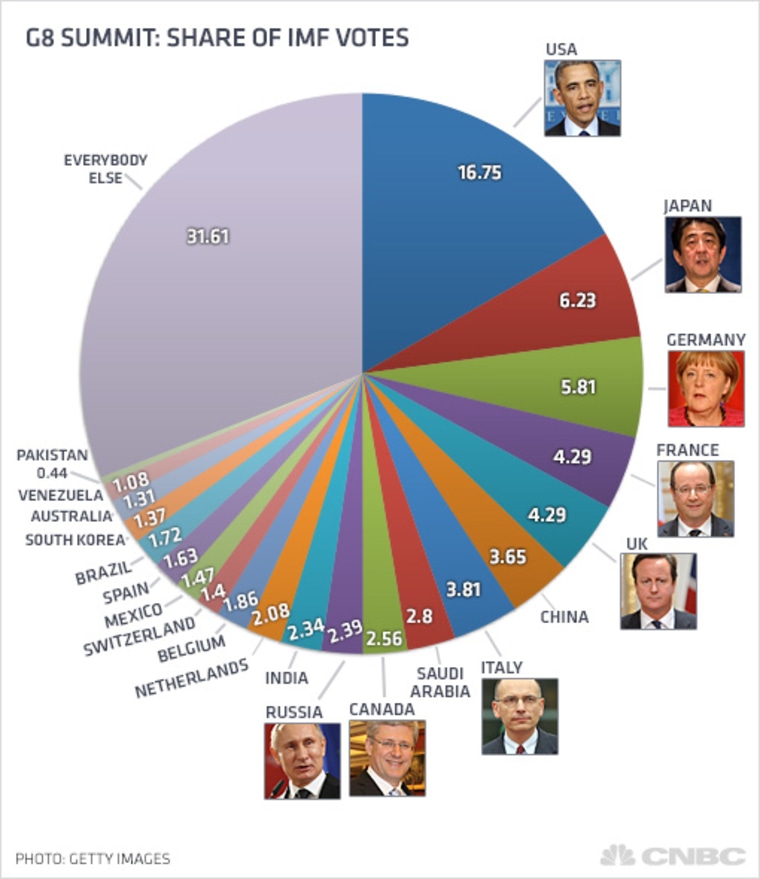 Most of those measures were put in place in the 20 largest economies of the developed world, according to the report. The biggest offender was the collection of 27-member eurozone countries. And the biggest target of protectionism was China.
Since November 2008, when world leaders at global summit in Washington vowed not to resort to protectionism to recover from the global financial crisis, China has been hit almost 1,000 times by foreign trade barriers, making it the whipping boy of world trade, according to GTA data.
Don't expect China's leaders to complain about protectionism at next weeks' G8 summit, though. They won't be there.
Apart from the G8's penchant for issuing toothless communiques, the absence of countries such as China has been one of the widest criticisms of these summits. Despite having the world's the second-largest GDP and largest population, China's energetic new president, Xi Jinping, wasn't invited.
The most reliable way to get an invitation seems to be a willingness to pony up with the International Monetary Fund, the global bailout fund largely controlled by the G8. (But writing a big check hasn't earned China or Saudi Arabia a place at the table.)
The core club originated in 1975 when, amid the oil crisis and global economic stagnation, French President Valéry Giscard d'Estaing invited the heads of Germany, Japan, the United Kingdom, the U.S. and Italy to a meeting at a château outside near Paris. He was such a good host (or the food was so excellent) that the group decided to make it an annual event. They let Canada come the next year, forming the G7.
For a while, the Russians had to wait in the hallway of G7 meetings, but by 1998, President Boris Yeltsin had talked his way into full membership, creating the G8. (Technically, there are now nine members: The head of the European Union gets a seat but can't host or chair a summit.)
Since 1998, countries knocking on the G8 door have been gradually admitted to a series of "me-too" meetings with a longer guest list.
For the record, the original group comprises Canada, France, Germany, Italy, Japan, Russia, the United Kingdom and the United States. Then there's the so-called G8 Plus Five, which lets Brazil, China, India, Mexico and South Africa past the velvet rope. In 2008, the G20 summits began including Saudi Arabia, Australia, Turkey, Argentina, South Korea, Indonesia and the head of the European Union on the not-so-select guest list.
Despite the vague pronouncements about reversing the ongoing global economic slowdown, the summit will produce at least some concrete economic benefits. The tiny host town of Enniskillen (pop. 14,000) has been bustling with business preparing for the influx of diplomatic entourages, security details and international press.
The budget for the two-day meeting comes to about 60 million pounds ($95 million)—of which 1 million pounds ($1.6 million) alone was spent sprucing up some 150 local shops and businesses. The makeover included papering over abandoned storefronts with poster images that make them appear to be thriving businesses.
"I can accept some people have reservations about it," Brendan Hegarty, the head of a local business council told the BBC. "But it was a source of funding that was open for a very narrow window."
—By CNBC's John W. Schoen. Follow him on Twitter@johnwschoen.