The gloves are off in the war for the nation's best fast-food breakfast, as McDonald's tests a complete all-day breakfast menu and Taco Bell just introduced a new range of ten breakfast items at $1 a pop.
In a nation famed for its steak and eggs for breakfast as much as its pre-morning-workout kale and hemp smoothies, the two fast food giants are competing to capture the middle market, offering high-protein, low-priced, grab-em-and-go options to a wider audience.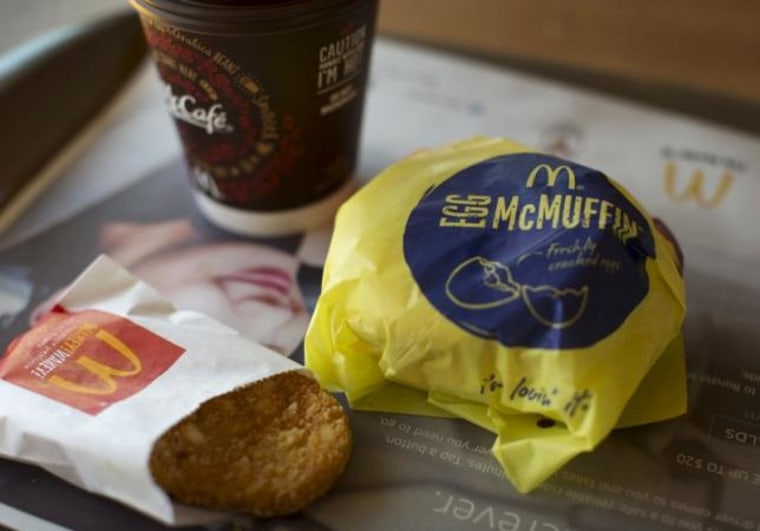 Although the Egg McMuffin made its debut back in 1971, McDonald's supersized to an all-day breakfast just last year. It proved to be a huge success, but at the time of the launch many customers were frustrated to find that their favorite items were not available in their area.
"There wasn't enough room on our grills to make the eggs for both our McMuffins and our Biscuits," explained McDonald's. "So, we worked with each restaurant to understand the most popular breakfast menu items in their area. This was our way of getting local customers the breakfast food they wanted." Now, the fast food giant is trying out a menu that includes McGriddles, McMuffins, and biscuits.
Read More: Taco Bell Says It Will Be First U.S. Chain To Use Cage-Free Eggs
"We're still in a testing phase," Lisa McComb, McDonald's media relations director, told NBC News. "We're gathering feedback from the restaurants. We're currently testing in 72 restaurants in the greater Tulsa area. In addition, 84 restaurants in and around Greensboro, Winston-Salem, and High Point, North Carolina area will also begin testing an expanded All Day Breakfast Menu that will include McGriddles, biscuits and McMuffins."
Taco Bell started offering breakfast in 2014, and serves until 10:30 a.m. The revamped line of breakfast items introduced on Thursday include a Sausage Flatbread Quesadilla with cheese, eggs, and sausage; a Mini Skillet Bowl with potatoes, eggs, cheese, and pico de gallo; and a Breakfast Soft Taco.
In an obvious dig at the Golden Arches, Taco Bell's Chief Marketing Officer, Marisa Thalberg, said the chain decided to expand its breakfast menu because consumers are "unwavering in their desire for true dollar menus, despite their disappearance in restaurants across the nation." That and the fact that "Americans love bacon."