If we said the new 2014 Odyssey minivan sucked, Honda might just take that as a compliment. The updated Odyssey Touring Elite model debuting at the New York Auto Show will introduce a new feature likely to have significant appeal to family buyers – the first in-car vacuum.
Big Week in the Big Apple as NY Auto Show Reveals Over Two Dozen New Vehicles
The HondaVAC is one of several new features being introduced on the 2014 Honda Odyssey which has gained steady momentum in an otherwise shrinking market segment.
Minivan sales are currently less than half of what they peaked at a decade ago, but there is still a sizable demand among family buyers who see them as the most functional and efficient people-movers on the market. The challenge is coming up with a consistent stream of new innovations.
"Honda is once again showcasing its reputation for innovation with HondaVAC, and its ability to provide true value to our customers," proclaimed Michael Accavitti, vice president of marketing operations at American Honda.
The outgoing Odyssey attempted to show that Honda could inject a little style into the segment, as well. The 2014 update undergoes only modest exterior tweaks, however, with a more deeply sculpted hood and revised fenders, as well as a more distinctive twin-bar grille. There are also new LED taillamp bars and revised badging.
Like so many of its competitors, the Japanese maker is slashing mass to improve fuel economy – as well as handling. The hood and front fenders are now stamped out of lightweight aluminum.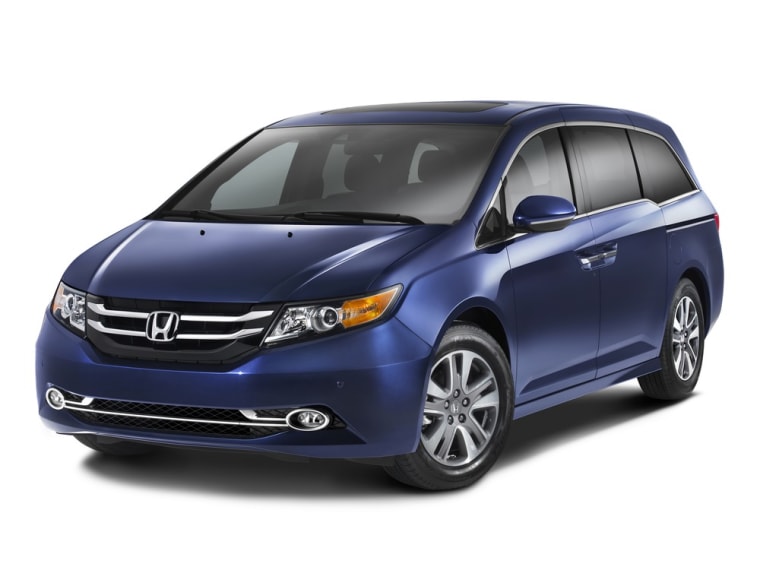 Inside, the Odyssey adds some new finishes to brighten the cabin, along with an all-new center stack housing a number of new high-tech features. That includes an updated HondaLink infotainment system that can link with an owner's smartphone to access live, personalized radio "stations" and also give voice access to updates and news feeds from Facebook and Twitter. The system can also be used to find a nearby restaurant and then check its reviews.
New NHTSA iPhone App Lets You Track Recalls, Crash Tests, Even Helps With Child Seats
The 2014 Honda Odyssey will get a new Expanded View Driver's Mirror along with new active safety features such as Forward Collision Warning and Lane Departure Warning.
Safety is, of course, a critical issue for family buyers, and Odyssey has gained traction after scoring a five-star overall rating in the NHTSA crash tests. The 2013 model also was named a Top Safety Pick by the Insurance Institute for Highway Safety.
As for the HondaVAC, it was developed in cooperation with Shop-Vac and can operate continuously when the minivan's engine is running. It will continue to operate for eight minutes after the engine is turned off.