Following Thursday's stunning announcement that Fox News head Roger Ailes has stepped down in the wake of a sexual harassment filed by former anchor Gretchen Carlson, interest has grown in the next generation of the Murdoch family media dynasty and how they will steer Fox going forward.
Rupert Murdoch's two sons effectively took the reins at Fox News parent 21st Century Fox just over a year ago, with younger brother James installed as CEO and Lachlan Murdoch sharing the title of chairman with his father, Rupert.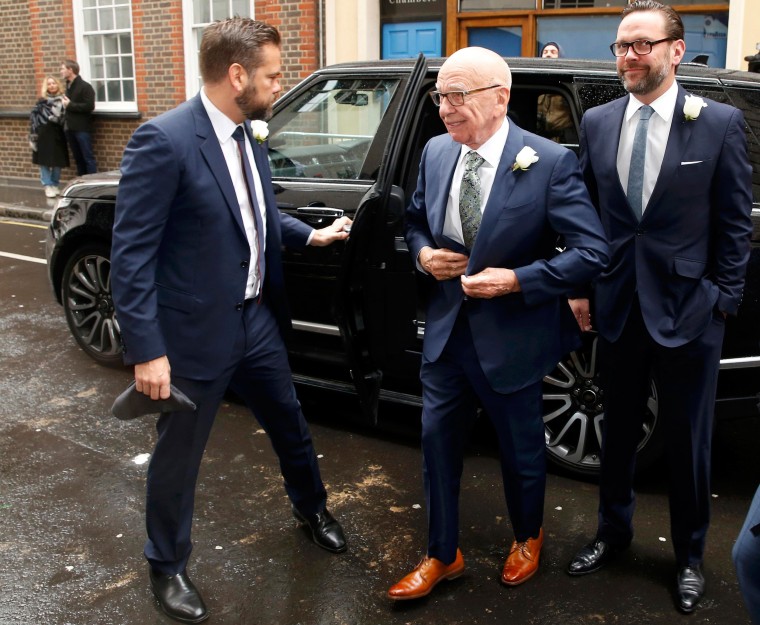 Both brothers have long histories in the media and entertainment industry. Although Lachlan worked at the company between 1994 — when he graduated from Princeton University — and 2005, he rejoined the family fold just two years ago. Various media sources attributed his departure to bad blood with Ailes, although Lachlan disputed this characterization in an October interview, conducted jointly with his brother, with The Hollywood Reporter.
"I wouldn't say I resisted the company. I wanted to go do my own thing," he said. That included launching a private investment firm and expanding an Australian radio network acquisition into a larger firm called NOVA Entertainment. He did retain a board seat at his father's company.
Lachlan, whose left forearm is encircled by a tattoo visible when he's wearing a T-shirt (which the British tabloids, in particular, seem to enjoy catching him doing), might be a different kind of risk-taker than his father, but he doesn't avoid the uphill and dangerous: Last year, he turned up for a speaking engagement at a real estate conference in Australia on crutches after a rock-climbing accident left him with a "smashed" ankle.
Younger brother James has been more involved in the family business, so to speak. He became chairman of British broadcast and communications conglomerate Sky in April, a position he previously held from 2007 to 2012 when News Corporation sought to take over what was then called British Sky Broadcasting, which Rupert Murdoch founded more than two decades prior.
The appointment of James, who also was CEO of British Sky Broadcasting from 2003 to 2007, prompted speculation among British media industry observers that the Murdochs might again seek to buy out the roughly 60% of the company it doesn't already control. The deal lost steam in the wake of News Corp.'s phone-hacking scandal in the U.K., an event that also prompted James to step down as chairman of the division that housed the newspapers implicated in the scandal.
James' early claim to fame, after dropping out of Harvard, was backing a hip-hop record label in the '90s and cultivating a look more edgy than executive: Various profiles over the years have referenced tattoos, ear and eyebrow piercings and a bleached-hair phase.
These days, he keeps things buttoned up — unlike his brother, James' ink doesn't make appearances in paparazzi snaps — although it's possible he just hides his unconventional streak better. When the Hollywood Reporter interviewer referenced the piercings in the context of a bygone "rebel" youth, Lachlan interjected with, "Why do you assume he doesn't have any piercings?"
Since its inception, Fox News, more so than the company's other properties, has been singularly shaped around the ideas and political leanings of one man — Ailes. "Fox News is more heavily dependent on its CEO for its personality and operations than are most other networks," Pivotal Research Group senior analyst Brian Wieser observed in a new research note.
Questions about if or how the Murdoch brothers will continue or seek to reshape the direction of the network remain up in the air.
Read More: Rupert Murdoch's Sun Tabloid Urges Britons to Quit the EU
"My politics are a private matter," James told the Hollywood Reporter, but there are indications that they might diverge from the conservative views of his father. James and his wife, Kathryn, founded in 2013 the Quadrivium Foundation, a nonprofit that does work on environmental issues like oceanic resource management, women's empowerment and local civic engagement.
But, although Rupert Murdoch and Ailes have been notorious for blurring their professional and political ideologies, that is not necessarily an indication that the younger Murdochs, or whomever they might turn to in order to fill Ailes' shoes, would do the same.
"I think they aim to make decisions based on what is best for the business rather than concerning themselves with influence on public policy," Wieser told NBC News.