The outcry over the killing of Cecil the lion last month in Zimbabwe has some hunters worried that the incident hurt the sport's image in the U.S. at a critical time when participation is dwindling and more Americans express support for animal rights.
"In my opinion, he's doing more harm to public opinion on hunting than any anti-hunter could ever do," said Mark Duda, executive director of the public opinion research firm Responsive Management, referring to the Minnesota dentist who shot Cecil with a crossbow after guides allegedly lured lion out of a national park. "And it's too bad because it hurts … ethical, legal hunters who contribute to conservation and care deeply about wildlife."
Duda, a hunter whose firm has tracked Americans' attitudes about hunting for two decades, said the actions of Dr. Walter J. Palmer of Eden Prairie, Minn., suggested he had "read my newsletter on how to talk to the public about hunting, and did everything the exact opposite."
Not all hunters who spoke to NBC News about Cecil's death agreed that the ensuing controversy had damaged support for the domestic sport. But none defended the way the lion, a popular attraction with visitors to Zimbabwe's Hwange National Park, was reportedly killed.
Dale Hall, CEO of Ducks Unlimited and director of the U.S. Fish and Wildlife Service under President George W. Bush, was one of many hunters saying that Palmer should be prosecuted if an investigation reveals illegal activities.
"First of all, let me say that if unethical activities took place – if that's what the evidence ends up showing – then I would be 100 percent for full prosecution," Hall said. "Because we ethical hunters believe ethics is defined by what we do when no one is watching."
Other hunting proponents say animal rights groups are using Cecil's story as propaganda to press their anti-hunting agenda.
"I think it's going to be a huge stretch to try and turn Cecil, whatever happened, into that's what's wrong with North American hunting and fishing. It's a huge leap."
David Allen, CEO of the Rocky Mountain Elk Foundation, said animal rights groups "lay in wait for any opportunity to take issue with hunting in America." But he doubts the Cecil controversy will stick to U.S. hunters.
"I think it's going to be a huge stretch to try and turn Cecil, whatever happened, into that's what's wrong with North American hunting and fishing. It's a huge leap," Allen said.
But Ingrid Newkirk, president of People for the Ethical Treatment of Animals (PETA), said hunters and pro-hunting groups should be concerned because the outcry reflects changing attitudes toward killing wildlife.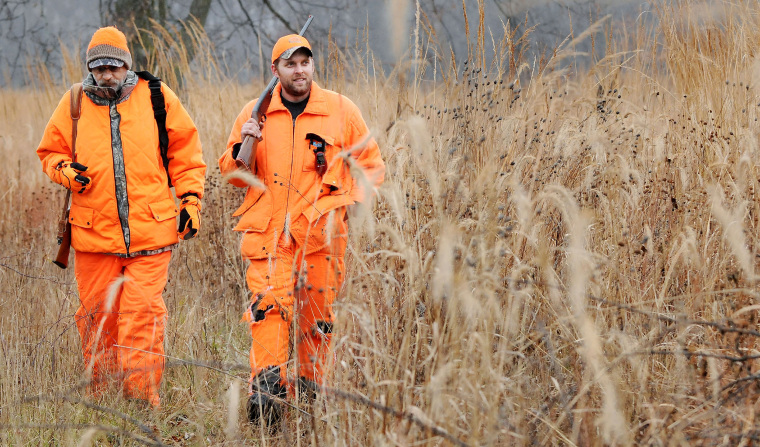 "I don't think they had realized that once was this was exposed ... that people would be as upset as they are," Newkirk said. "And they fear that the same rage and disgust is going to erupt if people stop buying the myth that hunting in America is to put food on the table." PETA calls hunting unnecessary and cruel, and advocates for more humane methods of wildlife control.
In fact, a majority of Americans approves of hunting in general and hunting for meat. But far fewer condone trophy hunting, recent surveys show.
Less than 27 percent of Americans approve of trophy hunting, according to a 2013 survey by Cornell University, compared to nearly 80 percent who approve of hunting to obtain local, free-range meat or to control wildlife causing problems for people. A 2015 survey by Responsive Management, conducted before Cecil's killing, had nearly identical findings, and also identified lower approval ratings for hunting with bait and hunting for large carnivores such as mountain lions.
Active hunters are more supportive of trophy hunting than the general population, the Cornell study found. But they disdain "poachers" – a term some have applied to Palmer in online hunting forums.
In condemning Palmer, some hunters point to his past run-ins with U.S. wildlife regulators. In 2006 Palmer received a fine and probation after being charged with killing a black bear outside the permitted area and making a false statement to federal wildlife agents. Palmer has not been charged with a crime related to the killing of Cecil and has said he believed his hunting guides had the necessary permits and did not realize that they allegedly lured the lion out of the park.
The National Shooting Sports Foundation, the trade association for the firearms and ammunition industry, declined to comment on the Cecil controversy. The National Rifle Association did not respond to requests for an interview.
The Cecil story challenges the ethics and value of a sport that is already facing troubles in the U.S. The total number of hunters has been slowly declining since the 1980s, though sales of hunting licenses appear to have leveled off in recent years.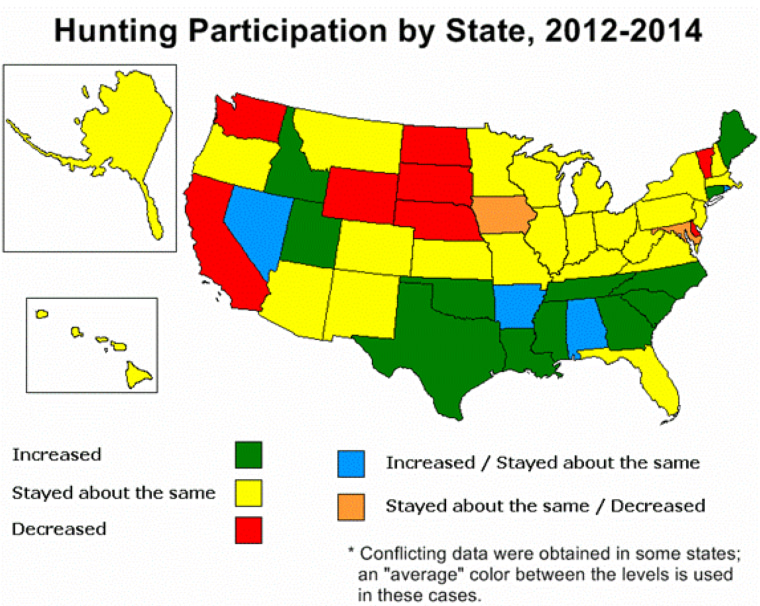 An estimated 13.7 million Americans – about 5.5 percent of the population – hunt in a given year, according to the 2011 U.S. Census survey of wildlife-associated recreation. The 2013 Cornell University survey found that a larger group, up to 17 percent, hunts at least occasionally.
At the same time, Americans' support for animal rights has been growing, with a corresponding shift away from using them for human benefit.
Nearly one-third of respondents to a May Gallup poll agreed that "animals deserve the exact same rights as people to be free from harm and exploitation," up from 25 percent in 2008. The proportion who believe animals should get some protection but that it is still appropriate to use them for human benefit dropped 10 points, to 62 percent, over the same period.
Meanwhile, a new analysis of hunting licenses over the past decade suggests that both hunting and fishing face a steeper decline as baby boomers – generally regarded as those born from 1946 to 1964 – grow too old for the rigors of the outdoors.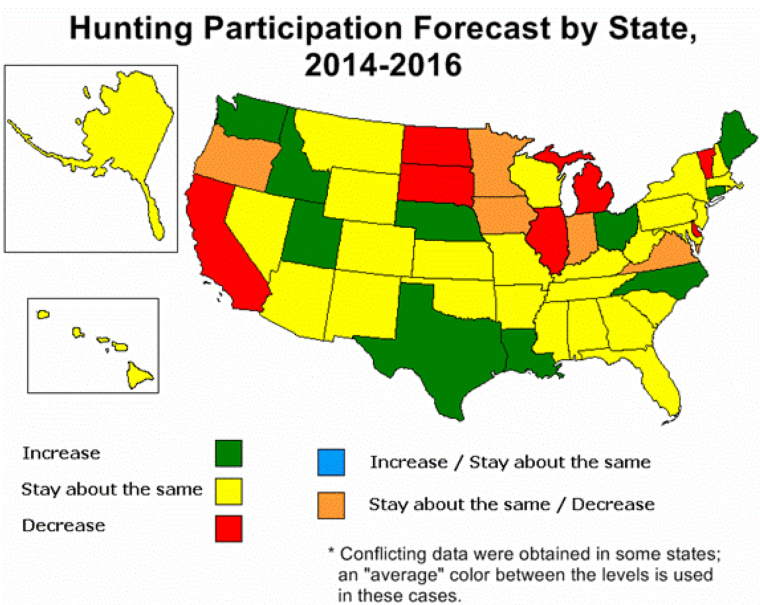 "Late baby boomers tend to hunt and fish more than other generations, and when they are physically no longer able to participate license sales will decrease," said Loren Chase, human dimensions program manager with the Arizona Game and Fish Department, who led the 2013 study. The research, as yet unpublished, predicts that hunting and fishing will continue to decline into the foreseeable future.
Chase and other U.S. wildlife experts worry that the drop in hunting will mean less funding for habitat conservation and outdoor recreation projects. The bulk of state fish and game agencies' budgets comes from taxes on sporting firearms, ammunition, fishing equipment and boat fuel – a total of $1.1 billion in 2015 – plus additional revenue from hunting and fishing licenses.
Home of Lion Hunter Walter Palmer, Dentist Who Killed Cecil, Vandalized
Lincoln Larson, an assistant professor of parks and recreation at Clemson University, said those concerns are well founded.
"From a wildlife biology background, I understand that hunting and angling represent the backbone of our conservation funding system in North America. There's no doubt about that – that's a fact," he said. Continued declines in hunting "could spell disaster for conservation, unless there's some sort of dramatic overhaul in the way we structure conservation in this country," Larson added.
State agencies and hunting nonprofits are scrambling to counteract declining participation with numerous "recruitment and retention" programs such as youth hunting excursions, outdoor skills camps for children and families, and workshops for women and girls. The Wisconsin Department of Natural Resources, for example, has a "learn to hunt for food" program aimed at locavores and foodies. Archery in particular has surged in popularity among teens, perhaps due in part to the "Hunger Games" books and films, Allen of the Rocky Mountain Elk Foundation said.
"It has nothing to do with tradition. It's not civilized, it's not humane, it's out of control, and it's wrong."
PETA's Newkirk rejects the argument that hunting needs to be preserved for ecological reasons and says most hunting in North America is for sport, not subsistence.
"I'd just like people to look deeply at what happened to Cecil, is happening every day, multiply it by hundreds every week in the United States of America," Newkirk said. "It has nothing to do with tradition. It's not civilized, it's not humane, it's out of control, and it's wrong."
'Super Predators': Humans Hunting Animals of Wrong Size and Age
But Hall, of Ducks Unlimited, wishes that those outraged over Cecil's killing would focus on the broader issues threatening African wildlife, including the bush meat trade and poaching for tusks, horns and other animal parts.
"For us as biologists, we know that if you're going to have populations in the future, it can't be because of one animal with a radio collar around its neck," Hall said, referring to the fact that Cecil had been part of an academic study. "It has to be because of the whole population that is cared for by the people who live there, and it becomes part of their value system. And I'm afraid we're losing some of that."