UPDATE (July 27, 2017, 6:20 p.m.): The story below was true from the moment the stock markets opened on Thursday, and through the day as Amazon stock climbed to an intraday high of $1,083.31. But, by the time markets closed at 4:30 p.m. ET., the stock had dropped to $1,046, "kicking Bezos out of the top spot," according to Forbes. Bill Gates is once again the richest person in the world, the magazine reports.
Jeff Bezos is now the richest person in the world, with a fortune of more than $90 billion.
The Amazon CEO took the title previously held by Microsoft founder Bill Gates when markets opened Thursday and Amazon stocks edged up 1.6 percent — adding $1.4 billion to Bezos' net worth, according to Forbes.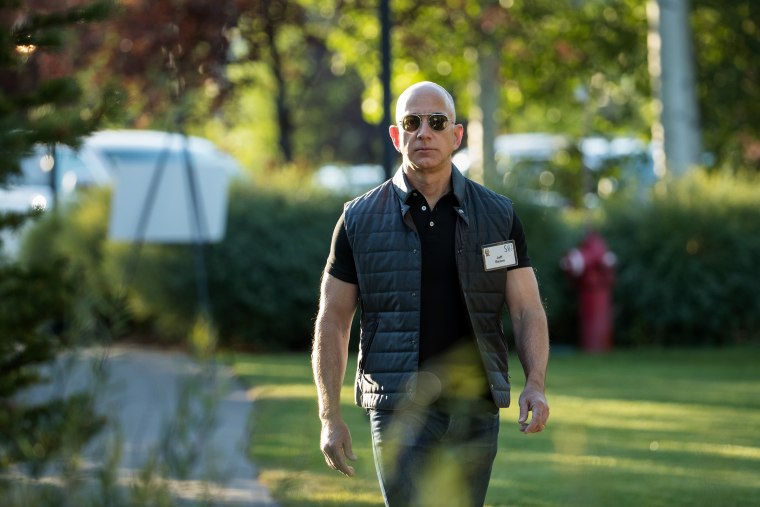 His new net worth of $90.6 billion is about $500 million more than Gates', Forbes reported.
With the increase in his fortune, Bezos becomes the seventh person to be crowned world's richest since the magazine started tracking billionaires 30 years ago.
Gates, who co-chairs the Bill & Melinda Gates Foundation, has topped the Forbes list of the world's billionaires for 18 out of the last 23 years.
But while Bezos has dethroned Gates, the numbers don't represent all of the money Gates has made over the years. As of the end of 2016, Gates had given away about $31.1 billion to philanthropic causes through the Giving Pledge, a movement he created with Berkshire Hathaway CEO Warren Buffett to encourage billionaires to give away at least half of their fortunes to charity, Forbes said.
Related: Amazon CEO Jeff Bezos Asks Twitter for Help With a Philanthropy Plan
Bezos has not signed the pledge, but had donated approximately $100 million to charity through the end of 2015, Forbes added. In June, he sent a tweet out asking for ideas for places to donate to.
If the uptick in the internet retailer's shares holds through market close at 4 p.m. ET, Bezos, 53, will surpass Gates, 61, on the Bloomberg Billionaires Index. Gates has been in the top slot since May 2013, according to Bloomberg.
Becoming the world's wealthiest man is only the latest achievement for Bezos: Last month, he shook up the retail and grocery landscape when he announced Amazon will buy organic supermarket chain Whole Foods.
Bezos first made the coveted Forbes billionaire list in 1998, a year after Amazon went public. His net worth then was $1.6 billion, according to CNBC. He was ranked third richest on Forbes' 2017 list of the World's Billionaires, published in March, with a fortune of $72.8 billion.
Bezos owns 79.9 million Amazon shares, or nearly 17 percent of the company.