Jenny Craig has alerted employees to potential mass layoffs as it begins "winding down physical operations" and hunts for a buyer, according to communications the weight-loss company sent some staffers this week.
The company said it "has been going through a sales process for the last couple of months," according to a document titled "Jenny Craig Company Transition FAQs" that was dated Tuesday and provided to NBC News.
Several Jenny Craig staffers said the company alerted them in recent days about potential layoffs.
The FAQ document said: "While we had to issue Warn Notices specifically for sites where we had more than 50 people potentially impacted, this will likely impact all employees in some manner.
"We do not know the exact employees/groups whom will be impacted, and if any employees may be retained. As a result, we would suggest that you anticipate that your employment may be impacted and begin to seek other employment," it said.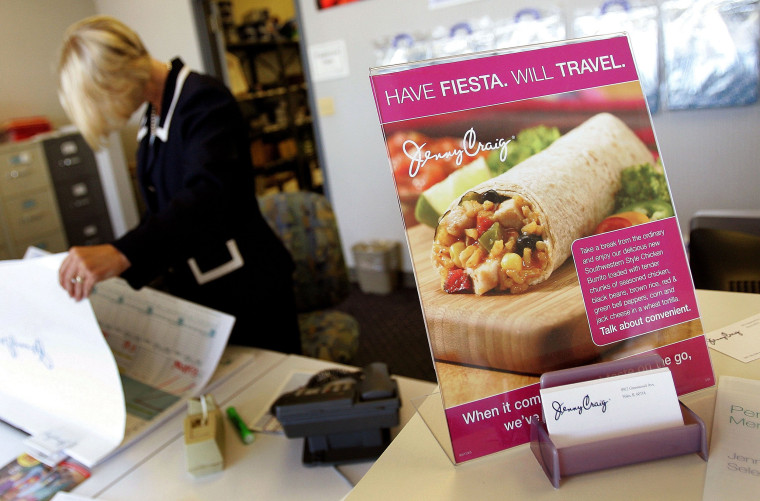 The federal WARN Act generally requires employers with at least 100 staffers to give workers 60 days' notice of potential mass layoffs or worksite closures.
It couldn't be determined how many employees received the FAQ document.
On Friday morning, after NBC News reported on the layoff warnings, a Jenny Craig spokesperson said that the company "is embarking on the next phase of our business to evolve with the changing landscape of today's consumers. Like many other companies, we're currently transitioning from a brick-and-mortar retail business to a customer-friendly, e-commerce driven model. We will have more details to share in the coming weeks as our plans are solidified."
The spokesperson didn't immediately respond to questions about the scope of potential job cuts or the search for a buyer. Bloomberg Law reported last month that the company was pursuing a sale.
Since its launch in 1983, Jenny Craig has been known for its prepared meals and dieting plans, as well as its weight-loss centers that offer in-person consultations with coaches.
The company, based in Carlsbad, California, was acquired by H.I.G. Capital, a $55 billion private equity firm, for an undisclosed amount in April 2019. It operated about 500 company-owned and franchised stores in the U.S. and Canada as of its acquisition, H.I.G. said at the time. H.I.G. didn't respond to a request for comment.
Dozens of LinkedIn users across the U.S. who list Jenny Craig as their current employer, from on-site workers to corporate staff members, have posted "Open to Work" notices in the past 24 hours.
On Thursday afternoon, Emily Hawkins, Jenny Craig's chief people officer, posted endorsements of several colleagues on the platform who'd flagged themselves as open to other opportunities. Hawkins didn't respond to requests for comment.
A current Jenny Craig employee, who spoke anonymously because he wasn't authorized to discuss internal operations, said the location where he works has been directed to stop taking new clients.
Jenny Craig's policy is to provide severance pay to laid-off employees "based on job level and tenure with the company," according to the FAQ document.
"However, at this time, it is highly unlikely that these will be paid," it said.